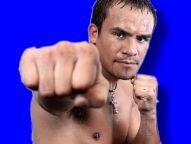 -


On May 17th, at the Fabulous Forum (formerly known as the Great Western Forum) in Inglewood, California, Mexican legend Juan Manuel Marquez, 55-7-1 (40), will look to extend his already 21-year old career with a win. Meanwhile, the evening's opponent, Colorado's "Mile High" Mike Alvarado will look to get his career back on the winning track. The two warriors will battle for 12 rounds in what should be an action-packed fight that will have a strong upside for the winner.
Alvarado, 34-2 (23), is coming into the bout looking to reverse his fortunes after having been stopped in 10 rounds by Russian tough guy Ruslan Provodnikov in their October 2013 tussle. While showing resolve and grit against Provodnikov, Alvarado decided enough was enough and elected to stay on his stool after round 10. While the decision was probably the best move for both his health and the ability to continue his career, it did draw criticism from some in boxing circles who looked upon it as quitting, the ultimate boxing sin. However, those who have seen Alvarado in his two wars with rugged Oxnard, California banger Brandon "Bam Bam" Rios would be hard-pressed to label this guy a quitter.

Since 2011, Alvarado has faced Rios (twice), Breidis Prescott, (who handed England's Amir Khan his first KO loss years back), Mauricio Herrera, (who gave undefeated junior welterweight champion Danny Garcia fits a few weeks ago) and Provodnikov. Clearly, this isn't a guy looking for soft touches. Mike is looking to get back into the winner's circle but despite facing a 40-year-old opponent with a lot of miles on him, his assignment isn't an easy one. Alvarado will need all the resolve he can muster - and more - when he goes up against the future, first-ballot Hall of Fame legend on Saturday night.
Though seemingly ageless, Marquez had bandied about retirement after his last fight, a frustrating split decision loss to Timothy Bradley for the World Boxing Organization (WBO) welterweight title last October. At his age, Marquez is probably taking his career on a fight-by-fight basis - but he wants to fight on and going up against Alvarado should provide fight fans with another good one from the Mexican star. The six-time world champion can walk away from the game at anytime knowing he leaves an outstanding résumé that includes Manuel Medina, Derrick Gainer, Manny Pacquiao (four times), Orlando Salido, Rocky Juarez, Joel Casamayor, Juan Diaz, Floyd Mayweather, Michael Katsidis and Timothy Bradley. While Alvarado is lacking in the experience department compared to the Mexico City legend, Juan knows this is no walk in the park. With old foes like Bradley and Floyd Mayweather as potential rematch possibilities for Marquez and hot new guns like Shawn Porter and Keith Thurman tearing up the division, there are serious options for the winner. A win for Alvarado gets him back into the thick of things as an attractive player in a hot division. A loss for Marquez - at this point - will have him taking a serious look at whether or not he has reached the end. Conversely, a win puts him in a great position to see his career add yet another high profile bout to an already legendary dossier.
Marquez, who will be entering the ring for the 64th time as a professional, said in a recent interview that "Alvarado is going to be dangerous during the entire duration of the fight. We are going to prepare ourselves for whatever he wants to do."
In a legendary southern California venue that has boasted some great boxing matches over the years, this welterweight war could very well be added to that list.
Please visit our Facebook fan page at www.facebook.com/MaxBoxing, where you can discuss our content with Maxboxing readers as well as chime in via our fully interactive article comments sections.