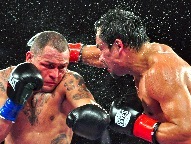 (Photo © German Villasenor)


The Fabulous Forum in Inglewood, California, is as legendary a fight room in the history of California boxing as there is. Saturday night, the joint was jumping as Mexican legend Juan Manuel Marquez extended his legendary career to fight another day with a win over tough, game, former world champion Mike Alvarado.

The final scores read 117-109, 117-109, 119-108, all in favour of Marquez.

With the win, Marquez becomes mandatory challenger to WBO welterweight champion Manny Pacquiao. Denver's Alvarado, having now lost 2 in a row and 3 of his last 4, will go back to the "Mile High City" to ponder his next move.

Meanwhile Marquez, 40 years young, will look to seek out another marquee bout against the biggest name he can find in the welterweight division as he pursues another title shot before he ends his remarkable career.

Marquez was coming into the bout having starched Filipino boxing superstar Manny Pacquiao only 2 fights ago. But, he was also coming in off a frustrating loss to former world champion Timothy Bradley in his last outing as he was contesting for Bradley's World Boxing Organization (WBO) welterweight title. At this stage of his career, Marquez is probably taking it one bout at a time. A strong showing with minimal damage lets his body and mind tell him there is some gas left in the tank. A stoppage loss, or a one-sided decision loss, might tell him the sands have run out on his reflexes and it is time to move on. Tonight, a sharp and focused Marquez looked like a guy who still has lots of life left in him and can get the job done against the game's elite.

While Alvarado wasn't considered the toughest possible test there was for Marquez, Mike is tough, skilled and is no walk in the park. Alvarado did get stopped in his last fight against rugged Ruslan Provodnikov, but he is a former world champion who went toe to toe, and 1-1, in wars with Oxnard tough guy Brandon Rios. Saturday night Alvarado had some success at times as he was looking to land a game-changer, over hand right, power shot. And, Mike pressed the action all night, but was out punched by the legendary counter-punching arsenal of Marquez.

In the first half of the fight, once Marquez got Alvarado's timing down he started to unload the combinations that have made him one of the best fighters of his generation.

Then, in round 8 Marquez dropped Alvarado with a hard right hand. Alvarado returned the favour in the next round depositing Marquez on the canvas. And then from then on it was pretty much an old school, Forum slug-fest. In the end, Marquez simply out skilled and out punched the game Denver banger throughout most of the fight.
Photo © German Villasenor, MaxBoxing

While Alvarado did has some success at times he was beaten to the punch all night by a 40 year old who simply reuses to succumb to the calendar.

Bob Arum is talking about Pacquio fighting the winner but Marquez had made pre-fight claims saying that he wasn't interested in a 5th Pacquio bout. So, one assumes with the win Marquez will weigh his options and see what's out there for him. With the win, Marquez moves to 56-7-1, (40 KO's), while Alvarado drops to 34-3, (23 KO's).

With a classic Forum fight like this, the partisan Marquez crowd was thrilled with the win as they will get to see their beloved champion fight another day. Despite the loss, a battered, bloody, no-quit Alvarado certainly earned the respect of boxing fans tonight.
Please visit our Facebook fan page at www.facebook.com/MaxBoxing, where you can discuss our content with Maxboxing readers as well as chime in via our fully interactive article comments sections.