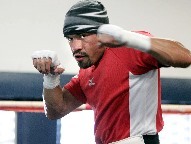 (Photo © Chris Farina / Top Rank)


I've never been into character assassination. I have the highest respect for professional fighters, be the sport mixed martial arts or boxing. Fighters are among the best people I know, open-minded, warm, fierce and fearless. They aspire to display the very best attributes a human can in the most dire of situations. Again and again, fighters disconnect the "flight" mechanism built into all of us and go to work. The fight itself is admirable work at its purest form. Everything around that event is potentially treacherous. The business itself has a hole inside it that can never be filled; its insatiable thirst for blood means new bodies are needed all the time. For the boxer with the potential to be something more than ordinary, there is a whole minefield to be navigated before ever dodging a punch in a meaningful ring. If the act and art of mastering one's fear and fighting in a ring is admirable, successfully navigating the rest for any period is a minor miracle.

Mexican legend Juan Manuel Marquez is something of a major miracle. At age 40 (he turns 41 in August), Marquez has won world titles in four weight classes, 126, 130, 135 and 140. A bid for a fifth in as many classes is what Marquez continues to fight for. But at this age, he is something of an anomaly. Fighters of Marquez's stature don't usually last this long much less gain weight and maintain that excellence deep into their 30s or 40s.
"
I don't like parties," Marquez would say on a conference call to promote his Saturday fight vs. Mike Alvarado at The Forum in Los Angeles, CA . "I train all the time. Maybe that's my secret."
Maybe it is. Maybe all Marquez needed to go from an out-of-shape, seemingly over-the-hill fighter getting a payday versus Floyd Mayweather at welterweight in 2009 to the guy who knocked Manny Pacquiao out cold in six rounds four years later was Angel "Memo" Heredia - and some new training techniques.
Maybe all the ire boxing fans and media alike spit out about Marquez's seemingly new physique back when he and Pacquiao went at it for the third time in November 2011 was a mirage. Or maybe it was just grist for the ever-churning media mill. Maybe Heredia's background is just that: mere ground in back of him as he works his way through the sport, building his stable and not putting all his fighters in a year-round, random, anti-doping program in which he claimed in 2011.
Maybe in the spring of 2012, fighters in both MMA and boxing didn't set record numbers for testing positive for various banned substances. Maybe that was never a hot button issue. Maybe it was a "dead horse" all along as Yahoo! Sports' Kevin Iole once called PEDPEDs.
Maybe Marquez was never under scrutiny at all. Maybe when he knocked Pacquiao out in their fourth fight the following December, no one thought anything of Marquez's physique. No one questioned how a career featherweight, thought to be kind of old-looking at 135 pounds, could knock a man unconscious two weight classes north, having never even knocked him down in any of their previous 36 rounds.
Maybe his next opponent, Timothy Bradley, didn't insist on testing done by the Voluntary Anti-Doping Association. And maybe Bob Arum of Top Rank Promotions didn't instead pay monies to the Nevada State Athletic Commission to put together a testing program that reached nowhere near the bar set by VADA.
Why does it seem to me that possibly none of this happened? Because in general, it appears the way everyone acts.
On that conference call this week, I sat for roughly 30 minutes, my virtual hand raised by pressing the "#1" key as instructed throughout by the operator. As I listened to reporters ask about Marquez vs. Alvarado as a fight or as return home for Marquez (he started at the Great Western Forum way back when), I was hoping at least one would ask whether he and Alvarado were undergoing random anti-doping testing for this fight and if not, why not? It seems fair to ask considering Heredia's background and the fact that a 40-year-old fighter is not only still fighting but is enjoying the height of success.
But I was never allowed to ask the question. Instead, I listened through long pauses as someone presumably searched for reporters to ask questions of Mr. Marquez. Several times, reporters were brought back on to ask more questions. My favorite was ESPN's Dan Rafael, who, upon being allowed back on the call, said, "Someone already asked my question," before opting not to ask anything else.
No one asked the uncomfortable question. No one dared or deigned.
And so it must be that none of the aforementioned things happened. It must be. Or someone would have asked why the bar of random testing set in Marquez's previous fight, however high or low it was, was not even set up again for this fight.
Perhaps its just new training, new diet and the will of the Boxing Gods. Perhaps every boxer in the modern age will fight until 40.
Or perhaps it was all just a dream.
The Fight
I like Mike Alvarado because of his size and youth. I like Marquez because of certain X-factors and his ability to win fights by having to box 12 rounds. But I trust the eyes of Steve Kim, who liked what he saw in Alvarado in the gym. I say Alvarado late TKO.
Please visit our Facebook fan page at
www.facebook.com/MaxBoxing
, where you can discuss our content with Maxboxing readers as well as chime in via our fully interactive article comments sections.