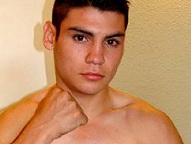 --


In early September when South Africa's Nkosinathi Joyi took his then-unbeaten record and IBF strawweight title to Mexico for his first fight outside of his homeland, he met fringe contender Mario Rodriguez, 15-6-4 (11). It was widely thought of as merely a routine defence for Joyi to stay active; however, "Dragoncito" had other ideas. He knew how big the opportunity was and gave it his all, determined not to lose in front of his own fans. Though behind, much like "The Little Engine that Could," Rodriguez just kept coming until, when in the seventh stanza, a body shot landed, leaving the defending champion in a crumbled heap on the canvas unable to beat the count. In winning, Rodriguez, now 24, achieved his dream of winning a world title and became Guasave, Sinaloa's first ever world champion.

Anson Wainwright - Congratulations on beating Nkosinathi Joyi to win the IBF strawweight title. Can you tell us about the fight?

Mario Rodriguez - First I want to thank you about the congratulations. It was a hard fight. We fought on the inside. We threw lots of punches.

AW - There are rumours you may go to South Africa for a rematch. What can you tell us about that?

MR - They told us about that, a possible rematch in South Africa if the fight was very close. If they contact us, it will be a pleasure for me to pay them the visit to South Africa.

AW - Who are the members of your team? Also where do you regularly train?

MR – Well, my team is my trainer, Jacinto "Cachoron" Diaz. I've been with him all my career, his son, Agapito Diaz, and Saul Verdugo, of whom I'm very grateful because, without them, I couldn't make it happen and win that world title. My promoter is Erik Morales, who I'm very grateful with him as well for giving me this opportunity and having trusted me. I train in Deportivo Pimber Camacho Gym in Guasave, Sinaloa, Mexico.

AW - At the beginning of your career in your career, you lost many fights. How has this helped you and improved you as a boxer?

MR - That's right. In my first fights, I had some losses but it helps me to grow up in this sport. I learned more from the losses than victories.


AW - You'
re from Guasave, Sinaloa. Could you tell us about your younger days?

MR - When I was younger, I really liked to live in the fields. The life in the fields made me stronger because of the fresh air, very good people and life here. I really enjoy it.

AW - What are your thoughts on the other champions at strawweight?

MR - It could be an exciting to unify.

AW - In 2010, you lost on points to Donnie Nietes in a world title fight. Could you tell us about the experience?

MR - It was a fight where I didn't have enough experience like right now but I learned a lot in that fight, which has helped me in my career to be a better fighter.

AW - What goals do you have in boxing now that you are a world champion?

MR - Keep training hard in the gym and try to overcome all my goals.

AW - Growing up, who was your boxing idol?

MR -
Julio Cesar Chavez Sr. and Ricardo "Finito" Lopez.
AW - Do you have a message for the boxing world?


MR - If you really want, you can really do it and make it happen just like I did. Nobody believed in me and I won the world title, thanks to God and my big effort of my training in the gym. Work hard; keep trying until you get it.
Please visit our Facebook fan page at www.facebook.com/MaxBoxing, where you can discuss our content with Maxboxing readers as well as chime in via our fully interactive article comments sections.