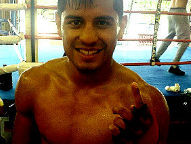 Abner Mares


They met seven years ago in where else, a boxing gym in Southern California. Both were local products.

The two Mexican Americans spared roughly 30 rounds for the next few days.

Abner Mares was 22 at the time, Leo Santa Cruz two years younger.

Neither will say who had the advantage.

When the sparing was over, Mares figured he'd likely fight Santa Cruz again someday in a real fight.

"I've always thought that when you're in the gym training with someone around the same weight class and category as you that eventually you're going to fight," Mares said in an article by Lance Pugmire of the Los Angeles Times. "He was coming up, I was coming up. We went our separate ways, but now here we are.

"It is personal. We both want to win."

You bet it is. Their fight this Saturday night at the Staples Center in Los Angeles, CA. is something of a throwback.

The buzz might not be as intense as when Danny"Little Red" Lopez and Bobby "Schoolboy" Chacon met at the Los Angeles Sports Arena in 1974, but the matchup between former three-division belt holder Mares, and current WBC junior bantamweight champion Santa Cruz, is certainly drawing a lot of attention.

Mares (29-1-1, 15 KOs) captured his first world title four years ago by defeating Joseph Agbecko by majority decision. Agebcko demanded and received a rematch four months later at the Honda Center in Anaheim,CA. Mares was better the second time around, winning 10 of the 12 rounds on all three of the judges' scorecards.

In 2012, Mares moved up to the super bantamweight division (122 pounds) and pummeled Eric Morel to win the vacant WBC crown. He defended his title successfully against Anselmo Moreno, then gained four pounds to challenge WBC featherweight champion Daniel Ponce De Leon.

Mares claimed his third title in 17 months by stopping Ponce De Leon in nine rounds. His ascent had been quick and dramatic. Instead of taking a break and celebrating his victories, Mares defended his featherweight championship three months later against hard-punching former champion Jhonny Gonzales.

Many predicted on fight night that Mares would win by knockout over the chin-challenged Gonzales.

Instead, two minutes into the bout, a blistering Gonzales left hook sent Mares crashing to the canvas. Mares pulled himself up, but his eyes were glassy. A cracking combination floored him again. The referee wasted no time waving off the contest.

Mares' first career defeat was shocking. He took some time off, hooked up with former trainer of the year Virgil Hunter, and returned to the ring 11 months after his devastating loss. Mares boxed smartly--winning his return fight by decision, but he wasn't happy. He left Hunter and returned to his old trainer Clemente Medina. He's won two fights since, but neither opponent was world class.

Questions abound.

Santa Cruz (30-0-1, 17 KOs) burst on the boxing scene in 2012 by knocking out reigning IBF world bantamweight champion Vusi Malinga. Over a span of six months, he successfully defended his title three times.

His most impressive outing was a beat-down of one-time Mares opponent Eric Morel. Sick of starving himself to make weight, Santa Cruz vacated his title and challenged WBC super-bantamweight titleholder Victor Terrazas. Santa Cruz knocked Terrazas to the canvas twice, winning the bout and another title by a third round stoppage.

Santa Cruz continued his run, winning two of his last five matches by stoppage, but it's the quality of his opposition that's caused some to wonder if he's being overprotected.

When he knocked out former sparring partner Manuel Roman in 2014, the criticism was hot and heavy. Santa Cruz ignored the negative comments and stopped Jesus Ruiz four months later.

In May of this year, in preparation for his fight with Mares, Santa Cruz moved up to featherweight (126 pounds) and won an easy decision over Jose Cayentano.

Santa Cruz well knows his showdown with Mares is the most important fight of his career.

"It's the first time I'm the main event, and then also because it's the first time I'm going to fight a fighter that's on a big level," Santa Cruz said during a media conference call a few days ago. "The fans said they wanted me to fight a fighter that is at the elite level fighter, and I think Mares right now is the hardest opponent I ever faced.

"So that, plus me being the main event, is like the same excitement as I'm fighting for a world title."

Mares is ready to get in the ring with Santa Cruz.

"I feel very motivated," said Mares during the same conference call. "I'm extremely focused. I can't recollect the time where I felt like this. It would have to date back to when I was going after my first world title."

Santa Cruz is a punching machine, overwhelming his opponents with volume and angles. Though not a big puncher, he's very good at exploiting weaknesses.

Mares can box or punch. He's technically sound, except for occasionally dropping his right hand—which led to his blitzing by Gonzales. His edge in experience could pay dividends in the later rounds against Santa Cruz.

Santa Cruz wants to knockout Mares.

"The sooner the fight ends, the better for one of us," said Santa Cruz. "Less punishment, less hits. But if the stoppage didn't come, we'd just be happy with the victory. We're going to go out there, beat Mares any way we can get the win. That's what's more important."

Mares feels his deeper talent will lead to victory.

"Right now Leo is feeling very good about himself," Mares said. "He will commit errors and I will make him pay. I'm going to show Leo Santa Cruz on August twenty-ninth that I am the superior fighter at Staples Center."