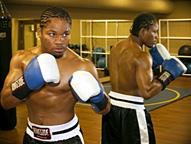 Shawn Porter


IBF welterweight titleholder Shawn "Showtime" Porter, 23-0-1(14), has just passed a crucial test and in the process, entered the toughest phase of any young fighter's career: "Keeping the Title." The 26-year-old Cleveland native, trained by father Ken out of Las Vegas, NV, defends his belt for the first time against former WBA welterweight titleholder and IBF junior welterweight titleholder Paulie "Magic" Malignaggi, 33-5 (7), April 19 on Showtime at the D.C. Armory in Washington D.C. The fight was announced on what seemed short notice to the public. But the Porters are proving to be adept at planning, strategy and tactics.
"It's all
good. We've been training hard," Porter told Maxboxing.com after a recent sparring session at the Undisputed Boxing Gym in San Carlos, CA, where he has been training for this fight with the Undisputed team as well as the SNAC System team of Remi Korchemny and Victor Conte. "My dad keeps you working no matter what. He's always said from the time I turned pro, 'You got to be ready for the phone to ring.' And sure enough, last week, it was 60 days. 60 days we've been working. We been studying Paulie because we thought he might be the one. What is short notice for everyone else is right on time for me."

In the fast and loose world of the Golden Boy Promotions/Showtime/Al Haymon alliance, fight cards come together quickly and in some cases, seemingly last-minute. The prepared warrior keeps his titles and undefeated record. A first-time titleholder now, Porter is working toward being a full champion with experience, big-name scalps and multiple titles to his name.
"As far as I know, my feeling of remaining a champion is working hard and being ready for whatever comes up and when it comes up, being ready to rise to the occasion. That's something I've always been able to do. That's something that's bred into me and that's where I get all my confidence from. Being ready for whatever opportunity and taking full advantage of it," he said.
Porter's victory lap following his title-winning effort over Devon Alexander last December was short and sweet. He didn't balloon up in weight, though he was tempted.
"Cookies are my life," he joked when asked about bad habits. He doesn't drink, smoke or do drugs but cookies, it would appear, are a weakness. For Porter, an undefeated fighter with a successful amateur career, attaining that first title took a moment to sink in.
"That part was very fun," smiled Porter of the celebration period. "The victory in the period of realizing I am a world champion that took a very, very long time for it to happen. And it was said that it was just because I was so used to winning that it was just another win for me."
Now it's time to grow into the role. No better way than against Malignaggi, who showed last year versus Adrien Broner in a tight-but-losing effort that he can still give younger fighters what for.
"I think defending this belt, this big IBF title, it's going to be a number of things. It's going to be fun. It's going to be historic for me and my family. It's going to enhance everything I do, everything I've done. And it's going to motivate me to continue to work hard," said Porter.
With his title phase just beginning, it is hard to say how long Porter's 147-pound campaign will last. But looking at his thick frame and ability to compete at junior middle (right around where he fought as an amateur), a venture upward is not out of the question. The question is when.
"I can't really say how long were going to hold this belt," Porter pondered. "I know when we moved down to 147, the goal was to get a belt at '47. It wasn't to make my mark and my life's story at welterweight. When that happens, I don't know. What I can tell you is that I'm a big man. I played football in high school at 175. I was 18 at the time. Now I am 26 coming down in weight. I do it in a very healthy way, a way that makes it advantageous for me and my team."
With names like Lucas Matthysse, Danny Garcia, Keith Thurman, Adrien Broner, Marcos Maidana and of course, Floyd Mayweather Jr. potentially available to him in the Golden Show Haymon Universe, Porter is poised to make a name for himself through a veritable trial by fistic fire if he can make 147 for a few years longer.
"That's one reason. There's no rush to move up. There's no rush to move when there's so many fights that can make history and become a part of my history. Beating guys that were undefeated. Beating guys that once were titleholders or are titleholders. There's a lot to be done at '47, so in that aspect of it, I'm in no rush to move up," said Porter. "How much business do I have at 147? That's up to my team. I'm the fighter, so I will get in there and fight whatever weight, whoever they tell me to fight."
For now, the focus is firmly on Malignaggi. With sparring partners Andy Vences and Devin Haney, Porter is getting both physical and speed tests, boxing acumen and the crazy creativity of youth. Will it be enough to prepare for Malignaggi? We will delve further into that in next week's training update article with video to follow. To hear Porter tell it, this victory will come to the man who can take the sum of his boxing acumen and bring it to bear on the man in front of him.
"I've been watching [Malignaggi] a lot," said Porter. "Today I watched him at 23. You can't just watch this guy at 33. You have to go back to see where he came from. I found a clip of him at 23, popping his jab, moving around. I respect him. The guys got skills. He doesn't get hit a lot and he fought a lot of fighters at world champions. I am excited for the challenge."
You can email Gabriel at maxgmontoya@gmail.com, follow him on Twitter at www.twitter.com/gabriel_montoya
and catch him every Monday on "The Next Round" with Steve Kim, now at its new home, www.blogtalkradio.com/thenextround
or via iTunes subscription at https://itunes.apple.com/us/podcast/leave-it-in-ring-radio-blog/id316004573?mt=2. You can also tune in to hear him and co-host David Duenez live on the BlogTalk radio show www.Leave-It-In-The-Ring.com, Thursdays at 5-8 p.m., PT.
Please visit our Facebook fan page at
www.facebook.com/MaxBoxing, where you can discuss our content with Maxboxing readers as well as chime in via our fully interactive article comments sections.