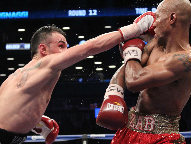 (Photo © Tom Casino / SHOWTIME)


Brooklyn, NY--- When Oscar De La Hoya made the announcement that his company, Golden Boy Promotions, would be the sole boxing promotional entity to showcase fights at the Barclays Center in late 2011, a specific match up often talked about, soon became a realistic possibility.

Before Jay-Z ever opened the doors to the newly built sports complex; a venue that has now been in existence for a 1 year and 3 months, residents of the borough of kings have eagerly anticipated seeing two of their own collide on Atlantic Ave.

From the time that Paulie Malignaggi and Zab Judah captured the Golden Gloves as amatuers, one couldn't help but wonder if the former gym mates at Gleason's, would ever square off as professionals. However, their respective careers took a different trajectory, making the bout between the two seem unlikely.

For Judah, the native of Brownsville, was built to be a superstar. He had the backing of a big time promoter (Main Events), and was expected to achieve success early on due to his impeccable skill set. As for Malignaggi, he was forced to come up the hard way, forced to pay his dues on the way to the top. But with that being said, Malignaggi was often disrespected. The general consensus was that the resident of Bensonhurst lacked the punching prowess to compete with the elite fighters, let alone be able to achieve any type of pugilistic accomplishments.

But as we fast forward to the present, we would be remiss to not compare their careers as a whole. In retrospect, hindsight is always 20/20. Judah's career never paned out as expected. Partly due to his first loss, to Kostya Tzyu. And the rest could be atrributed to immaturity and lack of discipline. Heading into the Brooklyn brawl, Judah brought with him a resume of 42-9, (29).

Malignaggi on the other hand, proved the critics and the naysayers wrong. He had a much better career than what most expected. Malignaggi's stock went up considerably after his defeat to Miguel Cotto. No one outisde of Malignaggi and his camp knew that he possesed such courage and such a great chin.

Saturday's main event pairs two of boxing's most boisterous and flamboyant personalities. Your quintessential matchup of overachiever and underachiver.

Although Malignaggi and Judah may have seemed unlikely to cross paths, life does cometo a full circle. It was always does. Especially in a city like New York, you can't prolong the inevitable.

The Brooklyn civil war saw a crowd of 9, 363 witnessed a 36-year old Judah, who was coming off of a loss to Danny Garcia back in April, tip the scales at a lean and trim 146 pounds. However, thats the only good that can be taken away from Judah's perdormance. Because he can now add one more "L" ro his record.

Malignaggi, 33-5, (7) who recently turned 33, returned to the squared circle since being on the losing end of a split decision to Adrien Broner back in June. Malignaggi exposed Judah to be a spent force over the course of 12 rounds by scores of 117-110 twice, and 116-111.

"It was an emotional win for me," said Malignaggi. "It definitely allows me to continue boxing. I don't know if I would have wanted to continue fighting with a loss. This win puts me in the right spot to fight in the talented welterweight division and make lots and lots of money."

Malignaggi, 147, opened up the contest boxing effectively. He dictated the tempo of the round by jabbing against the southpaw Judah. For the remainder of the frame Judah appeared apprehensive. In the second stanza there was very little action, culminating in Judah scoring a knockdown, mostly attributed to the conventional-southpaw stance proverbial leg crossing. Malignaggi touched the canvas but was up at the count of 3.

A clash of heads in the 3rd round opened up a laceration on Malignaggi's left eyebrow. The cut wasn't a factor in the bout. Malignaggi's cut man Danny Milano did an adequate job keeping the blood flow under control.

In the 6th round, there were discussions taking place at press row, regarding if whether or not Judah's best days were behind him. But much to the surprise of everyone watching Judah came to life, but only momentarily. However, with each round that passed by, Malignaggi was more and more dominate.

"Walking to the ring was pretty surreal," said Malignaggi in reference to the bout. As a teenager I used to watch Zab. And now to fight him was just surreal for me. Not that I didn't expect to be successful against him, it was still nonetheless surreal for me."

It was far cry from the fight of the year, as was evident by the fans who were exiting towards the stands rather early. But again to reiterate, Malignaggi jabbed well, threw a lot of body punches, and moved around the ring rather intelligently.

As the fight progressed into the championship rounds, the more it looked like Judah wanted out of the contest. A look of disinterest shielded his grill. Giving those present the notion that Judah's best days are behind him.

No if ands or buts, Judah failed to pull the trigger. However, only to come to life at the end of the 12th round. But by that time it was a little to late. Leaving one to ask, "where was that the entire fight?"

"I came to fight and so did Paulie," said Judah. "This was a great opportunity and a great event. I wanted to be the king of Brooklyn."

Adding, "He didnt out tough me. He stayed on the outside and didnt engage."

The victory for Malignaggi, is probably his biggest to date. Monetarily, the future seems bright for Malignaggi. He could possibly fight the winner of the Broner-Marcos Maidana contest taking place next week, in the late spring.

As for Judah, it could very well spell the e-n-d for him. Where would he go from here moving foward? After this performance, no one wants to see him fight again. He should seriously consider hanging up the gloves, and riding off into the sunset. He has had his time. The little bit of fuel that Judah may have had left in his tank, may have been exhausted in the fight with Garcia.
---
Please visit our Facebook fan page at
www.facebook.com/MaxBoxing

, where you can discuss our content with Maxboxing readers as well as chime in via our fully interactive article comments sections.