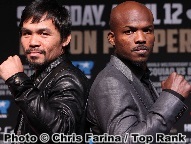 L-R: Pacquiao - Bradley


Despite Manny Pacquiao and Tim Bradley squaring off back in June of 2012, in the end, they weren't the two most talked-about individuals involved. That distinction went to Duane Ford and CJ Ross. The two ringside judges were in the vast minority by scoring the fight for the "Desert Storm" in what was considered the 874th black eye for boxing and about the 43rd time the sport died. Alas, the boxing industry is still alive, well and operating and this weekend, Pacquiao and Bradley meet again at the MGM Grand Garden Arena in Las Vegas.

This time around, the trio of Glenn Trowbridge, Craig Metcalfe and Michael Pernick who will judge this contest. And Top Rank Promotions' Bob Arum is confident in this group.
"Well, I know the body of work of all of them and I have heard no criticism of any of them," he told Maxboxing on Wednesday morning. "But I put the burden where the burden belongs: on the people who will most be affected by it - and that's the fight camps. So those judges and the referee [Kenny Bayless] are approved by both of the camps. In other words, there's no official doing this fight that hasn't been given the seal of approval by both camps. Now, that's a tremendous departure from what happened in the past."
And it's at this point in which the 83-year old Arum - who is still overflowing with piss and vinegar - took some shots at the former Executive Director of the Nevada Athletic Commission, Keith Kizer. When asked about their past objections to "Can't Judge" Ross (who then botched Floyd Mayweather-Saul Alvarez by ruling it a draw), Arum stated, "Let me tell you something; this is a new policy for the Nevada Athletic Commission. They had an executive director who, based on two or three years of experience in the sport, knew more than any person who's ever been involved in the sport. Therefore, you couldn't tell him anything and you couldn't argue with him and he had complete authority to recommend to the commission, the officials.
"Then when some journalists questioned [Kizer] on the Mayweather fight as to why CJ Ross was being, again, appointed for the high-visibility job, he put it on me and he said, 'You guys must be drinking Arum's Kool-Aid or you must be kissing up to Arum because you want him to give you perks at his fights.' Now that, to me, was the last straw. That was totally outrageous and it just showed what a delusional world he was living in. Now, right now, we don't have an executive director; they're going to appoint one but the guy who is the chairman is a young fella who works for Andre Agassi, Francisco Aguilar. He's a super, super young man and he really wants to do the right thing. And here, in this case, it shows he's done the right thing. Nobody on any of these televised fights is complaining even one little bit about the officials because they approved them."
What frustrated those in the boxing industry in the past was Kizer's reluctance to bring in other well-respected judges from outside of Nevada. Equally frustrating was the fact that the same suspects would be used over and over again in big fights. It's as if they were entrenched permanently.
"That's correct," confirmed Arum, "because it was an 'old boy' method of choosing judges. In other words, there was no evaluation of the judges' ability. 'Hey, Duane, you haven't had a big payday for judging in two fights, so therefore we're going to appoint you.' That's how it worked. Now, hopefully, by asking them to use worldwide - at least for two spots - you have a vastly bigger pool and you're not involved in the 'old boy' network."

THE PANEL

Based on the hysteria the first fight caused in the aftermath of Bradley's highly-disputed split decision over the "Pac-Man" in 2012, you have to wonder: Can Bradley get a fair shake this time around? After all, Pacquiao is still the marquee attraction here. Hey, in basketball, you see make-up calls all the time. James Brown would call it the "Big Payback." Hey, this is boxing; it's not out of the realm of possibility.

It'll be up to Pernick, Metcalfe and Trowbridge to judge this fight without any preconceived notions or prejudice. All three are seasoned arbiters who have plenty of championship experience.

Trowbridge is an interesting choice given that in the disputed third bout between Pacquiao and archrival Juan Manuel Marquez, he had Pacquiao winning 116-112 (Dave Moretti had it 115-113 and Robert Hoyle 114-114). He also had Brandon Rios defeating Richar Abril by a score of 116-112 in a fight many believed the Cuban deserved. Both Pacquiao and Rios are Top Rank fighters. To Trowbridge's credit, he did have Gabe Rosado beating J'Leon Love last year (95-94) in a fight many thought Rosado deserved. Recently, he has judged Leo Santa Cruz-Cristian Mijares, Evgeny Gradovich-Billy Dib, Orlando Salido-Orlando Cruz and Danny Garcia-Lucas Matthysse.

Pernick's most recent title bout was Robert Stieglitz-Arthur Abraham (he had Abraham winning by the score of 113-112) and he scored the Mikey Garcia-Juan Carlos Burgos match-up. Last November, he was in Macao, China and saw Pacquiao pitching a shutout over Rios.

Metcalfe was ringside for the Saul Alvarez-Alfredo Angulo fight and had it 89-82, "Canelo," at the time of the 10th round stoppage. And when Mayweather faced Alvarez, he scored it the widest of all three judges at 117-111 (while Moretti had it 116-112 and Ross, 114-114). Metcalfe scored the "Super Six" final between Andre Ward and Carl Froch, 115-113 (like John Stewart), which was much closer than most observers and pundits deemed. Vitali Klitschko-Tomasz Adamek and Sergio Martinez-Kelly Pavlik (115-112 for Martinez) are also recent title bouts on his résumé.


MAYWEATHER-GM GRAND?

Arum had no problems in publicly haranguing MGM Grand President Richard Sturm at the final press conference for this weekend's fight over the signage for the May 3rd card at the same venue, prominently featuring Floyd Mayweather and his upcoming bout against Marcos Maidana (http://yahoo.com/-bob-arum-erupts).

Yeah, Hurricane Bob was a Category 5. But the bottom line is he absolutely has a point here. The MGM Grand is basically a promotional partner this weekend but are they really acting as such (or in good faith) by marketing an archrival's card that takes place in three weeks? And when Alvarez-Angulo took place last month in the same venue, there weren't any Pacquiao-Bradley promotional materials to be found on the premises.

With how Arum reacted, you can bet Golden Boy Promotions CEO Richard Schaefer would have felt the same way - and rightfully so.

But perhaps Arum is also feeling a bit frustrated by the fact that tickets are to be had all over for Saturday night's event (http://www.tiqiq.com/tickets/manny-pacquiao-vs-timothy-bradley/?brandid=tiqiqhomepage&eventid=10367481475&publisherid=51113&widgetid=0). Maybe the smaller arena of the Mandalay Bay would have been more ideal for this rematch.

Now, the question is: Does Arum now put a Venetian logo in the center of the ring on Saturday night (not that I want to give him any ideas or anything)?
My latest contribution to

www.SportsOnEarth.com

on how Manny Pacquiao is fighting to retain his pay-per-view status and his market value this weekend versus Tim Bradley:
Here's the latest episode of "The Next Round" with Gabe Montoya and Yours Truly:
LAS VEGAS FLURRIES

Look for Edwin Rodriguez (who's owed an HBO fight for getting shutout against Andre Ward in November) to appear on the network's May 24th card. Marcus Johnson is being discussed seriously as his dance partner...How 'bout Joshua Clottey? There is life!...The Angels seemed cursed; don't they?...See everyone in Las Vegas
…I can be reached at k9kim@yahoo.com and I tweet at www.twitter.com/stevemaxboxing. We also have a Facebook fan page at www.facebook.com/MaxBoxing, where you can discuss our content with Maxboxing readers as well as chime in via our fully interactive article comments sections.