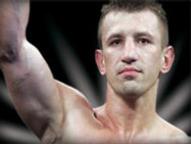 Tomasz Adamek


This Saturday night, Tomasz Adamek returns to the familiar haunts of the Prudential Center in Newark, New Jersey, where he has become one of the major, legitimate draws in North America. He will face Eddie Chambers in a pivotal match-up of heavyweight contenders (NBC Sports Network, 9 p.m., ET). When "Goral" performs in "Brick City," its arena is full of nationalistic pride as it's filled with Polish partisans. But it's that very same passion for their country that is hindering Main Events this time around.
It seems that the Euro Cup is hurting them a bit.

"Yeah, I think it's going to affect it somewhat," admitted Kathy Duva, the head of Main Events, earlier this week, regarding the soccer tournament taking place overseas. "We're doing some promotions with the bars in the area to let them know that they're going to be showing the Poland versus Czech Republic game, which is on the same day. It's not conflicting with us head-to-head. The problem is everyone is partying all day long and may not be in a condition to go to Newark."
Duva laughs as she says this. Perhaps they needed to offer designated drivers with their fight tickets. "We're trying to let them spend their whole day there. So hopefully we'll draw in some more people with that," she said. Regardless, they expect to be within their usual range of between 7,000 to 10,000 patrons, which, on this continent, puts Adamek in an exclusive category. In an era of TV-packaged entities who play to half-empty rooms in casino ballrooms, Adamek is among the rare fighters (alongside the likes of Manny Pacquiao, Floyd Mayweather, Miguel Cotto, Julio Cesar Chavez Jr., Lucian Bute, Jean Pascal and Saul Alvarez) who can successfully carry a market and consistently sell tickets.
When Main Events inked Adamek back in 2008, he was a respected boxer who had a successful run as the IBF light heavyweight champion. On the other hand, he was also a largely unknown quantity to the American public. Duva inked Adamek on the suggestion of her company attorney, Pat English, and his Polish representative, Ziggy Rozalski. In her wildest dreams, she never imagined Adamek would become the draw he is now.
"Not in a million years, no. It's been a very happy surprise; you always knew that the Polish fans were very, very passionate and followed their heroes closely. But it was sort of the nexus of that and the Prudential Center suddenly being there, being available. It all just happened. They both came together at exactly the right time and place, so it made it that much greater," said Duva of the arena that opened in late 2007 and is the home of the New Jersey Devils (and, for a couple of seasons, to the Nets, who have since moved to Brooklyn).
The real turning point took place on the night of December 11th, 2008, when after his Main Events debut in Chicago (a seventh round stoppage of Gary Gomez) a few months earlier, Adamek faced Steve Cunningham for the IBF cruiserweight title at the Prudential Center. In front of a lively and passionate crowd- and a national audience watching on "Versus"- they slugged it out over 12 rounds and Adamek had captured the crown. Right then and there, he became that building's third major league franchise.
"By the time the [Cunningham] fight ended, we kind of had an idea of what we had on our hands," said Duva, who was then pleasantly surprised to learn that, unlike most contemporary boxers, Adamek wanted a quick turnaround. So in March of the following year, he played to another sizable audience and stopped Johnathon Banks in eight heats. "His frequency has a lot do with the rise of his star and also that kind of frequency tends to make you a better fighter, tends to make you more recognizable by your fans," said Duva, who, largely with the backing of Polish television money and her willingness to take a risk on smaller pay-per-view shows, created a self-sustaining brand that wasn't reliant on premium cable network license fees.
When you see an Adamek fight at the Prudential Center, the energy just radiates through the television screen. It's as if you're in Warsaw more than Jersey. Yes, there is solidarity all over. If there is anyone who has taken the mantle from Arturo Gatti- who was built by Main Events- as the fan favorite in these parts, it's Adamek.
When asked to compare and contrast their events, Duva explained, "It's a different kind of lively. Gatti, the crowd came and he put on his performance and that got them excited and they responded. The Adamek crowd, it's more of a symbiotic relationship. Arturo was going to be fighting like crazy and putting on a great performance; no matter what the crowd was doing, the crowd was responding to him. The Adamek fights, they're almost responding to each other. The crowd stands up chanting and yelling, waving flags and being ready to go before he even gets in the ring. And then it really gets going. So I think they feed off each other more than Gatti and his crowd did."
There has been talk of Main Events doing a regular series out of this facility. But even with the Nets heading to the Big Apple and leaving open more available dates, it's not clear if that will pave the way for the promoter. Duva explained, "The venue is such a hot venue for concerts. They don't have any problems filling up those dates; I don't think. The problem with the regular thing has more to do with the fact that the small room [the AmeriHealth Pavilion] there, which we really hoped would work for that, for certain reason, does not. It almost doesn't save us money to go in there. We're better off in the big arena. So there's logistical problems that I believe will someday be overcome but we're not there yet."
Every boxing event at the Prudential Center has had Main Events involved in some form. They are essentially partners in all this. And when the idea was floated around to place last year's original match-up between Chad Dawson and Bernard Hopkins on these grounds, Duva protected her turf like a tiger protects her cubs. Bottom line, she didn't want this territory she had built up to be polluted.
After Duva stated her objections to the Prudential Center management, that disaster of a fight ended up at the Staples Center in Los Angeles, where it played to a crowd littered with freebies and comps. She says, "There are different approaches to how you do this. My feeling is that giving away tickets doesn't accomplish anything. It teaches them to wait till somebody gives them a ticket. We're in the business of selling them and to have worked so hard to build this market, I didn't want to create an atmosphere and I expressed my concerns to the people at Prudential Center, where fans got the impression that, 'Oh, well, if we just wait long enough, someone will give a ticket to us.' And I know that was going to happen with that fight because it's my business to know that. It seemed obvious to me; there was really no natural following for either fighter here and I didn't see that as a big ticket seller. Some guys can sell tickets; some guys can't. So we're going to work with the ones that can."
Outside of Pacquiao and Mayweather, most fights nowadays struggle in casino settings. There does seem to be a trend of staging more events in local venues across the country where boxers have at least some geographic familiarity. It's not really a novel idea; Duva points out that every other professional sport holds to that philosophy. "Baseball, football, basketball, hockey- they're all local sports. They're all, first and foremost, local markets and teams go and play each other. That's pretty much how all sports are set up and I don't think there's any sport you can have that's going to incite the kind of fan passion that we need to survive that cannot be set up in such a way that the local market is the first target- their first market that they can count on. Once a person gets big enough that they can eclipse that local market, then of course you can start talking about going to other markets.

"But you gotta build your foundation before you put the roof on."
Duva believes they will do their usual numbers this weekend but it's not like they've had the spotlight all to themselves in the boxing world or in their local jurisdiction. She's counting on that foundation to carry them.
"The Devils having been on this run has kind of taken a little bit of the attention away from us," she admitted of the hockey team that just fell short in its pursuit of the Stanley Cup. "So we're playing catch-up this week. This whole [Manny] Pacquiao fight being a week earlier and all the controversy surrounding it. A lot of obstacles have been thrown in our way this week." But Main Events will do what they do best- hustle and promote. "At the end of the day, we got a great fight; it's going to be exciting and I think at the last moment, a lot of fans will say, 'Oh, wow, I really want to be there.' So we'll be fine no matter what and we're working very hard this week to remind people it's happening because when we first announced it, it shot out; everybody was ready and talking about it so much. We almost had more publicity the week the fight was announced than we're getting now. But I think that will take care of itself in the next few days. We just want to make sure everyone knows it's happening so that they can watch it live and TiVo the fight from a week ago that's going to be on another network."
Main Events sent this press release out for those who want to see some soccer and boxing in Newark this Saturday:
On Saturday, June 16,

Tomasz "Goral" Adamek

, the Pride of Poland, will take on

"Fast" Eddie Chambers

in a clash of heavyweight contenders at the

Prudential Center

in Newark. Earlier in the day, the Polish national soccer team will face the Czech Republic in the first round of the

UEFA Euro 2012

tournament.
Worried about choosing? Don't be! Head over to Newark in the afternoon to catch the soccer match on TV in one of the great local bars near the Prudential Center then head inside to watch the fights live when the match is over - a true sports fan experience!
Dinosaur Bar-B-Que
(224 Market Street) will supply Polish flavor for the match with $21 buckets of Okocim beer (6 bottles per bucket).
Brick City Bar & Grill
(35 Edison Place) will have happy hour throughout the soccer match: $7 apps, $4 domestic drafts, $5 Avion Tequila shots, $7 specialty martinis.


Loft 47
(47 Edison Place) is offering $15 buckets of beer (Budweiser, Bud Light and Bud Lime).
FIGHT INFO:
The June 16th NBC Sports Network Fight Night card at Newark's Prudential Center features Tomasz Adamek vs. Eddie Chambers. Co-featured on the card will be Bryant Jennings

vs. Steve Collins, Garrett, Indiana, 25-1,18 KO's. The NBCSN broadcast will begin at 9PM ET. The card is presented by Main Events in association with Peltz Boxing, Ziggy Promotions and Goossen Tutor Promotions.
Tickets priced at $254 ringside, $104, $79, and $54 available through Ticketmaster:

online at

www.ticketmaster.com

;

Charge-by-phone: 1-800-745-3000; Ticketmaster Express 866-448-7849; and Ticketmaster ticket centers. Tickets are also available at Prudential Center's Box Office and

www.prucenter.com

.
Yes, I am making the trip to Newark for Adamek-Chambers. I know some of you are surprised that I'm not going to cover the fight at the Sun Bowl in El Paso, Texas between Chavez Jr. and Andy Lee but I've already done a Chavez Jr. fight in the "Lone Star State" earlier this year. Going to an Adamek fight at the Prudential Center is on my boxing bucket list.
I think as a boxing scribe, it's important to not only cover the big fights locally and in Las Vegas but to see what else is going on across the country and the world and witness how boxing is received all over. My belief is that if you're only covering boxing within a 300-mile radius of where you are, you're not really covering the whole sport (Honestly, I don't have many other interests or hobbies. I'm not into vacations. I'm doing what I love, so why ever stop? I basically only travel to see boxing and the Miami Hurricanes. Other than that, I hate the hassle). In the office of Bruce Trampler, Top Rank's highly respected matchmaker, is a map of the United States with tacks stuck all over it. Those colored tacks represent cities where he has seen boxing matches. Trust me; that map is dotted all over. I'm thinking of doing something similar to detail my travels covering this sport.
This year I was able to cover a bout in Puerto Rico (Orlando Salido's thrilling KO of Juan Manuel Lopez) and now I get to cross an Adamek fight at "The Rock" off my list. The other destinations I hope to eventually hit are a big fight in Montreal and certain destinations in Europe, along with any other non-casino venue event taking place in the States.
Y' know, like the Silverdome.
According to numbers from the NSAC, the Tim Bradley-Manny Pacquiao fight did a gate of right around $8.9 million, sold 13,229 tickets with 2020 unsold and 925 comps. On closed-circuit, they sold 4,980 tickets for $249,000...I understand a "Boxing After Dark" card will take place on Sept. 29th and will feature the likes of Orlando Del Valle vs. Vic Darchinyan, Edwin Rodriguez vs. Jason Escalera and another fight (which will be part of the HBO2 deal promised by Ross Greenburg that never launched)...Artie Pelullo tells me his August 25th show featuring Dmitry Pirog versus Gennady Golovkin (can't wait for this one) hasn't found a destination yet and many venues are in play. So no update for you guys who have asked. Honestly, this fight could make my bucket list...It's clear that Kevin Durant is the best closer- if not player- in the NBA. But LeBron James still has something to say about all this...Should I bring the Stanley Cup with me to Newark? Probably not a good idea...Well, it looks like Floyd "Attica" Mayweather won't be getting house arrest (http://www.8newsnow.com/story/18782945/breaking-judge-denies-mayweathers-house-arrest-appeal)

...

I can be reached at k9kim@yahoo.com and I tweet at www.twitter.com/stevemaxboxing. We also have a Facebook fan page at www.facebook.com/MaxBoxing.