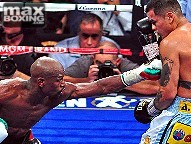 (Photo © German Villasenor)


A Floyd Mayweather (46-0, 26 KO's) fight is an event.
All the fanfare, fireworks and fun you could hope for. Oh, yeah, and a boxing match as well. The reigning king of the ring gets to inch towards his goal of 50-0 and his opponent (insert name here) gets to take a crack at being "the man who beat the man". And, make no mistake, if you are getting a shot at Mayweather you better have something on that night or you are in trouble. And, to get the "Mayweather assignment" phone call, the call every fighter from 140-160 hopes for, you must have had something to
get on the radar.

Heading into Saturday night's card, billed as "The Moment", at the MGM Grand Garden Arena in Las Vegas, Nevada, Mayweather's opponent was rough and rugged Argentinian Marcos "El Chino" (35-4, 31 KO's) Maidana who had earned a ticket to the big show by beating up on slick, previously unbeaten Adrien Broner in his last bout. While the Pacquio fight is always the chatter around Floyd, and the name 'Amir Khan' had been bandied about, it was an impressive showing against undefeated Broner by a tough, no frills, Argentinian slugger, that got Marcos a shot at the brass ring. In terms of styles it was Marcos, the rugged slugger who sported a "punchers chance" vs. the unbeaten, slick, counter punching Mayweather. And while anybody who can crack like Maidana always has a shot, most people felt, while strong and determined, Maidana's style of wading in throwing bombs was tailor-made for an artist like Mayweather who sees everything and controls predictable fighters like Marcos in a surgeon-like fashion.

Mayweather PPV bouts have become "events" more so than sports competitions. He spent most of the time on the Showtime pre-fight build up series "All Access" talking about his over-the-top, mega-rich lifestyle and personal life. If you watched it you had to stop and remind yourself there was going to be a fight at the end of all this. But that is the Mayweather focus these days; selling the Floyd brand, boxing is only a part of it. And to keep the 'Floyd Express' rolling, remaining unbeaten is vital. One thing he does know how to do is box, remain unbeaten and look good doing it. And, if the opposition's style is right he'll look even better doing it; Marcos supposedly had the right style to move him into the 'better' category on this night. Frankly, and this is as much a testament to the talent of Grand Rapids, Michigan's most famous athlete, most of us view Floyd fights hoping for someone to give him a run. But, more often than not, we're pretty sure of the outcome before the first bell. And, while a tough, rough guy like Maidana had more than earned his chance to topple the PPV king by slapping around Adrien Broner for 12 rounds a few months back, Floyd ain't Adrien.

Most people figured they were going to watch the aggressive, bombs away banger Maidana throwing caution, and right hands, to the wind hoping to land the money punch and pull off the biggest upset in the game in a long time. But, things usually play out as they are supposed to and this was the case on Saturday night. Maidana was as tough and effectively aggressive as you can hope for against Floyd. In the end, in a (at-times) competitive battle, Mayweather had his moment in the spotlight while Maidana simply tried to find the moment to land his looping right hand power shot and hand Floyd his first loss. "El Chino" was aggressive and game, and had a few moments where he landed some strong shots that caught Floyd's attention. However, not unlike the 45 previous opponents before him, he plain and simply didn't have the tools to solve the Floyd puzzle. In the end, a focused and pin-point counter punching Mayweather out boxed and out landed the game Maidana over 12 rounds. The scores were 114-114, with 2 judges going with 117-11, and 116-112 for Mayweather. Marcos heads back to Argentina a hero, and a whole lot richer having secured the biggest pay cheque in his career; he'll be back. For Floyd, it's onward and upward as he looks for B-side victim # 37 for his next event in the fall. The fight was not the one-sided boxing match most people felt it would be and as a result the immediate post-fight chatter found most people calling for a rematch. As Floyd said in his post-fight interview with Showtime's Jim Gray,"If the fans wanna see it again, we'll do it again". Ringside analyst Paulie Malignaggi added, "It was a good fight for the fans, I wouldn't mind seeing it again". Sorry Amir, don't start prepping for a Mayweather bout just yet. Perhaps, "El Chino" and "money" have some unfinished business.
Khan-Collazo

Brooklyn's Luis Collazo (35-5, 18 KO's) was coming into the bout with English star Amir Khan (29-3, 19 KO's) hot off his last KO win over Victor Ortiz. The feeling was that Collazo would try to keep the ball rolling and use his hand speed and combination counters to try to upset Khan and secure a possible shot with headliner Floyd Mayweather. In the end, a sharp and focused Khan, who dropped Collazo 3 times in the bout, boxed off a strong jab and hard right hands to secure a 12 round unanimous decision win and set him up for a possible shot at Mayweather. Scores were 117-106, 119-104, 119-104.

In other bouts of note, Adrien Broner (28-1, 22 KOs) won a ten round unanimous decision over Carlos Molina (17-2-1, 7 KOs), scores were 99-91, 98-92, 100-90, all for Broner. And, unbeaten super middleweight J'Leon Love (18-0, 10 KOs) won a ten round unanimous decision over former world title challenger Marco Antonio Periban (20-1-1, 13 KOs). Love was dropped in round 5.
Please visit our Facebook fan page at www.facebook.com/MaxBoxing, where you can discuss our content with Maxboxing readers as well as chime in via our fully interactive article comments sections.