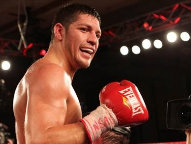 (Photo © Tom Casino / SHOWTIME)


The tenth anniversary of Showtime's prospect show Shobox: The New Generation featured undefeated super featherweight prospect Diego Magdaleno (20-0 with 7 KOs) against featherweight Alejandro Perez (15-3-1, 10 KOs). For a brief moment, Perez, the clear underdog who was moving up in weight and whose skill set of coming forward with volume and pressure seemed perfectly suited to Magdeleno's boxer style, almost got out of work early.

Perez would land his best shot in the first round, a looping right that dropped Magdaleno and shocked the Texas Station Casino in Las Vegas, NV crowd. But the local favorite Magdaleno got up quickly and never looked back. It was as if he woke up from the knock down.

Magdeleno is essentially a pure boxer. A natural right hander, he was switched to southpaw early on, putting his strong hand upfront. He used that advantage as he pumped his jab and put Perez at bay with it.

In the second, ref Robert Byrd took a hasty point from Perez for lowblows. Replays showed the first lowblow that Byrd warned him for was not low at all. When Perez actually did land one, the ref quickly took a point erasing whatever advantage the knockdown had given him.

Perez kept things interesting though, pressing Magdeleno for the early part of the fight. But soon it was a showcase for Magdaleno who seemed to roll out a new tool as each round wore. Right hooks, uppercuts and straight left hands shot through Perez defense. In the fourth a shot being blocked but forcing Perez to lace his own face and open a gash over his right eye.

From there it was all Magdaleno. While he did not score a knockdown of his own or get a stoppage, he never seemed to stop trying. Late in the fight he started to hurt Perez to the body but was unable to get him going.

Perez seemed a bit resigned to his fate in the mid rounds but down the stretch he came alive and let his hands go. It didn't make a difference but the crowd loved it as they traded to the bell.

The judges all had it for Magdaleno by scores of 98-90, 99-90, 98-91.

In the opening bout, junior lightweight Casey Ramos (14-0, 4 KOs) took a split decision over late replacement Georgi Kevlishvili (12-3, 3 KOs) by scores of 77-75 and 78-74. One judge had the one-sided fight for Kevlishvili by a score of 77-75. Why? That's anyone's guess. Ramos was in control throughout the bout and never seemed in danger of losing.