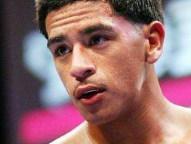 (Photo © Chris Farina / Top Rank)


Red hot, super bantamweight Jesse Magdaleno scored an impressive third round KO win on Saturday, (at the Civic Auditorium in Glendale, California) over tough, Mexican veteran Luis Maldonado. It is becoming clear to those who have followed the Las Vegas boxer's career that this is a young fighter who is getting greased and gassed for prime time. The Top Rank promoted, UniMas-televised card was another showcase for the likeable, ever-smiling, undefeated slugger. Magdaleno, rated in the top 15 in the world rankings, is looking like a fighter headed for the big stage. The exciting super bantamweight is now sitting at 16-0 with 12 of his challengers not hearing the final bell. While his opponent on Saturday night was on a four-loss streak heading into the fight, it should be noted that the combined records of his last four opponents amounted to 53-1. Maldonado had also swapped leather with the likes of Eric Morel, Fernando Montiel, Nonito Donaire and Vic Darchinyan. In short, Magdaleno picked up an impressive win over a fighter with a lot of rounds against a lot of good fighters.

Jesse turned pro in November of 2010 and has continued to impress every time out. The younger brother of world title challenger Diego Magdaleno has an exciting, fast-paced style that sees him putting accurate combinations together that don't allow his opposition much, if any, feel-out time. Once the bell rings, it's "game on." This approach, mixed with an aggressive, offensive style, tight defense and good head movement, makes an assignment against Magdaleno a tough day at the office. Magdaleno, who had been trained by Las Vegas-based Pat Barry and former world-rated professional Augie Sanchez at Barry's Boxing in Las Vegas for his entire pro and amateur career, is now training in Indio, California with highly respected, world champion trainer Joel Diaz. Magdaleno made the move to be alongside Diego, who had left Barry's Boxing to join Diaz earlier in the year. The popular, Vegas-born and raised fighter has amassed a strong following in his hometown with packed rooms often taking up the chant of "Jesse's House" during hometown fights. And while every fighter likes the comfy confines of his home, it is the world stage Magdaleno and his team has their eyes on.
Magdaleno, who recently won "Prospect of the Year" at the inaugural Las Vegas Boxing Hall of Fame awards, is on a fast trajectory north but new trainer Diaz knows there is always work to do. Joel also knows that there is no rush as Magdaleno is only 21 and is already completing his third year in the pro game. Speaking Monday morning, just a couple of days after Saturday's win, Diaz was pleased with his new charge's first fight with him and what lay ahead for them. "It was our first fight together but I was pleased with what I saw. Jesse could have actually had him out of there earlier. He is a very explosive fighter", stated Diaz. "Next camp, we will be working on some things I saw, distance, some old habits." Magdaleno picked up his third win of the year and Diaz wants to keep his new fighter busy. "I'd like to find a spot for him on the October 12th card [supporting the] (Diaz trained) Timothy Bradley-Juan Manuel Marquez fight at the MGM. I'll know in the next week or so. But we definitely want him to fight at least once more this year."
While it is early days yet for the new pairing, Diaz is very pleased with what he saw Saturday night. "Jesse is such an explosive fighter and he has great defense. His speed and defense were definitely the difference Saturday night. And I know Maldonado well. He's been around and he can be dangerous because he is very experienced but Jesse was great. I'm excited for our next camp; Jesse is a great young fighter and he will be a world champion down the line."
Please visit our Facebook fan page at www.facebook.com/MaxBoxing, where you can discuss our content with Maxboxing readers as well as chime in via our fully interactive article comments sections.