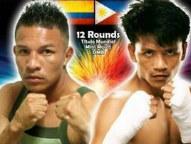 De La Rosa (L) - Sabillo (R)


On Saturday night
from the Coliseo Mario de León, Cerete, in Colombia, Luis De la Rosa meets Filipino Merlito Sabillo for the vacant interim WBO strawweight title. De la Rosa, 26, has been a pro for six years with a 21-1-1 (12) record; the sole loss was two-and-a-half years ago when he challenged Raul Garcia, also for the WBO interim 105 pound crown. Though he wound up on the wrong end of a split decision (but managed to dump the then-champion on the canvas in the second round), De la Rosa still believes he won that fight and doesn't intend to let a second chance pass through his fingers.


Anson Wainwright - On the
9th March,
you take on Merlito Sabillo for the WBO interim strawweight title. What are your thoughts on this fight?
Luis De la Rosa - I think that it is going to be a good fight. The Filipino comes to give everything but I have prepared myself very well and I am going to give my best so that the title remains here in Colombia.

AW - This fight, like all your other previous fights, takes place in Colombia. How important a factor in the fight do you feel home advantage may play?

LDLR - The truth is I am very satisfied because the fight is in my house. I will rely on the support of the public and will give the maximum to have this world title in my hands.

AW - Who are the key members of your team, your manager, trainer and promoter?

LDLR - My promoter is Billy Chams, president of the company, Cuadrilatero. Sergio Chams, Alvaro Mercado and Orlando Pineda are my trainers since I came to this company. They have been delivered to me and have their whole faith put in me.

AW - Tell us about a typical training day for you.

LDLR – Usually, I go out jogging for 50-60 minutes and shadowbox, then I spar with William Urina (a super flyweight, who's fought for the world title, currently 23-2 (20)) and Alfonso De la Hoz (a super flyweight journeyman, who's 13-44-6 (6), though he's only been stopped twice) and we are doing an extraordinary job.

AW - Could you tell us about your early years growing up in Arboletes, Colombia?

LDLR - I am from Arboletes, Antioquia, from a humble neighbourhood called Las Delicias, [former WBA light flyweight champion] Beibis Mendoza's hometown as well. And he was who took me into boxing and supported me through my whole amateur career. In 2006, I started as a professional and after a few fights in Arboletes, Monteria and Cartagena, I arrived in Barranquilla to become a part of Cuadrilatero. My childhood was very tough, therefore I give my best everyday to give my family a better life. Thanks to God, they have also a job and they are doing good but through boxing, I can do a lot more.

AW - How did you first become interested in boxing?

LDLR - Beibis Mendoza put gloves in the streets for us and was there when he saw that I had good qualities to become a great fighter. I started in the gym; I liked it and here I am about to fight for a world title.

AW - It will be your second attempt to win a world title. How much will the previous experience of fighting Raul Garcia help you in preparation for this fight?

LDLR - In my previous fight, I had a very good preparation. As well as my coaches tell me, they know I always want to be the best in the ring. I'm very aggressive and always want to win. That was a great experience and, again, I am grateful to have this opportunity in Colombia and I'm not going to waste it. Really, this bout, I won it and that title, it belongs to me, so every day I train hard and my preparation will be much better. I'm a champion without the crown.

AW - Tell us about your life away from boxing.

LDLR - Outside of boxing, I like to play soccer, basketball, to integrate with my friends, to share.

AW - Who was your boxing hero growing up and who do you like to watch today?

LDLR - Oscar De la Hoya and, today, Sergio "Maravilla" Martinez.

AW – Finally, do you have a message for Merlito Sabillo?

LDLR - Yes, the fight will not come to the decision and I am not going to let you come to disrespect me in my country.
Please visit our Facebook fan page at www.facebook.com/MaxBoxing, where you can discuss our content with Maxboxing readers as well as chime in via our fully interactive article comments sections.