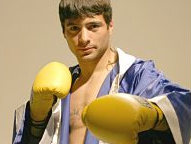 Lucas Matthysse


Over the past two years, the name Lucas Matthysse has slowly entered the consciousness of boxing fans.

Last November

, the 28-1 (26) Argentinean showed he was not all raw power when he took Zab Judah to the 12-round limit in a split decision loss many felt he deserved. Now, the 28-year-old Golden Boy Promotions fighter looks to turn his luck around and march toward his first world title shot when he challenges former WBC junior welterweight titleholder

Devon

Alexander, 21-1 (13),

this Saturday

on HBO live from the

Family Arena

in

Saint Charles, Missouri

.
The son of Mario Matthysse, a junior middleweight contender in the '80s, Matthysse was born into this business.
"My mom was a housewife. My dad he used to box back in the '80s. My brother Walter was a boxer as well. He had a good career. I have a sister that is 30 and she is a boxer as well. I also have a younger sister and she is a student. I come from a boxing family, a boxing tradition," Matthysse told me this past Sunday. "I like boxing. My dad used to box, my uncles and, of course, my brother was also a fighter. I started boxing when I was 11 years old. I've been doing it ever since."
Matthysse grew up participating in and loving the sport. While futbol is king in South America, boxing gave young Lucas a chance to not only carry on family tradition but to shine as an individual, which appealed to him.
"I love it because it is a competitive, individual sport," Matthysse said. "It has a lot of discipline, which is something that I love about the sport."
Matthysse brings to the ring an aggressive style, similar more to a brawler than boxer, not unlike a Julio Cesar Chavez. That said, when asked who his favorite fighter is, Matthysse's answer surprised me.

"I always loved and have been a big fan of Oscar De La Hoya," said Matthysse, who is now promoted by his idol. "I liked him as an athlete. He's a good champion. He has a lot of history. I just liked the kind of man that he is."
Matthysse is part of a growing crop of recent Argentine entrants into the US boxing scene that includes Marcos Maidana and Sergio Martinez. When asked if that reflected a resurgence of the sport back in his home country, Matthysse answered, "I think boxing in Argentina has been coming in waves but yes, futbol is the number one sport out there. But we do have a long tradition of boxing."
Originally trained by an amateur coach who guided Matthysse all the way to a 2003 Pan Am games appearance where he stopped Breidis Prescott in one round (who, in turn, stopped Amir Khan in one in the pro ranks), he has worked with Guty Barrera for the past six years. Two fights ago, starting with Zab Judah and since his January 2011 TKO of DeMarcus Corley, Matthysse has trained near Oxnard, CA, at the World Crown Sports Gym, under the guidance of Pablo and Gaby Sarmiento who train lineal middleweight champion Sergio Martinez. While Barrera is still the chief second, the Sarmientos have offered much in the way of conditioning and fight plan approach.
"I am the same guy," said Matthysse when asked what changes the Sarmientos have made in his game. "I've not really changed my style. I have been learning a lot. I have been a student here. The only thing that has changed is the way I am thinking, my mind speed and the way I train. This conditioning is second to none. It's great out here."
In Devon Alexander, the right-handed Matthysse faces a southpaw who can move well, strike on the go and who will most likely not want to play to the Argentine's strength and trade punches. Against Zab Judah, Matthysse faced a similar threat only one with one punch power. As a result, Matthysse started slowly, moving in on Judah using pressure and a body attack as the fight progressed. Matthysse feels this late start is what cost him, despite the fact he dropped Judah in the tenth round.
"If it was a very close fight but I believe I won that fight," said Matthysse. "What I learned [is] that I need to start strong from the first round to the 12th round. That is something that I am going to do with Devon Alexander. I am going to get after it and show the whole world."
When asked to assess his opponent, the focused fighter said, "He is a good fighter. He is very quick and very fast. He is a southpaw. He will not be able to deal with my power. I am punching harder and I am going to be punching harder than I did with Zab Judah. I'm going to try and make it a short night and you are going to see the best Lucas Matthysse out there."
One important factor here is that Alexander is from nearby St. Louis, Missouri. To beat him in this environment, it's going to take either a clear win or, most likely, a knockout. Unlike many fighters who will defensively say that it does not matter where they fight, Matthysse's experience in losing to Zab Judah in what was basically the latter's home canvas in New Jersey, has taught him that he will have to do more than just enough to win this ten-round bout.
"You know what? This is war and I am not going to take any chances," Matthysse declared. "I need to go to war. I need to initiate and take over the fight. Yes, I believe I have to knock him out to win out there because we are in his home."
While we spoke on the phone, I heard a baby crying in the background, so I asked if Matthysse had any kids. If he did, would they carry on the family tradition?
"Yes, absolutely," he said. "That is her choice. I have a little girl now. I wouldn't want to her to box but if she wants to, I will support her 100%."
From the sounds of the crying, that decision is a long way off for Baby Matthysse. For now, it is up to her father to keep the family dream alive. Saturday night, they get another chance.
On June 3, 2011 at the Warner Center Marriott in Woodland Hills, CA, Bash Boxing and The Art of Boxing Promotions put on an eight-fight card that featured Michael Simms vs. Anatoliy Dudchenko in an eight-round cruiserweight main event. Dudchenko is trained by Justin Fortune of Fortune's Gym, who passed on one of the oddest stories I have ever heard. Of course, this is boxing. Generally, all you have to do is wait a week to say that again.
"We're in a fight with Anatoliy," began Fortune at his gym's front desk as me, Justin and trainer Macka Foley sat around shooting the breeze a few days afterward. "It was an eight-round fight. We're in the fight card that featured Mexican wrestling and a bikini competition, which was really quite ugly. We didn't get into our fight until 11:40. We're the main event. We get to the fifth round, the commissioner comes up and says, "The sixth round is going to be the final round."
"I said 'It's an eight-round fight. What the f**k's the matter with you?!" relayed Fortune, who looked at me with an incredulous smile.
"The commissioner says, 'The insurance ends at midnight and it is five til, now. Six round's the last round," explained Fortune. "So now it's a f**king six-round fight. So I tell Anatoliy, 'OK. Last round.' He says 'What the f**k are you talking about?! It's an eight-round fight!'
"Not now, mother**ker," Fortune told him. "Now before the fight they tell me? OK, but I've never been told in the fifth round that the next one is the last."
"That almost happened to me once but kind of different," chimed in Foley. "Guy offered me an eight-round fight and I said, 'Can you make it six? I don't think I can go eight."
Only in boxing. Or is it "Only in California boxing"?
You can email Gabriel at

maxgmontoya@gmail.com

, follow him on Twitter at

www.twitter.com/gabriel_montoya

and catch him on each Monday's episode of "The Next Round" with Steve Kim. You can also tune in to hear him and co-host David Duenez live on the BlogTalk radio show

Leave-It-In-The-Ring.com

, Thursdays at 5-8 PM PST. Gabriel is a full member of the Boxing Writers Association of America.