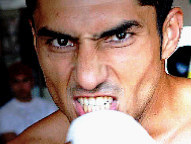 Josesito Lopez


Tonight from the Agua Caliente Casino in Rancho Mirage, CA, Josesito Lopez headlines a special Thursday night edition of "Friday Night Fights" on ESPN2 (9 p.m., ET) against Aaron Martinez. The last time Lopez fought was on December 13th and frankly, he looked…well...not quite like a shot fighter - that would be too harsh of an assessment - but certainly a tad faded in struggling to an eight-round technical decision over the shopworn Mike Arnaoutis. It was a rather listless outing for the "Riverside Rocky."
And you'll get no arguments from Lopez or his trainer.
"For that performance, I didn't feel the best and not to mention, [Arnaoutis] was awkward. We banged heads a couple of times and I was a little worried about that. But I didn't feel the best but I did what I had to do. I pulled off a win and there's always next fight," said Lopez in assessing his performance. Henry Ramirez admits, "I was a little worried about how he was a little slow to react to things. There were things I saw in sparring that basically went right to the fight.

Coming into that contest, Lopez had faced the likes of Marcos Maidana, Saul Alvarez (as a junior middleweight), Victor Ortiz and Jessie Vargas, an impressive run but one that may have physically taken its toll. "It could've been that," opined Ramirez last Thursday afternoon at the House of Boxing in San Diego, where he worked with both Lopez and his heavyweight, Chris Arreola. "The switch of opponent four weeks before the fight, he just never seemed to adjust to the left-handed sparring and fight as well. But I take the blame. We accepted the opponent and we probably shouldn't have accepted a lefty at that point."
Ramirez admits Arnaoutis had a bit more in the tank than he bargained for.
"Yeah, yeah," he said, chuckling, "he was really desperate to win and he gave a real good account of himself. He's a little more tricky than I remember him being."
But Lopez says there is another reason for his less-than-impressive performance, "I hyper-extended my [right] arm. So physically, I didn't feel my best, my body. I got a couple of injuries from that fight but I pulled off a victory." As for his current condition, he states, "I'm in a lot better shape than I have been. I trained hard and we came back over here and I realize I have to put in hard work - old-school hard work - to get where I want to be."
Lopez says he will settle in as a welterweight. He is a bit of a tweener in that he can't realistically make 140 and isn't necessarily a full-fledged 147-pounder. But the 29-year old, who has a pro mark of 31-6 (18), has always been a fighter who gives an honest effort and is no stranger to being in good scraps. He will surely get another chance on the big stage (after all, he is with Al Haymon). Ramirez likes what he's seen over the past several weeks in San Diego. "Oh, absolutely; it's been a good camp. He's been in here with Antonio Orozco for about four weeks now and if you're not in shape, you don't have anything left you're not going to last with Orozco. It was great sparring back and forth; both guys showed a lot."
Ramirez states with confidence, "I definitely think we got a good run left in him. Aaron Martinez is a tough fighter. I'm not looking past him but I definitely think we're going to come out on top and we'll see what comes up after that."
As for what's next, Lopez wants a major belt.
"There's no particular fight. I definitely want to be a world champion, so I would definitely like to fight for a world title," he says, "but first things first. I gotta take care of business on the 24th, look good, come out with no scratches, no injuries and things will be looking bright."
TNR
Here's the latest episode of "The Next Round" with Gabe Montoya and Yours Truly:
LEAVE IT IN THE RING
Just wondering but are Oscar De la Hoya and Richard Schaefer on the same page regarding the vision and direction of Golden Boy Promotions?...Enjoyed the "30 for 30" on Diego Maradona but I felt it should've been longer and touched on his sad, personal descent in the ensuing years...Did George Brett or somebody get busted for pine tar or something in baseball again?...Russell Wilson is getting a divorce while he is still under his rookie deal with the Seahawks? Geez, his soon-to-be-ex-wife must not know much about the NFL collective bargaining agreement. Atta boy, Russ! ...Ican be reached at k9kim@yahoo.com and I tweet at www.twitter.com/stevemaxboxing. We also have a Facebook fan page at www.facebook.com/MaxBoxing, where you can discuss our content with Maxboxing readers as well as chime in via our fully interactive article comments sections.