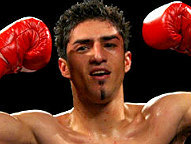 (Photo © German Villasenor, MaxBoxing)


In his last four fights, Josesito Lopez has a record of 1-3, going through the gauntlet of Jessie Vargas, Victor Ortiz, Saul Alvarez and Marcos Maidana. In his last two bouts, he was stopped in the fifth and sixth rounds, respectively. But because of the fan-friendly style of "The Riverside Rocky," his recent record isn't held against him all that much. The bottom line is when Lopez fights, you get a good show and because of that, he's still in the mix for significant bouts moving forward.
That said, he is taking a step back this Friday night when he returns to the ring versus the shopworn Mike Arnaoutis at the Fantasy Springs Casino in Indio, California, in a match-up designed to get Lopez back on the winning track and not so physically punished in the process.
"It was somewhat necessary, stepping slightly down a level," Lopez conceded. "I've been fighting with heavy guys, big fighters and I think it's good. I'm preparing just as well and I think it'll get my confidence back up."

Lopez feels the effects of his recent run which saw him pay a heavy price for increased exposure and the lucrative paydays that come with it."Y' know, sitting down and thinking about it, I'm like, 'Yeah, I've had a tough road.' But I'm used to it. I've had a tough road my whole career. These last few fights have been tough and we get this victory and go on to bigger things," he said.
Henry Ramirez, who trains and manages Lopez, believes the time was right for an "Econo Lube" fight, "Absolutely. I mean coming off the Victor Ortiz fight, which was a taxing fight, obviously the 'Canelo' fight where [Lopez] was overmatched and undersized, the rugged Maidana fight, which was a back-and-forth fight. This [Arnaoutis] fight was necessary fight. This was carefully thought about between Al Haymon and I. This fight will lead him back into a big fight early next year."
But you wonder just how much did this recent run of fights take out of Lopez, now 29 years old with 36 pro bouts (a 2006 no-contest notwithstanding) under his belt?
"I think he'll be alright. He had time off. After the 'Canelo' fight between the Maidana fight, he had about eight or nine months off and then he had a little time off due to the injury. I think he's got plans to fight three or four more years," said Ramirez, during a media day for this card held at the Daniel Ponce de Leon Boxing Club in Montebello last week. Speaking of that injury, Lopez was scheduled to return in early September before damaging his right shoulder while sparring over the summer."Everything's good," Lopez stated, "I did therapy for months. So everything's perfect now."
If Lopez gets past Arnaoutis, a natural fight would be a rematch with Ortiz, who still doesn't seem to fully acknowledge that Lopez's hands had anything to do with breaking his jaw that June night at the Staples Center last year.
"I think that's unsettled business there," said Lopez, who parlayed that upset into his own shot at Alvarez that September. "I don't think he even believes it yet, so I think we'd have to do it again sometime. I don't know when it would be but I'd definitely like to do it again."
While Lopez wants that fight, his desire to face Ortiz in the opposite corner pales in comparison to Ramirez, who states bluntly, "I don't like Victor. I don't make no bones about it. The guy comes up with every f*ckin' excuse why he lost. 'Oh, I lost because I broke my jaw.' Well, OK; did you break your jaw walking back to the corner? It came from a punch and he keeps talking about how, 'I was winning the fight, nine-to-nothing.' To me, if it happens, great. If not, it doesn't matter. But it seems logical but I don't know if [Ortiz] can really make the weight anymore, 147.
"There's a lot of fights out there at 147. It's a deep division, so after this, first quarter of next year, we'll see what we can come up with."
Regardless, for Lopez, this respite was beneficial.
"Yeah, I think so. It helped me a lot. I worked my way into training camp instead of rushing in six, eight weeks of training."