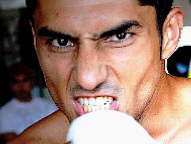 --


How fast time flies. Josesito Lopez is just a few days away from facing the heavy-handed Marcos Maidana at the StubHub Center (geez, that feels funny typing that out) in Carson, California (Showtime 10 p.m. ET/ 7 p.m. PT). It was this time last year when Lopez, who got the pinch-hitting assignment for Andre Berto (who tested positive for a banned substance), was preparing for a bout with Victor Ortiz. Lopez, a career junior welterweight, faced Ortiz at 147 pounds. And on June 23rd, 2012 at the Staples Center, Lopez shocked the boxing world by simply out-toughing the bigger, stronger Ortiz, forcing him to capitulate with a badly fractured jaw at the end of the ninth round.
The victory catapulted the blue-collar Lopez, who, at that point, was but an ESPN-level fighter, plying his trade on the club circuit in Southern California and becoming a serious welterweight player.
Just like that, the "Riverside Rocky" was in a higher tax bracket.

"Yeah, pretty much. Everything happened so quick, "He said a few weeks ago after his day's work was done at II Feathers Gym in Riverside. "Something good happened in June and I jumped at an opportunity that fighters like me don't really get for September. So size was a big issue on that but I'm going back to my weight where I feel best at."
Uh, yeah, that September thing Lopez is referring to was an assignment at junior middleweight against Saul Alvarez. "Canelo" went through a litany of opponents who had various calamities fall upon them, therefore unable to face him on that date. Eventually, Lopez was moved into this fight because, quite frankly, Golden Boy Promotions - and everyone else involved - had no other options.
As for Lopez…well, the offer was simply too good to refuse.
He admitted, "That definitely had a part to do with it but just the fact that I like to think that I can give anybody a fight. But weight was an issue; size was an issue and I think, overall, that was the main thing that was the difference in the fight."
Simply put, this was a Louisville Slugger against a wiffle ball bat and Lopez was simply too light and Alvarez too strong to really make this a competitive affair. After five rounds of one-sided action, where Lopez hit the deck in the second, third and fourth frames, the fight was mercifully halted in the fifth by referee Joe Cortez.
"I knew the first few rounds were going to be a little tough but as the rounds go on, I always feel a little better. I get a little more comfortable and I start landing some of my own punches. I really like to think that if the fight went a few more rounds that I would've done a lot better and gave him a run for it, a good fight," insisted Lopez, who, like any other fighter, always believes a bout is always there to be won.
"It was a big issue," he says. "[Alvarez] knew it coming in and not like most of his previous fights, he didn't start off slow. He started off pretty fast because he knew he had a big size advantage."
Lopez took a beating but he also bolstered his bank account and is now back at his more natural weight (now 147). He also retained his status as a fighter in events like this Saturday night's. He has graduated from the Doubletree Hotel in Ontario on to the biggest stages of the sport. "I know I'm blessed. It just goes to show that with hard work and persistence, anything can happen. Put in hard work and you get that shot and if you make the most of it, the sky's the limit," said the 28-year old, who is in his prime earning years.
And you could say he goes from the frying pan to the fire as he faces Maidana in what figures to be a fan-friendly and entertaining match-up.
"This is a fight. Even before it was brought up, I always thought it would be a helluva fight. It's obviously a tough fight for both of us. But for the people, for me as a boxing fan, I'd love to see this fight. When the fight got brought up, got mentioned, pretty much there was nothing to talk about, 'Let's do it. As long as the weight is right, the money is right, everything's good.' This is a helluva fight. For me, the fans - for everyone - it's a win-win," said Lopez.
Lost among the hysteria of other events consummated for the fall months is the fact that this particular fight has a chance to be an old-fashioned donnybrook. You simply can't see this fight being dull.
"The probability is low," admitted Henry Ramirez, Lopez's trainer/manager. "Obviously, Maidana's a proven puncher, a big puncher at '40, maybe not so much at '47. But maybe he's still developing or fitting into the weight, so we'll see how it goes. I think if Jose sticks to our game plan and boxes when need be, we'll be alright."
And the key for Lopez is to shuffle the deck: box and bang at various times. Do enough to earn Maidana's respect but don't get greedy offensively. Ramirez agrees, stating, "A mixture of both, gotta be smart. Use the ring when need be and engage when he has to get respect and get in and get out."
Lopez, who's never backed down from a skirmish, concedes, "Maidana does hit hard; he's proven it - but every fighter hits hard. The smallest fighter hits hard. All the punches hurt when you're in there. You just have to be a little more cautious with a dangerous fighter like him. But we go in with the same mindset and obviously a strategy for different fighters. But obviously keep a tight guard and be a smart fighter in there."
These two aren't going to need a map to find each other.
"You gotta let him know that you're there," says Lopez. "I know definitely that we're going to clash and we're going to bang. But like I said, overall, be a smart fighter, pick my spots. I know he's going to come in and I'll be waiting for him, to catch him coming in."
Yes, it's true that this great boxing venue, formerly the Home Depot Center (really a tennis court) is now known as the StubHub Center and it should be an entertaining night of action (and yeah, first bell is at 2:15 in the afternoon; believe it or not). I'll say it again; as a boxing fan, catching a card at this place should be on your bucket list. Here's the ticket info:
Tickets priced at $150, $75, $50 and $25, plus applicable taxes, fees and services charges are available at AXS.com or by phone at 1-888-9-AXS-TIX (1-888-929-7849), as well as The Home Depot Center Box Office (Monday through Friday, 10:00 a.m. to 6:00 p.m. PT). VIP Suites are available by calling 1-877-604-8777. For more information on group discounts or VIP packages, please call 1-877-234-8425.
OK, it's been gone for awhile but a new version of "The Next Round" is back:
And yes, you can call it a comeback (by the way, it's now an hour).
The weigh-in for this card takes place on Friday at 1 p.m. at Placita Olvera on Olvera Street...This Showtime telecast will also feature Erislandy Lara vs. Alfredo Angulo and Jermell Charlo vs. Demetrius Hopkins...The August 3rd main event on NBC Sports Network from the Mohegan Sun will feature middleweight Curtis Stevens taking on Saul Roman...R.I.P. to the great Deacon Jones, truly an all-time great and football pioneer. What Jim Brown was to the running back position, Jones was to defensive end. He was the Muhammad Ali of that position, floating like a butterfly and head-slapping like a bee...I don't know who is gonna win the series between Miami and San Antonio but I think it's the best NBA Finals match-up in years...I can be reached at k9kim@yahoo.com and I tweet at www.twitter.com/stevemaxboxing. We also have a Facebook fan page at www.facebook.com/MaxBoxing, where you can discuss our content with Maxboxing readers as well as chime in via our fully interactive article comments sections.