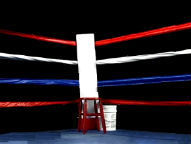 --


The holidays are done. 2013 is in the books. And a fresh docket of fights is being put on the books. New Year's is about starting over fresh. Personally, I'm not a New Year's guy, measuring my yearly progress by my birthday. But everyone else on the planet takes this time to access the year that just was and make resolutions that will hopefully make for an even better year to come.

1. Let's just admit we have a performance-enhancing drug problem; deal with it and move forward; shall we? The definition of insanity, per Albert Einstein, is doing the same thing over and over again and expecting different results. Whether the sport and all who run it want to admit it or not, PEDs aren't going away. If they were, boxing wouldn't have ended its year with a positive drug test in the biggest fight to end the year.

The Association of Boxing Commissions needs to get together with an anti-doping testing agencies and begin discussing how to properly put together something universally accepted, comprehensive, transparent and affordable at every level. The sport's guardians either want a clean sport or they don't. But allowing former drug cheats to dictate what testing groups get used, miring the whole issue in "My testing group is the real deal! No mine is!" morass that - let's face it - frustrates everyone is not going to move this issue to the Promised Land.

One need only look at what GYM and Interbox have done in Canada to see change is possible. Is what they are doing perfect? No. It's not transparent enough for my taste. But it's a much better step in the right direction than, say, the obstructionism of Top Rank Promotions' Bob Arum and Keith Kizer in the Tim Bradley-Juan Manuel Marquez debacle.

This change can't involve personal politics. It isn't about winning writing awards or getting a pat on the back. Frankly, it's not about anyone but the fighters and the people charged with caring for their safety. The money people in the sport who first lifted this rock almost four years ago wish they never had. They should be allowed to dictate what happens in this regard because it's out of hand. The excuses when athletes get caught cheating. The lack of enforcement complete with weak fines and penalties. The general apathy. It's enough. Let us all come together, talk the issue out, get the facts straight and find our way toward something we can all trust and agree creates a better, safer playing field for all.

2. Let's keep better track of mismatches and at-risk fighters. I understand on some level that mismatches are necessary to build a fighter but we need to be human about this. No one coming off a knockout needs to face a fresh, hungry fighter who will likely do the same to them. It's morally criminal that the ABC and individual state commissions are not keeping better track of fighters losing by stoppage in one state and turning around and fighting the next week or month in another. We can do better. Perhaps in that same meeting about PED testing, the ABC and Fight Fax can get together and find a system with the matchmakers in which they alert each other when a fighter has been stopped, suspend him and then, you know, uphold that by not allowing him to fight.

I get that short notice fights happen. Fighters drop out. What are matchmakers to do? I don't know; grow a conscience? Imagine if you had a child and someone treated him or her like a semi-conscious side of beef sent to be cut to pieces by prospects all over the country. Then act accordingly.

3. Keeping those in power in check should be a top priority for boxing in 2014. Boxing got it right by publicly deriding C.J. Ross and her draw scorecard in the Floyd Mayweather Jr. vs. Saul Alvarez fight this past year. People either incompetent consistently in big fights like C.J. Ross should have a spotlight on them until the sport makes them go away. But boxing didn't go far enough. In my opinion, Keith Kizer should have been ousted for not only appointing Ross but for backing his decision after her poor performance. Kizer had an awful 2013 to go with an awful 2012. But the media, tough on Twitter but cowardly when it comes to a real, long haul fight, backed off Kizer during that debacle. Only Zach Arnold of Fightopinion.com appears to be keeping his sights firmly on Kizer and the California commission, which is looking fairly shaky these days.

New media, the Blogtalkers, the YouTubers, bloggers, on-camera interviewers and site owners: Holding people in authority is your job. Get the facts straight; take no prisoners; don't give a f*ck about being popular. When the Kizers and Howard John Fosters of the sport screw up, get after them. Find out why. Find out how it happened. Be fearless.

4. Let's get judging under control. I get it. It's a subject sport in which three people stare from different vantage points and decide whose art they like best. Hometown favorite, promotional might, popularity, who is paying the bill, who will hand out better future assignments, all of that comes into play for judges. I don't care if you calling fights at Sam's Buffalo Wings Shack in Parts Unknown, Arkansas or at the MGM Grand in Las Vegas, whomever gave a judge the gig is who that judge will lean toward.

How do we fix that? I'm not entirely sure. But I don't think we can allow the promoters to pay the judges anymore. There has to be a firewall between the them. It's hard to say, "Just let the commission directors pick the judges," considering what a winner Kizer picked in C.J. Ross.

As media, what we should be doing is spending less time on pound-for-pound lists, imaginary rankings and where the Boxing Writers Association of America dinner will be held this year. We should be all working together as media to hold bad judges accountable. How did they get their jobs? Who is responsible for their presence ringside? What did they make to work the gig? Is there money somewhere else where we aren't looking? Or perks that go with the gig? It can't just be column fodder. And "That's just boxing" is no longer an acceptable excuse.

5. The BWAA gets its collective head out of its ass. Who gives a damn about the awards dinner or who wins what? It says everything about how apathetic, out of touch and politics-ridden the BWAA as a whole has become. Maybe it was always this way. But when you give ESPN's Dan Rafael the Nat Fleischer Award for being the best boxing writer the sport had to offer in 2013, we have either hit rock bottom or have come to the realization that perhaps we give awards just to give them.

Heading toward that rock bottom and the BWAA and its impotent leadership have allowed the sport to be overrun by fans very poorly disguised as press and publicists. We've turned non-stories into headline "exclusives." We've allowed a rogue YouTube videographer to run rampant and trash good people in the sport with zero proof or knowledge of the subject. As long as he tags his videos with the now ironic "...re-porting!", fans buy whatever dogsh*t he puts on YouTube. And this person, a microcosm of what has happened to media in boxing, gets ringside, locker room and gym access. All for the price of an ass smooch or a "reality show" on YouTube.

The BWAA could do a lot to help reform the low standards we've become accustomed to in boxing. It could deny access to weekend warriors who work better paying side jobs but who moonlight in boxing as a whim with no intention of ever doing this as a profession. Because of this, doing the job in a professional manner becomes an easy set of guidelines to bypass. But as long as the BWAA keeps letting in a weak crop so it can continue to pay for its annual dinner (which, in my time with the BWAA, seemed the primary focus), it remain an irrelevant institution and the sport's media will only sink to new lows in 2014.


Prospect watch...

I like Chris Pearson and Julian Williams to be breakout fighters in 2014. There are clear "blue chip" choices like Jose Ramirez, Felix Verdejo, Joseph Diaz and Errol Spence Jr. but these two guys done got slept on in 2013. I have a good feeling that won't be the case this year.

Parting 2013 thoughts...

I love boxing. I wouldn't do this as my job if I didn't. It's not glamorous or wildly profitable. Like some of the new media, I started as a poster on the Doghouseboxing.com message board. I love to talk the sport and there, I learned to write about it. As I got further along in the sport (which pretty much let me in for free and has yet to ask anything of me in return besides filing copy about the fights I am covering), a deeper sense of responsibility emerged. That's why I am at this stage. I am on my way to eight years in the sport as a writer next month. I don't want to take from it. I don't need front row seats or backstage access. All I want is the sport to be better off for my having been in it.