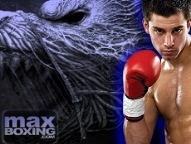 (Image by icheehuahua)


Brooklyn, NY - Who's afraid of the big bad wolf? For certain, it isn't David Lemieux, who recently fought for the first time outside of his native Canada. Lemieux, now 33-2, (31) turned up in the borough of kings, displaying prodigious power and surgical precision en route to a 10th round technical knockout of 28 year-old Gabriel Rosado of Philadelphia, Pennsylvania. On the track, "Brooklyn We Go Hard", Jay-Z eloquently articulated, "there's no fear in my eyes were you looking at." Needless to say, Lemieux proved to be fearless, thus making a believer out of the 6,532 screaming fans present at the Barclays Center. Who also witnessed Lemieux up the ante, by bringing Hov's lyrics to life. Looking into the camera, with a straight eye, Lemieux called out Gennady Golovkin in the post-fight interview with Max Kellerman on HBO.

Rosado, a rough and rugged 'Boricua', that never met a fight that he didn't like, was at a disadvantage early on in the contest. As is expected in every Rosado fight, (now 21-9, 13KOs) his left eye swelled up to grotesque proportions, prompting chief medical examiner/neurologist, Dr. Barry Jordan to call the fight off in the 10th. "Hats off to Rosado, he is one hell of a fighter," said Lemieux, 25, of Montreal. "I had tremendous preparation. I wanted to show all of you what I could do. I wanted to make a statement. Rosado is even better than I thought. I hope you [the fans] enjoyed it."

Lemieux made his presence felt around the third frame. As the action commenced, Lemieux staggered the typically iron jawed Rosado with a vicious left hook. Ultimately, sealing the deal with an uppercut to Rosado's chin, that left him on a wounded knee. Rosado did beat the count, which is par for course, was immediately back in the trenches with Lemieux as soon as the action resumed.

"He's a good fighter, man," said Rosado, who has now lost 3 fights in a row. "It was difficult seeing with my eye puffed up. I saw three of him [blurred/double vision] the whole fight. I was trying to fight and counter as best as I could with one eye. Just my luck."

Rosado, a throwback fighter, who's heart and determination resembles that of the late Arturo Gatti, has had to fight with cuts and bad eye(s) before. Just a year ago Rosado was giving Peter "Kid Chocolate" Quillin all he could handle, in a championship bout that was called to a halt, due to a cut that Rosado sustained over his eye.

"I felt like I was doing good when I could box," said Rosado. "I had a good game plan. I wanted to make him miss and counter but I was a little handicapped with the eye. I give him credit. He's a good fighter."

As the action continued, business really picked up in the 4th round. In what can be compared to as the round 9 of Gatti-Micky Ward I, also known as, the "round of the century", Lemieux and Rosado traded bombs, sending the crowd into frenzy. Rosado achieved success early on, landing two left uppercuts that shook up Lemieux. Clearly, fighting with urgency, Rosado was gunning for the knockout. But due to Rosado's lack of caution, he paid a heavy price, as he absorbed a murderous left hook counter from Lemieux, which left him on spaghetti legs. The round concluded with both fighters trading heavy till the sound of the bell.

By the middle rounds, Rosado was fighting with one, and getting hit with everything Lemieux threw. With the doctor on standby, you could sense that it was a matter of time before the scrap was called. The ringside physicians were monitoring Rosado's injured eye in the corner, periodically. Rosado would get hurt again in the 9th.

As entertaining as it was to see Lemieux and Rosado engaged in fistic fury, there was still great concern for Rosado's well-being by those at ringside. Lemieux had established a comfortable lead on the scorecards, (90-80, 89-81, and 88-82) there wasn't any indication that Rosado was going to score a miraculous come from behind knockout. The stoppage couldn't have come at a better time. It was the right thing to do.

"I know what Rosado wanted to do," said Lemieux. "He wanted to take me into deep waters. As I said before the fight, I was prepared to go 12 rounds and to be explosive the whole fight."

You can expect to see Rosado make the "Gatti List" on Jim Lampley's show "The Fight Game". Hopefully this was the last time that Rosado steps into a ring. As for the Lemieux, the future is very bright.

"I want to be world champion," said Lemieux, who once lost to Joachim Alcine and Marco Antonio Rubio in the past. "I am ready for whomever is at 160. Golovkin, Miguel Cotto, Peter Quillin. I want to fight the best. I am a fighter. This is what I do. I fight." If Golovkin gets passed Martin Murray in February, and Lemieux continues to win impressively, a fight between the two, can definitely happen. New York is the perfect stage for it.

Junior middleweight Hugo Centeno Jr. returned to the squared circle for the first time since knocking out Alfredo Angulo nearly three months ago. Centeno, improved to 22-0, (12) after starching James De La Rosa in the fifth round. The spectacular knockout was reminiscent of when Sergio Martinez flattened Paul Williams in the second round of their epic rematch in Atlantic City, 4 years ago. The contest was waved off at the 2:26 mark of the round.

"My timing was perfect," said Centeno, who is managed by Joel De La Hoya Jr., Oscar's brother. "I've been practicing switching southpaw and on my left hand and it landed beautifully. I felt it."

The 23-year-old native of Oxnard, California, and product of the Robert Garcia Gym, became the first fighter trained by Robert Garcia to make weight for a scrap. If you can recall, neither Brandon Rios, Mikey Garcia, nor Marco Antonio Rubio were able to make the contractual weight of their respective matchup.

Centeno Jr., dropped De La Rosa in the first round with a jab. The native of San Benito, Texas would rise to his feet, however, on unsteady legs. To De La Rosa's credit, he would survive the round. As the fight progressed there was a major lull in the action, prompting those in attendance to serenade the fighters with boos for their efforts, or lack thereof. And just like that, the boos quickly turned to cheers by the fifth stanza. As a result of the loss, De La Rosa now sports a resume of 23-3, (13).

Puerto Rican junior welterweight Thomas Dulorme opened up the HBO telecast with a first-round knockdown of Hank Lundy, ultimately winning a 10-round split decision.

When it was all said and done, two of the judges ruled in favor of Dulorme, who exhibited terrific ring generalship, overruling Lundy's pressure style. The scorecards read 97-92 and 96-93. While the third official had it 96-93 for Lundy.

"He surprised me a little with his game plan," said Dulorme, now 22-1, (14). "It was a tough fight, but I took my time and am very happy with my victory. I will go back to the gym and keep working hard. But I think I deserve a world title shot."

Dulorme, a huge junior welterweight with a crazy reach advantage, caught Lundy with a right hand to the side of the head at the end of the first.

Clearly having difficulty getting underneath Dulorme's jab, Lundy was on the outside looking in, during the first half of the fight.

In the latter half of the fight, Lundy achieved some success by taking chances trying to get around Durlome's jab. Lundy was able to get some good shots in. It was evident that Lundy had some momentum going, and his confidence was growing.

In the 6th round, Lundy rocked Dulorme with a left hook that forced him to hold on, until he shook the Cobb webs off.

As the end drew near, Durlome appeared to play it safe, staying on the outside, moving not trying to engage much. It appeared from press row that Lundy was behind on the scorecards, therefore he was looking for a knockout. Unfortunately for Lundy, he couldn't find a home for his big right hand. With the loss the native of Philadelphia, Pennsylvania dropped to 25-4-1, (12).

"I overcame a knockdown and tried to make it an ugly fight," said Lundy. "I had to make it an ugly fight. I thought I took the later rounds, but early in the fight I didn't stick to the game plan. If I would have stuck to the game plan I would have got him out of there."

A rematch wouldn't be out of the realm of possibility.

Junior middleweight Eddie Gomez of The "Boogie Down" Bronx returned to his winning ways after upping his nod to 17-1, (10) after netting a unanimous decision win over James Winchester, of Reidsville, North Carolina, scores were 100-88 across the board. Gomez dropped Winchester, now 16-11, (6) in the first round with a body shot.

Gomez then pressed the action, but luckily for Winchester, he survived the round. As for Winchester, he did more clowning than fighting. This is typically an indicator that the fighter wants out. As the fight progressed, Gomez remained active, he jabbed, and dictated the tempo the rest of the way. Winchester was deducted a point in the 7th for repeated low blows.

Hometown favorite, Zachary Ochoa, of Brooklyn, New York improved to 9-0, (4) after decisioning Jose Miguel Castro, of Carolina, Puerto Rico now 4-2, (2) by scores of 60-52 across the board. In what appeared to be Ochoa's final six round bout, Ochoa knocked Castro down with a well-placed, picture perfect right hook to Castro's temple. Using his ring intelligence, Ochoa would utilize the same formula that brought him success. Ochoa knocked Castro down again in the second.

"I am ready for what's next," said Ochoa. "It's all about progress, I am ready for 8 rounders now, and this comes with the territory."

Welterweight John Karl Sosa, of Caguas, Puerto Rico kept his undefeated record intact after decisioning local favorite Jason Thompson via a clear and decisive convincing 8 round unanimous decision.

The scorecards read 80-72, and 79-79 twice. Sosa applied pressure, while working everything behind the jab. Thompson achieved success early on, by connecting with solid combinations. Even though Sosa eat some leather, via a few good right counters, the contest was a snoozer.

175 pounder D'mitrius Ballard, of Washington, D.C., now 8-0, (7) disposed of Tylon Burris, of Hartford, Connecticut. (4-3, 2 KOs). Ballard stepped on the gas pedal, and eventually knocked out the overmatched Burris in the 3rd. A barrage of hooks spelled the end for Burris, dropping to 4-3, (2). Ballard scored a knockdown in the 1st round. The official time of the stoppage was 2:57.

In the opening bout of the evening, lightweight Lamont Roach, of Washington D.C. now 5-0, (2) outpointed Alexander Charneco, of Aguada, Puerto Rico, over the course of 4 rounds. The loss dropped Charneco ledger's to 2-1, (2). Roach let all hang loose in the 4th round, and nearly stopped his opponent. The official scorecards read 40 34, and 40-35 twice fir the D.C. native.