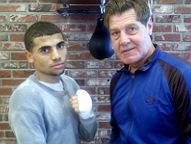 (Photo © K9 Photos)


Joe Goossen
knows exactly how Michael Corleone felt in "The Godfather Part III." It wasn't that long ago when the respected trainer - best known for working with the Ruelas brothers, Michael Nunn, Diego Corrales and Joel Casamayor - swore off working with novice boxers. Sick and tired of the grind (and really, the lack of loyalty in this business), he made a vow that while he was still a gun-for-hire or a troubleshooter for established prizefighters, his days of investing years of sweat equity with no guarantee of seeing the fruits of his labor were done with.

In fact, Goossen took a bit of a sabbatical from his Ten Goose Gym last year to work with actor Rob Schneider on the set of the former "Saturday Night Live" alum's sitcom, "Rob." He truly was a "trainer to the stars" during this spell. Yet, here he is, once again, overseeing the development of a young boxer by the name of Maurice Lee, scheduled to make his pro debut this Friday night at the Little Creek Casino in Shelton, Washington.
Yeah, every damn time Goossen thinks he's out, they pull him back in.

"Well, not 'they' but 'he' and when I say 'he' - and you're right; they would have a hard time sucking me back in - but I found one of those diamond-in-the-roughs right now and I firmly believe it," said Goossen, at his gym a couple of weeks back, just a few feet from where Lee was shadowboxing. "I usually don't spout off on how good I think a guy is unless I really believed it and Maurice Lee is really a guy who's got me excited again about four-rounders. It's hard to do but he's managed that. And why is that? Well, number one, he's really a purebred athlete; he's very athletic. Number two, is that I've seen him in sparring now with a lot of tough guys and nobody ever gets the better of him in the gym. Number three, he's in tremendous shape. He's one of those guys that is really focused and concentrated on what I'm teaching him. Number four, he reminds me of - believe it or not - I see a lot of Michael Nunn."
"Listen, I don't throw that term around very loosely but he reminds me of Nunn," stated Goossen, of who was probably his most naturally talented pupil. "Take a look at this kid and watch him work out; see what he does. He's very evasive but he's right there. He's fast but he hits hard. He's got great instincts. He's hard to lay a glove on. I've had the advantage of training a lot of southpaws over the years, so at this stage in my career, I've compiled a lot of data on southpaws and what you can do to make them very difficult for right-handers. So Iike I've said, I've been able to compile a big database and implement it with Maurice here. So the only thing I do is take a little bit of Joel Casamayor, a little bit of Frankie Liles, a little bit of Robert Guerrero, a little bit of Michael Nunn - all the left-handers I've had - and implement those tactics that I feel are going to benefit him.
"Let me tell you something; he's like a cat to milk. Everything I show him, he just laps up. Just being able to execute in the ring what you've learned on the floor, man, lemme tell you something; he's surpassing all my expectations."
One of the unwritten laws in the boxing business is to never fall in love with a fighter. Eventually, he'll break your heart one way or the other. Joe has been jilted before but he simply can't help himself in this instance. As you listen to him, you can hear the excitement he has over Lee's potential and the possibilities for the future. It's why trainers stay in the gym; you just never know who will walk through that door unannounced.
Goossen describes how he came into contact with Lee, "Maurice has been in our gym, along with his little brother - who's a heckuva amateur fighter - about eight months ago or so. And I just started training him the past couple months and I had my eye on him in the gym and, of course, his father, Carl, approached me, eventually, and he came to the conclusion that he'd like to pair me up with his son. It was one time I accepted very quickly, right on the spot. I know what I got here."
What you see with Lee is a well-built athlete, possessed of fluidity and grace. What's not clear is how a fighter who didn't have an extensive amateur run will make that adjustment in the professional ranks. Lee describes himself as "very slick, very skillful. I take my time, set stuff of off the jab, lot of heart, lot of speed and a lot of power." He says of working in the broiler room that is the Ten Goose (which has the heat on even during the warmest of days in the Valley), "It's hard work, a lot of blood, sweat and tears but at the end, it's going to be worth it."
At age 21, Lee wasn't even born during Nunn's heyday but even he knows that the silky-smooth stylist, considered among the sport's best in the late '80s, is a large part of Goossen's legacy as a trainer. "I know he trained Michael Nunn, a southpaw regarded as one of the greatest of all-time, and I'm a southpaw, so that got me excited," he said.
Is Lee ready to turn pro with his relative inexperience? He seems to think so.
"I felt I was in there with top pros, giving them the best work," said the young man, who provided quality work for Vanes Martirosyan before the "Nightmare" took on Erislandy Lara last fall. "A lot of top pros call me when they need southpaws and I didn't want to try to do the Olympics because it's a lot of politics. I just thought I might as well get with the right people and go from there."
This fledgling lightweight isn't even scheduled to be on the televised portion of this card, broadcast nationally on ESPN2's "Friday Night Fights." And he certainly isn't making any real money (and won't be for the time being) but Goossen believes this is an investment worth making. He's willing to put in hundreds upon thousands of hours in the gym, getting paid less than minimum wage (if you average out the amount of money he'll make in the first few years) to be there when Lee's a finished product. He did it with Gabe and Rafael Ruelas, Nunn, Casamayor (who he took over very early in the process) and he's doing it after the disappointment of Lance Whitaker, Guerrero and Vicente Escobedo. He can't help himself. He's a trainer. This is what he does.
Boxing can be like a narcotic for those involved with it.
"It's only a narcotic when it's a strong narcotic," he says, jokingly, "and y' know, I've got a high tolerance for narcotics in relation to boxing. So this brew is very strong and very appealing and very addictive and you're right. You see that talent in a certain guy and you say, 'Man, if I could only get my hands on him, I could really do something with him.' This is the kid. He's focused and, again, if he couldn't execute what I'm showing him, I wouldn't be as hyped up. But let me tell ya; just everything I lay in front of him, he absorbs and most importantly, executes once he starts sparring. He's one of those guys that, when I'm in the corner, I just envision what he could be. I don't do that very often at all...once a decade."
Yeah, Goossen thinks he's found "the one." But how many other people think they have found "the one," only to be divorced a few times? But he says he doesn't let the past affect how he's approaching this union. "I don't because I'm a dreamer and I don't let the negativity seep into my enthusiasm."
But he does note, "Well, here's where you have to have a solid pre-nup now. The thing is, live and learn; you gotta protect yourself. But we're all protected and everyone's going to be under some legalese and yeah, pre-nups are in vogue for Joe Goossen now. I was all for handshake deals. That's the way I was brought up and your handshake was your word and your bond. Again, I don't want to have to find out somebody else's handshake isn't their word and bond. So we've already discussed it and we're going to do contracts and we're going to make sure we all know that we're a team and we're in it for the long haul together."
Sure, it's great to be brought on by an established fighter and immediately walk into six-figure paydays but there's something about creating and cultivating a fighter from scratch that is irresistible even to the most hardened veterans of the business.

"There really is," Goossen agreed, "and it's what excites you. Look, at this stage of the game, a lot of guys don't want to get on planes to the middle of nowhere. Building a guy, building his record and taking him to the top is a little time consuming and very exhausting, not to mention the six days a week at the gym. But again, if you can look at a guy, see him perform and then envision what he can be...now, I've said it to myself and now, I'll say it publically: I envision this kid to be a superstar one day.
"This kid has 'it.' There's certain 'it' people, like they say on TV shows. He has 'it'."
Here's the iconic line from Al Pacino: http://www.youtube.com/watch?v=UPw-3e_pzqU..."All Access: Mayweather-Guerrero," a five-part series, will debut tonight on Showtime at 10 p.m., ET/PT and will be narrated by rapper/actor Common. Honestly, I'm intrigued by how Lil Wayne might have done in this role...This week's edition of "Friday Night Fights" begins at 11 p.m., ET and will feature former junior featherweight titlist Rico Ramos against Oscar Gonzalez and super middleweights Farah Ennis and Francisco Sierra squaring off. The opener will feature 2012 Mexican Olympian Oscar Molina...Louisville-Michigan was a fantastic game. More college hoops games should be like this, with quick tempo and not over-coached...Rick Pitino winning titles at both Kentucky and Louisville is simply amazing. Talk about being with the Hatfields and McCoys...Dennis Green says "Game of Thrones" is who they thought they were and to crown 'em…I can be reached at k9kim@yahoo.com and I tweet at www.twitter.com/stevemaxboxing. We also have a Facebook fan page at www.facebook.com/MaxBoxing, where you can discuss our content with Maxboxing readers as well as chime in via our fully interactive article comments sections.