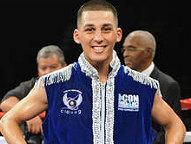 (Hugo "The Boss" Centeno)


While there may be bigger, more publicized or divisionally relevant fights happening this weekend, that doesn't always equate to being the fight of the week. For me, the fight between Hugo 'The Boss" Centeno and KeAndre Leatherwood televised by Showtime' Shobox: the New Generation is as intriguing a match as you can make.

"The Boss" Centeno, 17-0, 9 knockouts, is an Oxnard, CA native promoted by Golden Boy Promotions and managed by Joel De La Hoya, the brother of Oscar. Centeno was one of those kids you'd see as an opener on a Golden Boy Fight Night Club card or at the Marriot Hotel in Irvine card. Trained by his father with no manager or promoter to speak of early on, Centeno has fought himself into his contracts with both the manager and promoter De La Hoyas.

Heading into this fight, one opponent after another passed on the chance to get at Centeno and the position he has earned on cable TV. Perhaps it's his unnatural height for junior middleweight or his long reach (6'1" 78") or the backing he has but it took some time chasing down an opponent.

"Daquan Arnett, 10-0 6 knockouts," Centeno said when asked who turned him down as an opponent on a recent episode of leaveitintheringradio.com. "He is with Al Haymon. From what I know he called me out. I'd been training with Kid Chocolate [WBO middleweight champ Peter Quillin) helping him get ready for his world title fight. So I was already getting the ball rolling. After I signed the contract, they declined it. A few others declined it. So KeAndre stepped up to the plate."

"Lightning" Leatherwood, a 12-1-1 with 8 knockouts, is a prospect out Birmingham, Alabama is on a three-fight win streak. His sole loss was a December 2011 stoppage loss to John Jackson. Off that performance, New York-based promotional firm Boxing 360 run by Dr. Mario Yagobi signed Leatherwood, citing at the time he saw something special in the young fighter. Four fights, three wins and a draw later, Leatherwood and his promoter jumped at the chance to face Centeno.

"I don't really need to know a whole lot about him," said Leatherwood on the same episode of LIITR radio. "I'd been in the gym already, training hard. He really was a mystery to me because I had never heard of this guy before. But when I got the call there was no hesitation. Soon as I got the call I told them to send the contract. I let my promoter do his job. When [Dr. Yagobi] called me, he said it was a great fight for us, a great opportunity. In the beginning, I thought I was the co-main but now I found out I'm headlining the card. I am just happy, you know? Happy that I am getting to showcase my skills on national TV, get a lot of exposure and give a lot of people a chance to see me who haven't before. It's going to be a great performance by me. Everybody better be on the lookout. It's going to be an explosive performance."

Trained by his father Pete, Leatherwood believes in the old school hard work and dedication mentality. Like Centeno, Leatherwood had been preparing for a series of fights that had fallen through for various reasons. When he got the call for this one, he had been prepping for an eight round fight. This being a ten round fight, Leatherwood saw no problem with extending his preparation to compensate for the extra rounds. As for his eight round fight, this was easily a bigger opportunity.

"In all honesty, like my promoter put it to me, He said 'You can't question what God has for us. You weren't supposed to get those fights. You maybe could have gotten cut, head butt, or injured and then we wouldn't be able to get this big fight that actually meant something, you know what I mean? The other fights were like career-building types of fights to learn stuff in. Like you said, you are happy me and Hugo are fighting, I am definitely happy about it. It's a fight that could make a statement. I am taking this fight to make a statement."

This is not an easy win showcase fight for either man. It is a chance to show the world they can be contenders by beating someone just as skilled and hungry as they are. For Centeno, the fight represents the confidence his team has in him.

"I don't feel the pressure. I feel more confident because [Joel De La Hoya] sees something that I might not see," said Centeno who explained it was De La Hoya who told him it was time to step up to ten rounders. "He believes in me that I can go those ten rounds and he has confidence in me. He sees that and he wants to show the rest of the world."

Part of that confidence has come from the work Centeno has gotten in the gyms of boxing's hot bed known as southern California. In particular, Centeno has gotten some serious sparring work in at the Wild Card in Hollywood, CA.

"I feel like I have developed a lot mentally," said Centeno. "Before, I feel I used to sell myself short. I am more capable of doing than what I gave myself credit for. Working with Kid Chocolate, Michael Medina, [Nobu] Ishida, Lucky Boy [Wale Omotoso] it just gave me the confidence and gave me that next level of confidence. I have matured a lot mentally."

Centeno's growth showed that more than ever in his last fight against Allen Conyers. It was a surgical performance from the most professional prizefighter version of Centeno this writer had seen to date. He broke down Conyers, a veteran who gave James Kirkland his first knockdown on Shobox in 2007. Conyers is a solid proving ground. Centeno dropped him in the first round and thoroughly dominated until Conyers his corner ended things after the sixth frame.

"That was a very significant fight," said Centeno. "[Allen Conyers] is a veteran fighter and he is been up against tough opposition. And you know, after I hurt him in the first round and he still came back and survived. He was going pedal to the metal every single round. He caught me a few times, nothing to where I was buzzed or hurt but it taught me to never let my guard down no matter how hurt an opponent is."

When asked to break down the other, the answers were very different. Centeno has a quiet confidence. He's just discovering how good he can be. Out of the ring, he is gentleman who prefers to let his fists do the talking.

"He's a strong fighter," said Centeno of Leatherwood. "He comes out and leaves it it's all in the ring. He's got a lot of experience. He knows what he is doing up there. He's not some bum or a journeyman. He is coming to win and I know he is coming for my undefeated record. But I'm ready."

On the flipside, Leatherwood is not shy with his assessment. Also a gentleman, the fighter in him comes out readily.

"I am looking at his physical attributes. He got kind of a frail frame. He's long and lanky. His punching power is very subpar. His speed level, he has decent speed but I don't feel like if we get in there and exchange, he's going to be able to really keep up with me. I am going in there to break this guy down," assessed Leatherwood who stands 5'10".

While veteran fighters like Conyers can help a fighter learn, they don't always provide the full adversity needed to grow into a full-blown contender or champion. Leatherwood recognizes that lack of experience in Centeno and hopes to exploit it.

"In all honesty, I don't see this fight going the distance. The guy is frail, he can't punch. He really has nothing to keep me off his ass and I got to see if he can take what I got to give," said Leatherwood. "I want to see if he will be able to take the punishment I am going to put on his body. I am going to see if he can take a shot on the chin because nobody has seen how this guy reacts to a nice chin shot. Nobody has really tested this guy's heart. I am going to put him through some adversity. I am not going to go through and just put on a good show. I'm not going to California for that. I could stay home and do a decent fight on a local show. This is not a show. This is serious. I got mouths to feed. So I am getting in there to take care of my kids. I am putting my life on the line and I am taking it as that. This is not a game."

Both men have the ability to box and brawl. But for Centeno, who is 6'1" to Leatherwood's 5'10", his zeal for brawling will only benefits the smaller man who wants to get inside.

"Definitely I love to mix it up," said Centeno. "Boxing would be a smarter and easier way out sometimes to make that easy win. But something in my blood, I like to exchange. Get in my three or four punches and then get back to boxing."

Shobox is about taking prospects to the next level by pitting them against each other. Winner moves on. Loser rebuilds at a lower level depending on how the fight plays out. Both men clearly understand that preparation so as to be able to jump on every opportunity created or presented will be the keys to success.

"We've put together a game plan, "said Leatherwood. "We are going to expose a lot of things. We are going to put him in a lot of uncomfortable situations and see how he reacts. His chin still hasn't been tested. Whether he has it up in the air or wherever, if I touch him on it he's going to feel it. They don't call me 'Lightning" for no reason. I feel like I got some of the fastest hands in the division, I just haven't gotten a chance to really show it yet, you know what I mean? I'm definitely declaring war. I am not coming to play. I am coming to handle business. I am going there like my life is on the line. I don't know what Hugo fights for but I got two kids. I got mouths to feed. So you got a lot to come up against because that's personal. If somebody coming to take food off your table, that's personal to you, right? Hugo is trying to take food out of my kids' mouth because if I lose this fight, I am going in the other direction. I can't let that happen. Hopefully when I put on this clinic, Showtime will have me back real soon."

Centeno fought six times last year and then had a full training camp to prepare him for this his first ten round distance fight. Like Leatherwood, he is staring through an open door. It's time for one of them to walk through it.

I feel like this past year has helped me find myself more and what my craft is," said Centeno. "Early in my career, I fought a lot of fighters who would help me build my record per se. It didn't really teach me as much you know with knockout after knockout. Then when I started putting in those rounds and started learning little things, little tricks in the ring, I started learning my craft a little more of what I am capable of doing and I feel it is taken me to the next level."
--
You can email Gabriel at maxgmontoya@gmail.com, follow him on Twitter at www.twitter.com/gabriel_montoya and catch him every Monday on "The Next Round" with Steve Kim. You can also tune in to hear him and co-host David Duenez live on the BlogTalk radio show Leave-It-In-The-Ring.com, Thursdays at 5-8 p.m., PST.
Please visit our Facebook fan page at www.facebook.com/MaxBoxing, where you can discuss our content with Maxboxing readers as well as chime in via our fully interactive article comments sections.