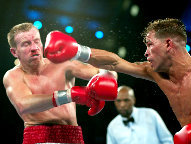 Photo © HBO


Longtime HBO blow-by-blow voice Jim Lampley readily admits he is an emotional sort. If something touches a nerve, Lampley has no problems shedding tears (Dick Vermeil has nothing on him). And he knew that as he prepared to participate in the reboot of "Legendary Nights: The Tale of Gatti-Ward" (which debuts on HBO this Saturday night after the Mike Alvarado-Ruslan Provodnikov fight)…well, crying was a strong possibility if not a certainty.

"I wondered if I could take a pill or something; I mean, seriously," he said with a chuckle, reflecting on the input he gave to the show. "I said to myself, 'What is it that I can do during this interview to avoid being overemotional?' and literally, I tried biting my tongue. I tried to think of other things while they were asking the questions. I tried everything possible to avoid getting overly emotional and I couldn't do it and it didn't surprise me because I am an emotional person and I am known to go over that edge."

In earlier editions of "Legendary Nights," Lampley got teary-eyed over George Foreman's upset over Michael Moorer. This is a man not afraid to express his feelings.

"I did eulogies for Emanuel Steward or for our sound guy, Paul Hoggatt and I didn't want to do it in this case," explained Lampley, who called all three bouts between Arturo Gatti and Micky Ward for the network. "I wanted to be able to sit there and do the interview but Pat Lynch (Gatti's former manager) got emotional. Even Lou DiBella (who promoted Ward through those events), I saw a twinkle in his eye. So I think that all of us had some of the same feelings about what we were talking about."

Lampley is correct. He wasn't the only one affected so viscerally by this rivalry and these fighters. Other panelists such as Kathy Duva, Ron Borges, Larry Merchant and the referee for the second and third match-ups, Earl Morton (who recently passed away) were visibly moved in talking about this subject.

"Well, I think there was something about the fight in the first place that brought out the raw emotion of what we see in boxing, the sacrifice that fighters make to entertain us, the risks that they take to entertain us. It's all there in bold relief," explained Lampley. "Then you add to that a lesser factor: the nostalgia that we all share as those who were privileged to sit there and witness at ringside, talk about it, watch the trilogy grow. The nostalgia of being a part of what I think of as boxing's greatest love story.

"The single most illustrated example of how it is that two fighters through the course of indescribable mayhem can fall in love with each other as these two guys most certainly did and finally, the one poignant factor that I knew makes me the most emotional about it is the death of Arturo Gatti and the fact he's no longer with us. When I get overly emotional in the documentary - and I do believe I do get overly emotional - I'm a little embarrassed at how emotional I am when talking about that trilogy. I know from the feelings in my heart and in my head that drives me to that level of overemotionalism is Arturo's death."

Gatti died under highly suspicious circumstances in the summer of 2009 in Brazil (http://www.nydailynews.com/sports/more-sports/investigators-forensic-experts-boxer-arturo-gatti-death-murder-suicide-article-1.954059)

"That's sort the last ingredient in the stew, so to speak, that brings us all to the point of tears or even in my case, few tears, while discussing it."

This edition of "Legendary Nights" is approximately an hour-and-15 minutes long and while the format is basically the same, it's not built on an exact template to the original series that came out in 2003. This one utilizes iPads as the panelists recall the memorable ninth round that took place in the first fight. They also focus on the happenings of the International Boxing Hall of Fame ceremonies in Canastota, New York this past summer.

There was something special about Gatti-Ward. It was a series that began as a "Boxing After Dark" pairing of two fighters with 16 losses between them. It was derided by some pundits as a glorified club fight that ended up being an indelible piece of boxing history. You could argue that this series transcended boxing and its biggest impact was creating more fans.

Gatti and Ward were two honest fighters, who ended up making history because their personalities and styles meshed so perfectly. They weren't the best boxers but they made some of the most memorable fights. Their limitations made them perfect for each other.

And it's perhaps why these two men - and what they did in the ring with each other - resonated so much with the public.

"100 percent correct," agreed Lampley, "and the whole reason that the 'Gatti List' is called the 'Gatti List' on my show, 'The Fight Game' is because the show itself is aimed at being a celebration of the culture of risk and a celebration of those fighters, who, as Larry Merchant so eloquently put it, give up a piece of their lives to entertain us and without them, the sport doesn't exist. I mean, it's beautiful as a tribute to the primacy of technique that we have fighters in our sport like Guillermo Rigondeaux and now, Vasyl Lomachenko, who demonstrate the competitive superiority of the 10,000-hour rule of being able to do things in a profound technical way but the audience only exists because of fighters like Arturo and Micky, who inspire people to buy tickets and buy pay-per-views to watch men take irrational risks in front of an audience and that's really at the heart of why the sport still exists after 120 years.

"And the beauty of Arturo and Micky is that they personified that right in front of us and they appeared at times to be trying to kill each other with their fists and at the end, they fell into each other's arms in an embrace of pure love and devotion. So much about boxing is communicated in that human experience that goes beyond words."

Gatti-Ward took place over a decade ago (yeah, it's been that long). It's a chance to remember and honor two men who gave so much to the sport.

Lampley states, "You actually have to see it happen to understand it and the beauty of the documentary is that a lot of young boxing fans, who may have only caught a glimpse of this here and there on YouTube, will now get a deeper understanding of what it was, how it happened and what's unique about the sport."

NOT-SO-LEGENDARY NIGHT

I think everyone can recall where they were when the first chapter of Gatti-Ward took place. I know I do. I was at the utterly forgettable affair between Kostya Tszyu and Ben Tackie at the Mandalay Bay (which couldn't have had more than a thousand or so people in attendance).

After this fight, a group of us (including my old Maxboxing colleague, Doug Fischer, Kevin Iole, Johnnie Whitehead and Dave "The Cat in the Hat" Cokin) were grabbing a bite to eat the Raffles Cafe when I got a call from Merchant, who had just gotten back to his room after calling this classic encounter at the Mohegan Sun. I didn't want him to reveal the result of the fight for me (this was pre-Twitter, so back in the olden days, it was much easier to not get spoilers) but he told me I had missed something special and that I had to make sure to watch this as soon as possible.

Later on, we ended up going to the sports book and the bar area had the fight on one of its smaller TVs (the fight was on West Coast delay on HBO) and what I remember most is as the fight went on, the crowd near the bar began to swell. Soon, it seemed like we had a bigger crowd than what was at the Grand Garden Arena to witness Tszyu-Tackie.

As one of the big screens on the sports book showed highlights from SportsCenter (yes, it was that good of a fight that ESPN actually showed clips that night), Whitehead and I nearly got whiplash from turning away from the screen and covering our ears. Hey, we had gone this far and we were enjoying this far too much to have the result ruined.

But yeah, that's how I watched Gatti-Ward - by going to Tsyzu-Tackie in Las Vegas.

MORE NIGHTS?

So why aren't there more chapters of "Legendary Nights"?

Well, there were rights issues with the footage (the first set of "Legendary Nights" had a not-so-small problem with that and Top Rank Promotions and Don King ended up with a bunch of dates on the network) and now you have situations where Golden Boy Promotions, which has been involved in more than its fair share of memorable fights on the network, is most likely not going to cooperate with anything HBO would want to do as of this moment.

I'd be willing to venture that because DiBella Entertainment and Main Events were involved in the Gatti-Ward series, it's the only reason this venture came to fruition.

OK, but putting that aside, what fights (or series of bouts) would I like to see featured on future editions of "Legendary Nights"? Just one man's opinion...

- Bernard Hopkins vs. Felix Trinidad: The first big boxing event in New York City, post-9/11. I can still vividly recall the mood of this city and the realization that our world had changed forever. When the New York City firefighters walked in and received a standing ovation and were featured on the big screen with "I Will Remember You" from Sarah McLachlan playing, it was hard to not get emotional.

- Marco Antonio Barrera vs. Erik Morales: For my money, still the fiercest blood-feud in boxing. These are the Mexican Hatfields and McCoys. And you get the sense they will never, ever like each other. Their first and third match-ups are among the best bouts I've ever seen ringside.

- Manny Pacquiao vs. Juan Manuel Marquez: Easy call here. So much happened (with a lot of debate and controversy) and this rivalry ended with an incredible knockout.

- Oscar De la Hoya vs. Fernando Vargas: Two Mexican-Americans who both grew up in the States and represented this country in the Olympics but couldn't have been more different and more disdainful of one another. Their fight was pretty damn good too.

- Felix Trinidad vs. Fernando Vargas: This was when "Tito" became a full-blown superstar in a fight in which "Ferocious" showed immeasurable guts and fortitude. But Vargas may have lost more than just a fight. His physical prime lapsed and he was never quite the same ever again.

- Miguel Cotto vs. Antonio Margarito: Controversy, debate and the Mexican-Puerto Rican rivalry. What more do you need?

REMATCH?

So what's the status of the rematch between WBC featherweight titlist Jhonny Gonzalez and Abner Mares?

"I believe it's going to happen next year," said Mares' manager Frank Espinoza. Back in August, Gonzalez stunned Mares with a lethal left hook, stopping him in the first round at the StubHub Center in Carson, California. There is a rematch clause for this fight and Golden Boy has two options on Gonzalez moving forward.

"Since the fight, we haven't really sat down and had any talks with Golden Boy but I think we're looking at next year. I think it's too late in the year now," pointed out Espinoza. Looking at the Showtime schedule, it looks like the rest of the 2013 schedule is set.


PLAYOFF SERIES FLURRIES
Espinoza confirmed that rising junior welterweight prospect Antonio Orozco will be part of the November 30th card in San Antonio as part of the Showtime Extreme broadcast...Is there a Chicago Civil War over the promotional rights to Andrzej Fonfara?...If the 'Canes are who I think they are this year, they go into Chapel Hill and take care of business tonight versus UNC...This season of "Scandal" has been off to an excellent start...I can be reached at k9kim@yahoo.com and I tweet at www.twitter.com/stevemaxboxing. We also have a Facebook fan page at www.facebook.com/MaxBoxing, where you can discuss our content with Maxboxing readers as well as chime in via our fully interactive article comments sections.