Lamont Peterson Tests Positive For Banned Substance, Khan Rematch In Doubt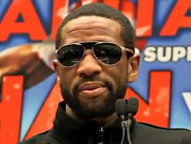 --


According to sources close to the situation, Maxboxing.com has learned that junior lightweight champion Lamont Peterson has tested positive for a banned substance. Steve Carp of the Las Vegas Journal review reported it to be synthetic testosterone. Peterson is scheduled to face Amir Khan May 19 at the Mandalay Bay in Las Vegas, NV. While the Peterson camp would not field questions Monday night, they did release this statement to Maxboxing.com's Steve Kim as well as The Ring and other publications:

"We have tremendous respect for VADA and its mission. Lamont, Barry (Hunter) and the entire team emphatically support random drug testing in the most comprehensive manner, possible. We are working expeditiously with the team of pathologists and other medical specialists to confirm the origin of the test result and in full compliance with the rules of the Nevada State Athletic Commission. Lamont has never had a positive test, either before or after this isolated occurrence and we plan to submit medical findings by the close of business Tuesday that reflects the actual facts in support of Lamont's good faith intentions and requirements of the commission."

The news was broken on this writer's twitter account roughly 6:30 Monday night with reports hinting at trouble earlier in the day from The Times' Ron Lewis (@RonLewisTimes) tweeted: "Khan-Peterson in trouble. I understand there's a problem with Peterson. Next 24 hours crucial."

Several hours later, this writer broke the news on twitter that Peterson had tested positive for a banned substance. Rumors swirled that it was marijuana. According to my sources and Mr. Carp, the substance in question is synthetic testosterone also referred to as exogenous testosterone, meaning having come from a source other than your own body.

In the negotiations leading up to the rematch of last December's Khan-Peterson fight that saw the D.C.-based Peterson take a split decision and the WBA/IBF titles from Khan, Peterson asked for extensive drug tests. The tests were performed by the Voluntary Anti-Doping Association (VADA) headed by Dr. Margaret Goodman who declined to be interviewed for this story.

Why someone who is now alleged to have used synthetic testosterone asked for extensive is not known. Nor is whether the fight is still on or not. According to Steve Kim of Maxboxing.com and others, there were rumors that Carson Jones might be one to replace Peterson should he be suspended or the bout called off. There is no word from HBO regarding plans the date for Khan should Peterson drop out.

Earlier in the day, Nevada State Athletic Director Keith Kizer was asked what would happen in the event VADA or USADA, (United States Anti-Doping Agency), were to discover a pre-fight positive result. Currently, they are the only two groups doing extensive in-training drug screening.

In Major League Baseball or the National Football League, a positive test result can be held in confidence by league officials for a period of time. According to Kizer, a full investigation would have to be launched with both the A and B samples tested, chain of custody examined and a myriad of other factors examined. In the end, the Nevada Commission has the final say as to whether the fight will happen or not, according to Kizer.

In RingTV.com Lem Satterfield's article on the subject he printed a letter sent from Dr. Margaret Goodman to Keith Kizer:

http://ringtv.craveo...vada-letter.pdf

"In a letter to Nevada State Athletic Commission Executive Director Keith Kizer and obtained by RingTV.com, VADA President and founder, Margaret Goodman, wrote that a "urine specimen...was collected on March 19," and that its test results were "consistent with the administration of an anabolic steroid such as testosterone."

That date is consistent with the very first samples taken by VADA at the final press conference held March 19 in Los Angeles to announce the fight.

What is significant to understand is that VADA, unlike any other drug testing entity in the world of its kind, uses a screen test that is specifically designed to detect synthetic testosterone. The test method, known as Carbon Isotope Ratio (CIR), may have been the key in detecting what was found in Peterson's system. If Peterson's T/E ratio (testosterone to epitestosterone) had been under the allowable limit of 6:1 in Nevada, he would have possibly escaped detection of synthetic testosterone use as NSAC and USADA do not use the CIR method unless a high T/E ratio shows up first as a red flag.

More details as they come.



Subscribe to feed