Kucher: "By the end of the next year, I will box for a world title"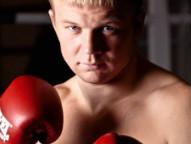 Photo © Elite Boxing Promotion


It's been a breakout year for Ukrainian Dmytro Kucher. The 28-year-old is 4-0 with all four ending inside the distance, collecting the WBC international silver cruiserweight title along the way and improving his record to 18-0 (14). He returns today, looking to further his career when he meets former WBA interim world champion Steve Herelius in what appears on paper to be his toughest test of his near four-year pro career. Kucher is closing on a world title which he hopes to win next year.
Anson Wainwright - In your last fight, you beat Geoffrey Battelo, stopping him in the fifth round. Could you tell us about that fight and what you thought of your performance?

Dmytro Kucher -
It was very difficult fight for me. My opponent was very strong and has very powerful punch. In the first round, I saw his conditions and then executed our plan on fight.
AW -
It looks like you're fighting next on 27 October. Could you tell us about that, who you're fighting, where it will be, etc

.?
DK - My next fight will be in Kiev in our training gym. I will defend my WBC international silver title. My opponent is a southpaw boxer, ex-interim world WBA champion Steve Herelius.
AW -
How far do you think you are from fighting for world titles?
DK -
Now I must win my next fight. But I think that in end of the next year, I will box for a world title.

AW -

Who are the members of your team,? Also where do you regularly train?
DK -
My trainer is Andriy Synepupov who was IBF Inter-Continental lightweight champion in 1994. He is a very professional trainer and my good friend. My manager and promoter is Roman Valesiuk who is a head of Elite Boxing Promotion from Kiev, Ukraine. I am training in the gym of our promotional company in Kiev. It's a very modern training gym. Here we often make small tournaments.

AW -

What is a typical training session for you?
DK -
In present time, I have fights one every two months and in this case, I usually don't have usual training day. I have fight then I rest for one week. After it, I begin my next training camp, three weeks in the south of Ukraine, we have physical training, then we're back in Kiev and have three to five weeks of sparring.

AW -

What are your thoughts on the cruiserweight division and its current titlists, European champ Alexander Alekseev and world champions Krzysztof Wlodarczyk of the WBC, Guillermo Jones of the WBA, Yoan Pablo Hernandez of the IBF and Marco Huck of the WBO?
DK - Alekseev is a typical representative of Soviet school of boxing but he has a lot of Germany school.
Wlodarczyk is a very good boxer with an interesting style. He can win by KO in every fight. It is very important to know when boxing vs. Wlodarczyk.
Jones is also good boxer but his age is 40. I think that he can box two to three [more] years.
Hernandez is an interesting Cuban boxer but I think he cannot box vs. boxer with strong punch.
Huck is a great boxer but in my opinion, he is not good technically.
AW -
What was it like growing up in Vinitza, Ukraine?
DK -
I had a normal childhood of Soviet child. Vinitza is a not big city but it's my favorite city. At seven years old, I began my learning at school. At 17, I went to university.

AW -

How did you first become interested in boxing?
DK - In our school comes boxing trainer who was recruiting children for boxing training. I came in his gym with my friends.
AW -
Could you tell us about your amateur career?
DK - I don't calculate my fights in amateur boxing but I think that I make more than 150 fights. I took part and won a lot of international tournaments in Europe. I was a champion of Ukraine.
AW -
Tell us about yourself as a person, your life away from boxing including hobbies and interests.
DK -
My hobby
is a boxing. In present time, I don't have a lot of time for another.

AW -

What are the best and worst things about being a boxer?
DK - The
best is a win in fight for the world title vs. very a good opponent. Worst is to not give yourself 100% to boxing.

AW –

Finally, do you have a message for the cruiserweight division?
DK - Cruiserweight division, be ready; I will be on top soon!
Please visit our Facebook fan page at www.facebook.com/MaxBoxing, where you can discuss our content with Maxboxing readers as well as chime in via our fully interactive article comments sections.



Subscribe to feed