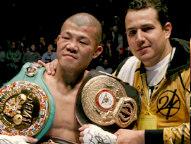 Photo © Sumio Yamada


The polarising figure of Koki Kameda is not to everyone's taste in Japan, though like Floyd Mayweather in America, you have to begrudgingly respect him. So far at just 25 years old, the eldest of three fighting Kameda brothers, Koki has won three world championships, having reigned as WBA light flyweight champion, WBC flyweight titleholder and currently, WBA bantamweight titlist. The criticism stems from his flashy behaviour and trash-talking (remind you of anyone?) which is very un-Japanese (in Kameda's homeland, the culture is polite and friendly). He first came to prominence at just 14 years of age when he met former WBA strawweight champion Hiroki Ioka in an exhibition. Having turned pro in late 2003, he moved toward a world title relatively quickly, winning a strap inside three years by besting Juan Landaeta. Though many believed Kameda lost at this juncture, he took a direct rematch next time, winning with no debate. Kameda had struggled hugely to trim down to 108 pounds and dually vacated, moving up to flyweight where he gained family revenge over fellow Japanese boxer Daisuke Naito, who'd beaten his younger brother, Daiki, previously. However, four months later in his maiden defence, he suffered his lone reverse on an otherwise impressive ledger, currently standing at 28-1 (17), against Thai legend Pongsaklek Wonjongkam. Not perturbed, again Kameda stepped up in weight, this time all the way to bantamweight, leapfrogging the super flyweight division. After one warm-up fight, he outpointed former world champion Alexander Munoz to claim the vacant bantamweight crown in late 2010. Since then, Kameda has retained his title four times, though he still dreams of one day winning a title back down at super flyweight. Though not everyone's cup of tea, his accomplishments are undoubtedly impressive. As well as his bantamweight championship, he's also enjoys a high rating by The Ring magazine at number four.


Anson Wainwright - Congratulations on your recent win over Nouldy Manakane. Could you tell us about the fight and how happy you were with your performance?
Koki Kameda - Although I won my last fight, I wasn't happy with the contents of the fight. The way I see it, this was a bad fight for me.
AW - Can you tell us what is next for you?
KK - I will fight with anyone, anytime. However, I'm waiting now for the recovery of my fists that was injured last year and had got worse in the last fight.
AW - Could you tell us about your team?
KK - All Kameda Team's members put a great effort. We all have a wonderful relationship with each other. My father, brothers and all the staff, it's a very united team.
AW - Could you tell us about your younger days growing up in Osaka and the path you took into boxing?
KK - We weren't wealthy at all. I come from a low-profile family; we grew up in the Nishinari Ward in Osaka Prefecture, a kind of place that you can call the "slums of town" as they would say in the U.S. However, for us, it was a wonderful town.

I started there practicing Karate in my childhood and after a few years, we switched to boxing, the main reason being that boxing is profitable and it would bring economic security and happiness to the family if I became a world champion. Since then, I've been working very hard every day following that dream with our father always beside us. So far, we came all this way along with our father and, thanks to him, we have achieved so much so far. Without him, this wouldn't be possible at all, so we are really thankful to him. My father's dream is that the three brothers become world champions for the first time in the world. This has happened with two of us in Japan and only Tomoki hasn't became a world champion yet but after his achievement of the WBC Silver championship in his last fight in Mexico, he's being ranked at a high position, so he has the opportunity of becoming a world champion soon. So my father's dream is approaching. When we started, nobody believed in us but now our dream looks very near and if fulfilled, I would like us to fight a title match in a Las Vegas ring.
AW - You are very popular in Japan but also get a lot of criticism. How would you respond to the critics?
KK - I think its natural there are different opinions. I don't really care about criticism.
AW - What do you like to do away from boxing? Could you tell us about your family life, hobbies and interests? Do you charity work or TV commercials?
KK - TV and commercials are very important in boxers' career. I have appeared on TV between my fights and it's necessary to appeal boxing more since popularity for boxing has decreased in Japan recently. For charity activities, I do it entirely on my own feelings towards those in need and never do it as a tool of self-promotion.
AW - You're already a three-division world champion. What goals do you still have in boxing?
KK - I definitely want the super fly title in the near future as well.

I would like us to fight a title match in a Las Vegas ring.
AW - Who was your boxing hero growing up and why? Who do you enjoy watching today?
KK - When I started boxing, Mike Tyson and Oscar De la Hoya were my idols. Now Floyd Mayweather Jr. and Manny Pacquiao, who is a southpaw, the same of me, are my idols.
AW – Finally, do you have a message for the boxing world?
KK - The name of "Kameda 3 Brothers" will be carved in the history of boxing. Please remember "Kameda 3 Brothers" and please continue your favors toward assisting this.