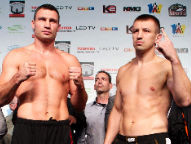 (Photo © KMG/ Dmitriy Abramov)


Four short years ago, no boxing expert or whacked-out fiction writer for that matter could have imagined a scenario in which Vitali Klitschko and Tomasz Adamek would meet for a heavyweight title. Early in 2007, Adamek suffered his first and only loss to Chad Dawson at light heavyweight. At the same time, Vitali Klitschko was in his third year of an injury-induced retirement. It was an implausible idea then but today, this dynamic duo engages in an intriguing- if not entirely fair- fight in the heart of Poland. Both men have been rewarded for their tremendous work ethic and resilience as well as impressive strings of victories that brought them to this juncture. However, only one will fashion a happy ending to his improbable journey.
Admittedly, Tomasz Adamek has overcome more physical challenges inside the ring to arrive at this opportunity but credit Vitali Klitschko for allowing this fight to materialize. Klitschko could have been content to waltz through three or four more easy defenses in Germany on his way to the Hall of Fame. Instead, he travels to his challenger's country and faces the most unique fighter the heavyweight division currently has to offer. Not bad for a man who was inactive for nearly five years because his body was breaking down, frustrated into retirement by four consecutive injury-provoked cancelations in the span of a year. It is Vitali's huge body, not his boxing skills, which has let the giant down. In fact, the big Ukrainian was ahead on the scorecards of the two fights he eventually lost because of injuries (a torn rotator cuff and horribly cut eye). Since his return three years ago, Vitali is 7-0 with five stoppages and has obviously benefitted from the rest.

Tomasz Adamek can look to boxing history for inspiration when it comes to playing the role of an underdog (Klitschko is a 6-1 favorite at most bookmakers) or in this case, a small dog beating the division's top dog. Billy Conn was famously within reach of such an awe-inspiring victory but was knocked out in the 13th round by Joe Louis. Though not a winner, Conn became the inspiration of the iconic "He can run but he can't hide" quote. The most historically relevant fight, from Adamek's point of view, is Max Baer's destruction of Primo Carnera in 1934. The 54-pound and four-inch height advantage Carnera enjoyed over Baer (Klitschko is 6'7½" and 243 pounds to Adamek's 6'1½" and 216 pounds and enjoys a five-inch reach advantage) mattered little since Carnera lacked the boxing skills to employ either advantage effectively. A speedy, strong, and accurate Baer boxed circles around the huge Italian. Adamek, showing a relaxed confidence, cites more recent history. "I don't pay attention to what bookies say. It makes no difference. Eight years ago, nobody give any chance to Corrie Sanders when he knocked out Vitali's brother, Wladimir. They gave him even less chances than they give me now."
I am in the minority who believe Vitali Klitschko is the better brother and that his two championship reigns are more impressive and historically significant. Vitali's chin is much more sound and his defensive tactics and stamina management are also superior to his brother's. I could argue that Vitali's loss to Lennox Lewis is as impressive as any win his younger brother has produced. Samuel Peter and Corrie Sanders, common opponents, were dispatched with more ease and authority by big brother Vitali. I put a lot of stock into Vitali winning his first title on the road, knocking out Herbie Hide in London, and much of Vitali's achievements have taken place at an advanced age. If Vitali were to retire today he would walk into the sunset as the heavyweight champion with the highest knockout percentage, stopping 39 of 44 opponents for an 89% ratio. The 40-year-old Vitali and his trainer Fritz Sdunek say he has two or three more good fights left to bolster that number.
Tomasz Adamek's rise to heavyweight contender, in the wake of the frustrating loss to Chad Dawson, has been as dramatic as it is unexpected. It began with a classic war with cruiserweight champion Steve Cunningham, which turned Adamek into a star in America, and in a sense, culminated with a bloody stoppage of compatriot Andrew Golota that set Polish box-office records. Always a superior boxer when he wanted to be at 175 pounds, at heavyweight, Adamek reconnected with his amateur roots, working angles and taking power off his punches to concentrate on accuracy. Adamek's speed, reflexes, movement and timing were doubly effective against large but lumbering opponents such as Michael Grant and Chris Arreola. The transformation began under trainer Andrew Gmitruk but the complete metamorphosis occurred under the guidance of American coach Roger Bloodworth's tweaking of Adamek's combative style. At age 34, Adamek is at his peak mentally, and by most accounts, not far removed from his best physically, since the 40 pounds of added bulk is the result of an unremitting work ethic.
This clash is an intriguing pairing of power and size versus speed and cunning. Perhaps as importantly, both men enter the fight in exceptionally high spirits psychologically, with neither man revealing a hint of doubt or showing an inclination to play it safe. Adamek is a rough-and-tumble fighter, deliberately engaging physically imposing opponents to comprehend what it will take to dethrone the champion. "I'm not afraid to go into the ring with a big guy. Speed is strength and I'm a lot faster than Klitschko. I know it won't be easy because the ring is never easy but I'm prepared for this." Klitschko sports a confidence to rival his imposing stature. "He's not an easy opponent. He has good technique, good conditioning, a big heart, strong character and a strong desire to win. I know Tomasz Adamek is a most difficult fighter. This fight will not be easy for me and this is why the preparation was special."
The event has created a palatable buzz in Poland with more than 200 reporters packing Wroclaw City Hall for training sessions and press conferences. Once the ring was positioned and erected at Wroclaw's brand new 42,000-seat Stadion Miejski, the promoter released several hundred extra tickets to accommodate demand since the event sold out shortly after tickets went on sale. The title fight is the stadium's inaugural event and television rights have been licensed to 110 countries, proof that quality boxing match-ups sell the world over. This will also be the first PPV television event in Poland with movie theaters also cashing in by screening the fight. Adamek believes the atmosphere will fuel him. "The whole country believes in me. It's very important to me. I know they say I am not the favorite but in Poland, I will have millions cheering for me." Unlike pre-fight ugliness of recent heavyweight bouts, there has been a cordial and complimentary run-up between Klitschko and Adamek. "I kind of like you, Tomasz. Maybe we can be friends after the fight?" Klitschko remarked of his challenger. Adamek kept everything on a professional level. "I respect [Klitschko] but I think I am an uncomfortable fighter for him."
In a welcome change for American boxing fans, HBO will air a Vitali Klitschko fight live. It is the first time since 2009, when Klitschko traveled to California to stop Chris Arreola. HBO will begin its telecast at 4:45 PM ET, with its crew calling the bout live from a studio in New York City. The network will also re-air the fight before the Yuriorkis Gamboa – Daniel Ponce de Leon bout, later tonight at 10:30 PM, making this heavyweight title affair doubly entertaining…or disappointing. As Klitschko is the champion, it only seems right to give Vitali the last word on the fight and Adamek...for now. "I have full respect for [Adamek]. He's a good boxer, a good technical boxer. He has good movement, good speed, good experience. He just has one weakness – he's not a natural heavyweight. I'll show you what that means in the fight tonight."