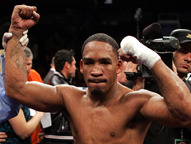 (James Kirkland)


When James Kirkland enters the ring on December 7th at the Boardwalk Hall in Atlantic City, New Jersey, he will be looking to close out the year (while actually kicking off his 2013 at the same time) with a signature win. Hopefully, Kirkland, along with trainer Anne Wolfe, can build some momentum heading into 2014 that will carry him to a junior middleweight title shot. The Austin, Texas-based "Mandingo Warrior," 31-1 (27), will go into the ring to face unbeaten hometown boy Glen Tapia, 20-2 (12), of Passaic, New Jersey. While Kirkland has a stronger résumé in terms of opponents, he is facing a motivated fighter who looks to impress his hometown fans. And while Tapia started out as a rugged slugger, he has developed his boxing game and has looked stronger each time out. If James Kirkland wanted a tough fight, he's definitely getting one on Saturday night.
Kirkland turned pro in the summer of 2001 and by 2008 notched a 24-0 record including a win over tough, fellow Texan Bryan Vera (this included a 29-month hiatus while Kirkland served a prison sentence). With only one win in 2009, a sixth round TKO over Joel Julio, and an absence from the ring in 2010 to deal with more legal troubles, he finally got back on track in 2011. He won his first two bouts of the year before hitting a bump in the road. Kirkland lost by a surprising first round TKO in April at the MGM Grand in Las Vegas at the hands of relatively unknown Nobuhiro Ishida, who dropped Kirkland three times. The fight, before a TV audience on the undercard of Erik Morales against Marcos Maidana, hurt his reputation. However, he got right back to work banging off three more wins for the year, closing out 2011 with a knockout of tough Mexican Alfred Angulo, who had previously only lost to perennial contender Kermit Cintron. With the win, he also picked up the World Boxing Council (WBC) Continental Americas junior middleweight title. He successfully defended the title four months later via disqualification against current International Boxing Federation (IBF) junior middleweight champion Carlos Molina in James' only fight of 2012.

While it is good to see Kirkland back in the ring, it will only be his second bout in 21 months. He needs a name and an impressive win to help promoters forget about his career gaps (and the Ishida loss) if he wants to get the boys in boxing's boardrooms to talk title shots for the powerful Texas banger. This could be the fight to do it if he can saunter into Tapia's backyard and come out with a win. Kirkland is back working with trainer Ann Wolfe, who has been with James for most of his career. She knows how to push him both in and outside the ring and appears to be the best fit for him both physically and mentally to prepare for a fight. The bout could be a huge step forward with a win or a costly step backward with a loss as Kirkland jostles in the title shot queue. Tapia, who has rattled off 20 straight wins in the five years since turning pro, is looking to use a still unpredictable Kirkland as his ticket into the big show. Kirkland is looking to erase any doubters still focusing on said career gaps and previous loss.
If Tapia can remain calm and confident against his toughest foe to date and avoid Kirkland's power, he might find himself enjoying some home cooking and still be undefeated after 10 rounds. If Kirkland can channel the fury and focus that female boxing legend Ann Wolfe can bring out in him, he will be very tough to beat on Saturday night. It most definitely looks like we are headed for a war on the shore.
Please visit our Facebook fan page at www.facebook.com/MaxBoxing, where you can discuss our content with Maxboxing readers as well as chime in via our fully interactive article comments sections.