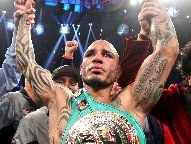 (Photo © Chris Farina / Top Rank)


While the official results say that Miguel Cotto stopped Sergio Martinez in 10 rounds this past weekend at a packed Madison Square Garden, the middleweight championship really changed hands in the very first minutes of the bout. Martinez, who came into this fight as the recognized middleweight champion, was sent to the canvas thrice in the first stanza by the heavy and accurate hands of Cotto. The rest of the night was just mere window dressing and a prelude to the Puerto Rican Day Parade that was to take place just a few blocks down the road the next day.

The bout was waved off after the 10th, with Cotto closing in on a definitive stoppage but the truth was the competitive stages of this contest evaporated in the first 90 seconds. Martinez admitted, "He hit me cold and he hit me hard in the beginning and it was very difficult to recuperate from that."

Despite being thought of as the "smaller" fighter by most pundits, it was Cotto - who weighed in as a virtual junior middleweight at 155 pounds - who was able to bully "Maravilla." Martinez was simply no match physically for the Puerto Rican icon, who consistently cut off the ring and attacked the southpaw from the flanks. Martinez, who was on roller skates early, never regained his bearings from the opening assault and he wasn't so much fighting but fending off the savage left hooks from the quiet assassin from Caguas.

"This is the biggest achievement of my professional career," stated Cotto, who had uncharacteristically been seen grinning on a regular basis in the lead-up to this fight. It's clear he has formed a special bond with trainer Freddie Roach, who has so much not reinvented the wheel with Cotto but has simply gone back to a simple formula that has Cotto fighting on his front foot and pumping his patented left hook. What's new about Cotto is really old. "We had the most beautiful camp of my career and I have Freddie Roach to thank for that," he said of his preparation for this match-up.

Coming in, many dismissed Cotto's chances, rationalizing that he was 1-2 in his last three bouts and for the simple fact that after beginning his career as a 140-pounder, he had never competed in a real middleweight contest. But sometimes it's not about if you face a certain fighter but when. And in Martinez, they were facing a diminished fighter who had to fend off questions about the health and stability of his body all throughout the promotion. There was a reason his camp fought so hard to allow Martinez to wear the two sleeves on his knees. That in itself was an admission that there was at the very least, an abundance of tread on the tires.

On the same day that California Chrome faded down the stretch in his attempt to win the Triple Crown, Martinez, once an elite thoroughbred, was reduced to being a three-legged horse. All the signs were there in retrospect. He struggled mightily in Argentina last year versus Martin Murray (who had a trainer who was more inclined to coax him to the finish line rather than go to the whip after scoring an eighth round knockdown of the defending champion) and perhaps it could be argued that the last remnants of a prime version of Martinez took place during the first 11 rounds against Julio Cesar Chavez Jr. in September of 2012.

But on shaky pins, he looked every bit the 39-year-old on this fateful night that most likely ended his distinguished run as a prizefighter. He was an accomplished and proud champion - and perhaps a disgruntled victim of the boxing business - but he was bludgeoned into submission in brutal fashion by the same opponent he labeled a "diva" for his negotiating tactics. But Cotto could get what he wanted (including having his name listed first on the promotion among other ancillary things) because, well...he could. For Martinez, this was the price of cashing out and he paid a heavy price.

Give Cotto credit though; he didn't just tap Martinez on the shoulder hoping he would fall off the cliff. He left-hooked him into a freefall.

And he did more than just win the middleweight title; he fully restored himself as one of the most valuable franchises in all of boxing alongside the likes of Floyd Mayweather and Manny Pacquiao. Pay-per-view numbers are projected to be north of 500,000 for this fight and once again, Cotto drew a huge throng at Miguel's Square Garden with an announced crowd of over 21,000. Not only is he a legitimate A-side but against the likes of Mayweather and Pacquiao - who both have victories over him - he would represent perhaps their most valuable dance partner. The same goes for Saul "Canelo" Alvarez, who has a difficult assignment on July 12th versus Cuban stylist Erislandy Lara.

There is a lot of conjecture about the contractual status of Cotto, who may or may not be tied to Top Rank. Once again, Cotto is perhaps the most important chess piece on the board (http://www.maxboxing.com/news/max-boxing-news/the-belle-of-the-ball), someone who can realistically play on both sides and be inoculated from the effects of boxing's "Cold War." He could conceivably rematch Mayweather on Showtime, who is in dire need of B-sides who bring more to the table than just a guaranteed loss on their records.

But while Cotto may not be officially affiliated with Top Rank, his relationship with Todd "Rank" duBoef may ultimately bind him. Cotto has repeatedly said duBoef isn't just a business associate but a close friend. DuBoef believes that like with Marvin Hagler and Bob Arum, a handshake is all that is necessary to secure this union. But that's easy to say now; when the offers come pouring in for his services, will there be a price on this loyalty? As they say in this often cruel and hardline business: handshake agreements aren't as good as the paper they aren't signed on.

That stuff can be figured out later. DuBoef announced at the post-fight press conference that Cotto could be returning to the ring in mid-December. On a weekend when Puerto Rican compatriot Felix Trinidad was officially inducted into the International Boxing Hall of Fame, Cotto clearly cemented his status as someone who will one day have his fist encased in Canastota by becoming the first boxer from the fighting island to win major titles in four weight classes.

For some reason, he's never been fully embraced or beloved in Puerto Rico, perhaps because he had to follow in the jovial footsteps of "Tito" but on the Puerto Rican boxing Mount Rushmore, his stoic visage has to be up there with the likes of Wilfredo Gomez, Carlos Ortiz and Trinidad (yeah, yeah, I know all about Wilfredo Benitez and Hector Camacho but it says here that Benitez has a very short - and dynamic - prime and Camacho was never quite that "Macho" after Edwin Rosario bounced a few shots off him).

But this much is clear: right now, he's King Cotto.

ROACH

Roach, who had a prolonged slump in 2012, is back to his winning ways in the corner. He was asked by this reporter if Cotto's victory was the most satisfying as a trainer since leading Pacquiao to an upset over Oscar De la Hoya in 2008.

"I would have to say yes. It was just a great win. I feel really good. A lot of people told me we couldn't win the fight, that I was crazy taking this one instead of 'Canelo.' This is the fight I wanted and this is the fight I thought I would get [Cotto] ready for," said Roach, who continued, "I faced [Martinez] once before and lost to him with Chavez but I had the right guy this time who followed the game plan and we did well."

Yeah, it's a lot easier to look intelligent when you have a boxer who doesn't just train in his kitchen for a couple of months.

REMEZCUA

I've always been an admirer of Carlos Acevedo and his writings. He did another wonderful job in recapping Cotto-Martinez:

http://www.remezcla.com/2014/latin/mercy-mercy-mercy-miguel-cotto-massacres-sergio-martinez-for-the-middleweight-championship-of-the-world/

FINAL FLURRIES

Felix Verdejo, who had a lay-up this weekend at the Garden, will return to the ring on August 16th in Puerto Rico on an UniMas broadcast...Junior middleweight Willie Nelson has inked with veteran manager Cameron Dunkin, according to a press release...Daniel Ponce de Leon announced his retirement from the sport after his weekend loss to Miguel Roman. Good luck to him with the next stage of his life. He was an honest fighter who got everything (and then some) out of his God-given talent...The HBO broadcast on Saturday night, which will include the Cotto-Martinez rebroadcast will start at 10 p.m., ET/PT...All I'm saying is it's good thing the fire marshal didn't drop by Jimmy's Corner on late Saturday night...Bet you've never heard "Baby Got Back" by Sir-Mix-A-Lot quite like this: http://www.youtube.com/watch?v=w59e20ijOpE&feature=youtu.be...Ican be reached at k9kim@yahoo.com and I tweet at www.twitter.com/stevemaxboxing. We also have a Facebook fan page at www.facebook.com/MaxBoxing, where you can discuss our content with Maxboxing readers as well as chime in via our fully interactive article comments sections.