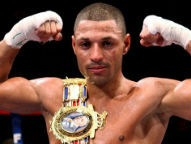 --


His nickname is "The Special One," a lot to live up to, considering Kell Brook is a product of the same Wincobank gym that created "Prince" Naseem Hamed. Brook has traveled with stablemate Carl Froch to the good ol' USA, amounting to an audition on the undercard of Froch's challenge of Andre Ward tonight. American television executives and boxing insiders are eager to get a live look at the flashy welterweight many label England's best young fighter. Brook's accomplishments have not gone totally unnoticed in America, earning a number six ranking by The Ring magazine at welterweight.

I do not paint Brook as a cheap Hamed imitation. Brook has style where Hamed had flash and where Hamed overwhelmed with thunderous power, Brook's kayos are the product of lightning.
Ezekiel "Kell" Brook began boxing age nine, jumping rope, doing sit-ups and shadowboxing alongside the electricity and paparazzi Hamed drew to the gym. A stark contrast awaited outside. The industrial city of Sheffield, once filled with the rhythmic pounding of iron stamped into steel, shaped Brook as much as Hamed. From the start, Brook

was taught to be ambidextrous in the ring by famed trainer Brendan Ingle. Brook deftly switches from an orthodox to southpaw stance in an instant to exploit an opponent's mistake in position or balance. It earned him four national amateur titles in junior and open-class tourneys, leading to a 25-0 pro record where Brook has lost nary a round. Has an impressive physique, 5'9" tall with 69-inch reach, a lot of his mass in the upper body that tapers off toward waist. Many question if Brook's fluid, hands-held-low, countering style can be effective at the highest level. Instinctive in his movement, with great sense of timing and distance, Brook is orthodox on defense and able to parry punches away with his arms.

There is no denying Naseem Hamed's influence but they are separate entities sharing a common goal. Where Brook does rival Hamed is in self-confidence but that swagger is not aimed at opponents or prone to flashy entrances as Hamed was. A brash Brooks turned pro at 18, matched with an opponent only stopped ten times in 230 professional fights (that is not a typo. Peter Buckley's record was 31-189-10), going six educational rounds in his pro debut. Quick and slick, the 25-year-old Brook is in his physical prime and importantly, his kayo ratio has climbed with the level of opposition. Rounding into an all-around talent, Brook defeated iron-willed former title challengers Lovemore N'Dou and Rafal Jackiewicz in his last two outings. Eight of Brook's last nine foes were stopped and Brook looked better dispatching N'Dou than Saul Alvarez did. N'Dou was brought in with the express intent of forcing Brook to navigate the 12-round championship distance, having only gone seven rounds previously.
Like other high-strung thoroughbreds, promotional drama has surrounded Brook. Turning

pro under the tutelage of Brendan Ingle's son, Dominic, Brook was lured away from the father-son team after his eighth fight by a rival trainer formerly employed by the Ingles. His alliance later shifted to Frank Warren (England's most powerful promoter), who guided Brook to domestic titles, earning the coveted Lonsdale belt after three British title defenses. The self-managed Brook sought out promoter Eddie Hearn at the end of his contract, having seen Hearn's fighters Carl Froch, Darren Barker, Matthew Macklin and Ryan Rhodes moved aggressively into world title fights. Brook felt lost in Warren's maze of boxers and wanted higher caliber opponents to gain TV exposure. Also, as a boxer, Brook felt he was stagnating and could not go back to the Ingles since they will not train boxers from Warren's stable. A chastened Brook returned to the Ingles' gym (three years and seven bouts later), perhaps better for the experiences.
Brook's maturity outside the ring has seemingly, for the first time, lined up with the controlled demeanor he possesses inside the ring. Brook had been dogged by juvenile mistakes, earning well-deserved criticism which he and others try to explain away as running with the wrong crowd. In 2007, Brook was stabbed returning home from a pub and was a passenger in a car crash involving excessive speed the same year. Recently, a 2010 assault conviction (incurred during a fight at a nightclub) was overturned. The assault charges were out of character with many reports citing Brook's low-key personality and soft-spoken nature outside the ring. With his ring and personal life sorted, Brook looks like a rejuvenated force ready to claim the spot as England's leading light, given Amir Khan's big misstep last week.
Khan and Brook have shared a ring before, sparring as amateurs, and the duo's verbal sparring via a social networking site drew headlines. This time, the pair hurled tweets instead of fists. After Brook's blowout of N'Dou, Khan tweeted needlessly, "Kell brook is fighting a guy who has lost a lot of fights. If they say brook is good. Test him with a genuine 147lb top 15 not even top 10 fighter. #allhype." Brook, whose ego matches Khan's, saw the insult and fired back as he would in the ring. "@AmirKingKhan don't talk rubbish. If you want it, you can have it. Your chin can't stand up to my power, and you know this!" Even given Khan's loss last weekend, a clash between Brook and Khan, when he moves up to 147 pounds, would be a huge event in England. The pairing would surely draw interest outside the United Kingdom's borders as well.
Promoter Eddie Hearn has no doubt as to who finishes that fight with his hands raised. "It is Kell's time and I think Kell will become the best in the world. He'll be a world champion within a year. Kell oozes class and has that something special about him – in short, he is going to be a superstar." Hearn has brought Brook to America specifically to showcase his talent for potential clashes involving world titles. "December 17, it will be another important milestone as we unleash [Brook] on the American public. Television executives in the States are delighted that they will get to see Kell in the flesh and he knows he needs to deliver something special to announce himself on the biggest stage." Brook is prepared and sees this an early Christmas present. "I've been dreaming of fighting on a massive show in America and I plan to put on a great performance. The pressure will be on to dazzle the American fans and that's exactly what I plan to do."
There is the not so trivial matter of tonight's opponent. Luis Galarza is a 29-year–old Puerto Rican coming off a career-best performance and riding an eight-fight winning streak. Galarza has a respectable 17-2 (13) record but only Paul Delgado is recognizable and Galarza twice lost to sub-.500 opponents. Galarza is not an impressive foe but Brook has been impressed with his American excursion noting on his blog, "Americans are so friendly and welcoming and that's what it's been like so far. They love their boxing in America. People say when you've cracked it out there, you've made it, so I want to show them my skills." The fight is more than a cultural exchange and Brook seems focused on the task, telling hometown newspaper

The Star, "I know [Galarza]'s going to be fired up for the fight but I will be ready for him. I'm going over to America to dazzle them and show them what us Brits can do. I'm going to go out there and put a great show on."
A quality win puts Brook in position to challenge for any of the four alphabet belts and promoter Eddie Hearn is working feverishly to that end. "We're in discussions with three separate people about world title fights, one we're very close to securing for the spring. Late last night, I was talking to another promoter in America and we are in deep negotiations with regards to Kell's world title fight next March." A world title is the first goal but Hearn sees a bigger financial prize in Brook's future. "Let's go out there and win a world title belt and then we'll talk to Amir Khan as a world champion." Often mentioned as another potential opponent is American Mike Jones, who could make the short trip from Philadelphia to see Brook in person.
Whomever the future opponent, Naseem Hamed has no doubt about Brook tonight or in what direction his former gymmate is heading. "He is the next British boxing superstar and he'll show the American audience what he's made of on December 17."