Julio Ceja: "Anselmo, Kameda, Arce and Ruiz are tough but not invincible"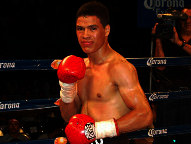 Photo © David Ayala, Baja Boxing


In bygone years, the bantamweight division has been a successful breeding ground for some of Mexico's top fighters. Looking to join them is Julio Ceja, a 19-year-old from Tlalnepantla (a municipal in the north of Mexico City) with an eye-catching 19-0 (18) record. A pro since he was just 16 years old, Ceja possesses bone-breaking power. Earlier this year, he showed off this vaunted power, stopping former four-time world title challenger Ronald Barrera in four rounds. Over the remainder of this year, he'll look to gain more valuable experience to add to his 49 rounds of action, starting with former world champion Cruz Carbajal, Saturday on the undercard of Jhonny Gonzalez vs. Elio Rojas and Juan Carlos Salgado vs. Martin Honorio in Cancun. Currently, "Pollito" is ranked #12 by the WBC and WBO, 14 by the WBA and nine by the IBF.
Anson Wainwright - Your last appearance was when you stopped former world title challenger Ronald Barrera in four rounds. That looks quite impressive. Can you tell us about the performance and how happy you were with the win?

Julio Ceja - I've found some difficulties at the beginning but once I felt comfortable with his style, I didn't stop until the knockout came. That was a huge win to me 'cause Barrera is a guy with a lot of experience.
AW - What are your goals for 2012? Without getting ahead of ourselves, you are ranked in the top 15 by all four main sanctioning bodies. How far do you believe you are from a world title fight?
JC -

My next fight will be on April 28. I will fight Cruz Carbajal; it's a huge opportunity to fight against a former world champion, a guy full of experience. It's a fight that will prove myself. Talking about my goals...well, keep winning fights. I would like to keep fighting and learning all this year. I just [turned] 18 years old; I have a lot to learn. I think in 2013, I can be ready for a big fight but if the opportunity comes over this year, maybe we take the risk but at the moment, I'll keep training and doing my best for me and the people who watch my fights.
AW - The Barrera fight was the your first at bantamweight. Can you tell us about moving up in weight and how much better you felt at 118?
JC – Well, I need to do some extra work to make the 115 [limit]

but I keep recovering myself well fighting 115, so if one good opportunity comes in that weight I'll take it. At 118, I felt stronger; In the Barrera fight, I felt that every punch I throw I hurt him.
AW - You're obviously very heavy-handed, stopping all but one of your opponents so far. Can you tell us about that power and also what other skills you have? What areas are you working on to improve?
JC – Well, definitely the hard punch is an advantage but I never fight looking for the KO. I like to start boxing throwing punches, some waist movements. I'll never underestimate any opponent but once I felt I hurt them, I'm going all over the place. In the gym, we work a lot on the legs movement. We don't want to have any surprise in a fight.
AW - Can you tell us about your team and where do you regularly train?
JC - I have great team. My promoter is Antonio "Cañas" Lozada, who's doing a terrific job with me and a bunch of guys all over Mexican territory. My company's Baja Boxing. My trainer is Agustin Luna Mora and I train in Tlanepantla, Mexico.
AW - What is a typical day in training for you?
JC - We have a doctor who's always with us. He gives us running routines, sprints, depends how he's watching my heath and condition. About alimentation, we have a nutritionist and regarding the sparring, we spar two or three times at week, depends how far is our next fight.
AW - Could you talk to us about your early years growing up in Tlalnepantla, Mexico? How did you first become interested in boxing?
JC - I was born in Tlalnepantla, Mexico but I always live in Atizapan, Mexico. My family had a tortilla store, so my brother and I work selling tortillas. My dad used to do some boxing in his early years, never in a professional way but just as a hobby, so that's how I started visiting the boxing gyms.
AW - Your older brother, Luis, is a highly rated light flyweight. Can you tell us about him and the relationship the two of you share?
JC - Thank God both of us got a great relationship and a good boxing career. We always train together; we share experiences and we always take care of each other.
AW - Over the past few months, Nonito Donaire and Abner Mares have moved up to super bantamweight but the bantamweight division is still strong. What are your thoughts on the 118-pound division plus the champions, Shinsuke Yamanaka of the WBC, the WBA's "super" champion Anselmo Moreno, WBA "regular" champion Koki Kameda and the WBO's Jorge Arce?
JC – Well, bantamweight was always the best division for Mexicans. Many Mexican boxers became champions in that weight. I know that "Chemito," Kameda, Arce and [Hugo] Ruiz are tough but not
invincible
. I trust myself and I'm pretty sure that I can be in [that] place some day, to prove that I'm world champion material. But to make this come true, it's all work. I work so hard, sacrifice many things. That's the way to accomplish my goals.
AW - Tell us about yourself as a person, about your home life and what you enjoy doing away from boxing. Do you have a day job?
JC - I'm a little bit shy, a quiet kid, but so friendly, humble. Now I'm 100% in the gym. Me and my brother, we're saving some money to invest in some small business in the near future.
AW - Growing up, who was your boxing hero and who do you like to watch today?
JC - My idol is Salvador Sanchez and today, I admire Floyd Mayweather. I like his boxing skills.
AW – Finally, do you have a message for the bantamweight division?
JC - First of all, I would like to thank you, Anson, for this interview. I would like to send a hug to all my followers and for the guys in my boxing division: be careful 'cause Ceja is coming (laughing). Regards to all champions!



Subscribe to feed