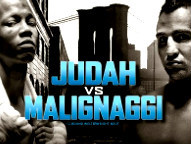 --


The hurt business is, at its core, the respect game. You demand it and then you try and take it. It's what the hug at the end of a fight between warriors (who'd moments before had been trying to kill each other) is all about. Fighters fight for all manner of rewards but respect is the one gift they likely crave most and is certainly the one you can't buy.
In this world, there are likely few people more proud of where they come from than fighters from Brooklyn, New York - heck, people from Brooklyn. It's a badge of honor in a city that honors resilience, toughness and neighborhood pride. Riddick Bowe, Mike Tyson, Mark Breland, Junior Jones, Shannon Briggs, Michael Moorer, Floyd Patterson and many other champion-level fighters have represented Brooklyn over the years to varying degrees of greatness. It's a hard-luck road to glory for most of them but the tradition is rich enough to craft a pride different from everywhere else. Steeped in classic boxing dating back to John L. Sullivan, the bridge between the bare-knuckled and gloved eras of boxing, it's only fitting that Brooklyn now has the Barclays Center to call its own.

On Saturday, two sons of Brooklyn, Paulie Malignaggi of Bensonhurst and Zab Judah of Brownsville will fight for the title of "King of Brooklyn" in the main event of a four-fight Showtime card presented by Golden Boy Promotions. Fought at 147 pounds at the ages of 33 and 36, respectively, one could argue that the timing has never been more perfect for this fight.
It's hard to pick out two boxers more proud than Judah and Malignaggi. They are two hard-luck fighters who have won titles but never got the respect they felt they deserved nor all the rewards they potentially should have. There's a reason Malignaggi is still fighting against an aged but dangerous puncher in Judah while holding down a commentating job at Showtime. And there's a reason Judah is still going at age 36, endlessly trying to reinvent and improve himself to get in position to land that one great shot at glory. Winning is an addiction - so is trying to win.
"

My motivation comes from the opportunity. The opportunity of still being here 18 years strong, to be competitive against young fighters like Paulie Malignaggi and Danny Garcia and to still be competing at a high level of boxing. I mean, to be crowned the kings of 'BK,' that's a very big accomplishment coming from Brooklyn. There's one thing a lot of people will tell you - there's a pride about being from Brooklyn. Now we've got the opportunity in a sport that I've been in for the last 18 years of my life to be called the king of it. I'm excited for this one and that's where the motivation comes from on my part," Judah said during a recent conference call promoting the fight.
"

The competition drives us all," said Malignaggi on the same call. "That's the reason we do this and get up in the morning and train hard for each fight. You need different things to drive you. The competition always is the driving force. The competitor in me is driven by winning. Winning means everything to me. Yeah, Zab is someone I respect and looked up to coming up but winning means everything to me. I'm a competitor in anything I do, especially boxing. It's not hard to get up for a fight like this. You can still respect your opponent and still get up for a fight. Come on, man; we're both wearing eight-ounce gloves, so I'm sure once someone gets hit, we'll both be throwing arms at each other."
As of late, Judah has been less active, fighting twice in two years. He looked sharp in March of 2012, stopping Vernon Paris in nine but he sat on hold until the following April and dropped a unanimous decision at Barclays to WBC/WBA junior welterweight champion Danny Garcia.
During the Garcia promotion, Judah felt he was disrespected. I'll let the final press conference speak for itself.
A fire lit under him, Judah showed in the final quarter of that fight that he has the depth of a champion and something special happens when a Brooklyn son defends his territory. Though he'd been down on the canvas in the eighth, Judah never stopped trying and badly buzzed Garcia badly. Some felt he almost had the knockout win within his grasp. Overall, there was a sense that Judah was willing to empty his well and defend his home in a way we'd never seen before. He lost the fight but let Garcia know he'd been in with a Brooklyn king. Can he carry that over to this fight? We'll see.
The last few years for Paulie Malignaggi have seen a maturity and a clarity of purpose. He started training at the Wild Card Gym, moved up to welter and signed up with Golden Boy after years working on the East Coast with Lou DiBella. Golden Boy CEO Richard Schaefer promised big things from Malignaggi at 147 pounds and, lo and behold, they ultimately delivered vs.
Vyacheslav Senchenko
for the WBA welterweight title in April of 2012. Malignagggi followed that up by winning a disputed (at least on Twitter) decision over Pablo Cesar Cano. The fight was a rough one for Malignaggi, who didn't seem to work his usual magic that night.
Then came the Adrien Broner fight last June at Barclays. Like Judah versus Garcia, Malignaggi felt he was (seemingly with validation) disrespected personally while dismissed professionally during the promotion. Coming into it post-Cano, many felt Malignaggi was going to get steamrolled while overhyping the unproven (at 147 pounds) Broner, underestimating Paulie's toughness, willingness and how much he had left in the tank. Like Judah, Malignaggi fought with pride and the desperate aggression of someone defending his very home.
How combustible the mixture of the two hometown fighters will be is an intriguing question. At his best these days, Judah will make you miss and will either make you pay with the left straight or the rear uppercut. Both are deadly. He does have a right hook and a jab but the heavy artillery is in the rear. With a record of 42-8 (29), Judah is an up-and-down performer looking for at least one more up. A solid win here, particularly by stoppage, gets him in the mix for Floyd Mayweather Jr. in a rematch that could reasonably be sold.
"

No, as far as the age, my age is great. I'm highly motivated," Judah told a reporter. "You've got one of the best pound-for-pound fighters in the world, Floyd Mayweather; he's older than me. You've got Juan Manuel Marquez; he just knocked out Manny Pacquiao with one punch. He's older than me. You've got Bernard Hopkins, one of the baddest fighters of today's era; he's my grandfather. So when you say 'old,' what do you mean by 'old'? 'Old' by what, longevity? I've been in the game since I was 18 years old and I've been world champion multiple times in different weight classes. Is that what you mean by 'old'? I mean as far as age goes, I'm far from old. I mean, some of the best of the best of the world today are way older than me and I'm just highly motivated the opportunity. I want to thank Richard Schaefer and the whole Golden Boy staff and team for just even allowing themselves to do business with my camp and myself and I think we're going to have a phenomenal time. I think that when people say your last time or your last fight is your best fight, this is nowhere near my last fight. This is the beginning of a turn of a new leaf. I am going to go in there and come out of this fight successfully."
At his best, Malignaggi is a mix of pure guts and pure boxing. Sticking his left jab out there over and over again, minding his technique and shooting the right from inside the pocket as is his wont, you'd think Malignaggi would have more than seven knockouts in his 32-5 record. Against Broner, Malignaggi unloaded everything he could plus the kitchen sink. Combination after combination, step-off, jab, combination. Broner ate clean shots but was never buzzed. But that's not necessarily what Malignaggi is doing so much as breaking your rhythm before it ever gets started. Will that work versus Judah? Can Paulie buzz the chinny Judah with his surgically repaired right hand?
Again, these are questions that make this fight between old friends from Brooklyn more and more intriguing.
"

Like Paulie said, the job is the motivation for what we're doing right now. I'm motivated by the opportunity. I'm motivated by the situation. Paulie is somebody that I've known for a long time. I've watched him; I've watched him grow and there have even been a lot of fights where I've supported him. So now, it's kind of crazy to be going up against each other but it's the sport that we chose and, like he said, once the bell rings and the leather starts flying, I think that anybody would come to their senses," said Judah.
"

It's a really emotional fight," concurred Malignaggi. "You want to be king of Brooklyn. It's the kind of fight you get up for because there are a lot big fights in your career but there is a lot of extra emotion being able to represent your borough and being able to be the king of Brooklyn. I know I have what it takes to be a world-class fighter. I know what it takes to get back to the top. Winning a fight like this and getting myself a chance to get another world championship in my career is something I don't doubt."
We have a lot of belts in boxing. The WB-this. The interim-that. But on Saturday, let us not be cynical when we hear that this is a battle for Brooklyn. Zab Judah and Paulie Malignaggi are going to give us the best show they can as they always have. Because to them, as any belt should, the title of "King of Brooklyn" will mean something. With the birth of the Barclays Center and the rebirth of Brooklyn on the boxing scene, it's only fitting that two of this era's more entertaining, honest and colorful warriors kick this particular title lineage off with a bang.
Please visit our Facebook fan page at
www.facebook.com/MaxBoxing
, where you can discuss our content with Maxboxing readers as well as chime in via our fully interactive article comments sections.