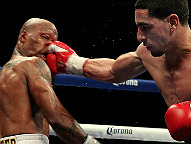 (Photo © Tom Casino / SHOWTIME)

By Jason Petock, Doghouse Boxing

Barclay's Center in Brooklyn, New York was the dramatic theater that was set on Saturday for an electrifying evening of boxing between reigning and undefeated WBA Super World Light Welterweight and WBC Light Welterweight titleholder Danny "Swift" Garcia (26-0/16 KOs) and Zab "Super" Judah (42-8/29 KOs) in a 12 round grudge match for 140 pound supremacy in the division. The walk-up to the fight itself was anything but tame or less action-packed. From the emotionally charged press conference where Judah provided enough entertaining and fuel driven sound bites to fill an entire year's worth of boxing media coverage, to the war of words and hostility shared by the Brooklyn fighter and Garcia's own father and trainer Angel Garcia, excitement fit the bill for the masses. The two boxers meeting in the ring also proved to be just as compelling come fight night.

The bout itself was a good display of technical boxing as both fighters utilized their speed, timing, and defense to their own advantages throughout the evening. Garcia got the better of Judah through 2/3's of the contest, however, and hurt Zab in the 5th and 6th rounds while managing to put "Super" on his seat in the 8th round with a flash knockdown. Judah displayed enormous strength of character and resolve by finishing the fight on his feet though, even hurting "Swift" later in their clash and taking the last 3 rounds on the scorecards. Yet it was far too little, too late for the crafty veteran who was a very game competitor but just not as dominant as he needed to be to outbox the younger Champion in Garcia.

Whereas Judah was characteristic in the build-up to this fight and promotion with his one-man show combined with the usual smack talking and boasting, one thing that seemed highly out of character for the 35 year old ring veteran was his maturity and resilience. Any boxer who laces up the gloves is of course far different than the rest of the population by leaps and bounds. It takes a far, far braver soul than most to enter into combat in modern times and simply ignore all the laws of nature that communicate to us the tangible pain and actual threat of intentional bodily harm and imminent danger to our physical well-being that is associated with boxing. Judah has been hurt in the past, most notably against Kostya Tszyu (31-2/25 KOs) way back in 2001 when he got stopped in the 2nd round. But that was almost 12 years ago and today there stands not only a different fighter but a different man altogether it seems.

We all need to grow up someday and now, which is as good a time as ever, appears to be the point in life that Zab Judah has chosen to do so. In an era where he is definitely a legend of boxing and veteran of the sport, Judah is surrounded by new faces and ghosts of fighters past. He came up the tough way on the hardened streets of Brooklyn to make his bones while rising through the ranks to superstardom. Zab Judah fought in epic ring wars against true warriors such as Rafael Ruelas (53-4/42), "Irish" Micky Ward (38-13/27 KOs), Terron "The Tramp" Millet (27-5-1/19 KOs), and Miguel "Junito" Cotto (37-4/30 KOs). Win or lose, Judah has always entertained the crowd with his fast hands, crisp uppercuts, and intense knowledge and expertise in the squared circle. Factor in an adept talking game that is just as good as his hands and you have a guaranteed recipe for success.

Judah stated after his fight with Garcia that he didn't plan on retiring yet. That could be a good or bad thing for the Brooklyn boxer, who at 35 clearly has something left in the tank but without a doubt should not be lined up to fight on cards as a stepping stone or tune-up for up-and-coming prospects. Judah deserves more than that obviously, even during the inevitable twilight of his professional prizefighting career. He has been given more chances than the fighter himself can probably count on one hand and his recent outing against Danny Garcia may have been his last legitimate shot at a Championship run. Zab's career has been a significant one over the years and his vast accomplishments in boxing will not be easily forgotten by boxing fans, regardless of what his next step may be. Brooklyn stand up.
---