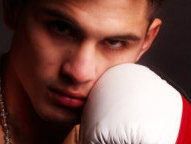 (Photo © Chris Farina / Top Rank)


Avenal, CA's Jose Carlos Ramirez, 7-0 (5), Top Rank's 2012 Olympic-pedigreed junior welterweight prospect made his professional debut last December on the undercard to Manny Pacquiao vs. Juan Manuel Marquez IV. In a highly aggressive performance that ended 2:05 into the first round, Ramirez showed not only his offensive skills but his can't-be-taught entertainment skills.
"
I remember my first fight," Ramirez told Maxboxing.com this week. "I was a little anxious. I went in just throwing punches. Now I am little more relaxed but that was my first fight. I was anxious. Butterflies in my stomach and stuff like that," said Ramirez, "but now I feel I am different fighter. I really have improved. I know my fights haven't lasted that long but I see myself in sparring, the way I hit the mitts, the bag and I feel like I am throwing the punches a lot better now. I am putting my body behind it. I am sitting down on my punches. I'm not leaning back, keeping my chin low, bending my knees instead of just at my waist. Being more composed, patient and at the same time, I am sharper with my timing. I feel I have improved in every little aspect since last December.

"
It was definitely very different," Ramirez said of his transition over this past year. "I think the transition from the amateurs to the pros is too much to get prepared for yourself; you know? You just have to rest on the fundamentals of boxing. Not lean back with your head held high. Keep your chin low. Keep your hands up because but besides that, the only way to experience the pros is to actually go in the ring and keep fighting and to experience. That's the only way to make that transition from the amateurs to the pros."
With a record of 145 victories including 11 national titles, Ramirez came out of the Olympics as a fighter whose nature and style is more suited to the pros despite his amateur success.
Two fights later, Ramirez was 2-0 with two knockouts when he first went past not just the first round but the whole four-round distance against Antonio Martinez. The lessons to be learned were not lost on the 21-year-old.
"
The thing I remember about that fight: never forget about my defense. It's not like I didn't win the fight easy but [Martinez] touched me. I got caught...never got hurt but at some point, there was some shots that he hit me with that he shouldn't have," said Ramirez. "And some times, if you throw too many punches, if you notice, all my punches were coming with power. It's easy to see them coming and be able to take them. So now, what I do, I use a little bit of speed. When I throw a combination, I will mix the power shots in. What I have learned is that when they least expect the power punches is when it comes the most. Instead of wasting too much energy, I feel like now I need to use my combinations with speed and add some power to that and not waste so much energy while not forgetting about my defense. Just being a little more composed."
In the amateurs, the game of boxing is just that. It's more like fencing with the fighters using their lead hands like rapiers, touching their opponents but not doing much damage in order to score points with each punch. This practice limits the types of offense a fighter sees and thus the types of defenses a fighter utilizes. With each fight camp, that defensive repertoire expands for Ramirez, even if its not used in each fight.
"
Most definitely. In the pros, they do some small moves that you really can't explain. Sometimes you can't even tell. Like [WBA interim junior middleweight titlist Erislandy Lara] with [Austin] Trout, his [counters and uppercuts]," said Ramirez. "You can close your fist [in the pros because the gloves are different, smaller]. In the amateurs, you can't really close your fists. You have to keep your shoulders real tight. You can't reach in. In the amateurs, you reach in and lean back. Smaller defensive moves like if you take a step back, your left foot has to follow as you dip going back. There's so many different punches [to look out for]. Uppercuts, there's wild hooks in the pros like fighters like [WBO featherweight titlist] Salido and [WBA welterweight titleholder] Maidana throwing those wild hooks that you don't see coming, so you have to stay real tight, real sharp with your hands up.
This past November, Ramirez enjoyed two new milestones: he fought near his hometown and he debuted his promotional company, JCR Promotions. When asked what his favorite moments of 2013 were in the ring, Ramirez counted those among them. "I liked my first fight because it was in the MGM [Grand Garden Arena]. It was my pro debut and to be able to fight on a big stage on the undercard of Marquez and Pacquiao but also when I fought near my hometown. It was a successful night. It was the beginning of my promotional company, JCR, and I am fighting in front of my family and my hometown. Not everyone knows me but they seen me around. They see me on TV and they know I am really good, so being able to see me live, it was a very good experience for me. I was very happy with it."
Ramirez is one of more marketed fighters out there. For a fighter of his youth in terms of his pro record, he has a ton of endorsement deals including Nike and Discover and a burgeoning promotional company. That would be a lot to handle for any fighter much less one who is 21. Ramirez and I spoke a few days after Adrien Broner, another fighter with a lot resting on his shoulders, experienced his first loss. While some will say he simply met a more experienced fighter, there will be others who say Broner lost focus and thus, the fight. It's yet another lesson not lost on Ramirez.
"
You always have to stay focused. You really got to train hard and never take anything easy. There are a lot of fighters who are very hungry to be in a much better position," he said. "[I learned from that] to stay focused, to respect your opponent and train extremely hard because they have the potential to beat you. Stay focused and work on my foundation is what I learn from that. Don't take anyone lightly and don't slack off in your training."
Ramirez, a self-professed student of the game, is trained by his godfather, Armando Martinez but has worked with Freddie Roach and others. He seems willing to hear what the veterans who came before him have to offer in the way of advice. Like all good students, Ramirez is a sponge.
"
I feel I am very coachable. I am a student of the game. I take in all the advice everybody gives me and I just put it in the toolbox because I might use those tools in a fight or in a certain situation inside the ring," he said.
For every fighter, the reason he fights is different. For Ramirez, this is his destiny, what he was born to be.
"
I think so. There's some things that are unexplainable. I kind of call it faith that I have. There's just some things that open up for me," he said, searching for a way to explain the unexplainable. "I don't know how I go through my day. I don't know how I go through my workouts. I just thank God for the strength and the knowledge during that moment to go through it."
Along with his faith in God comes the faith his family has in him and he has in them in kind.
"
My family has to do a lot with it, with the motivation they give me. The motivation my dad gave me by showing my work ethic and showing me how to work hard. That's my motivation and I will always tap into that," said Ramirez. "I promised my dad that one day I am going to do all the work and you will get to sit on the couch and relax. I was only 12 years old when I told him that. That was after winning [the championships] in Kansas City. I told him that and I still have that in mind. I would say with the foundation of principles that my family has helped me build, I became a professional fighter. They gave me the motivation, that determination, the morals that they showed me, that shaped the person I am today."
Signing with Top Rank Promotions, endorsement deals, appearances on ESPN and other networks, selling out a local arena in record time and seven wins – five coming by way of knockout - against zero losses is a helluva Year One for any fighter. Year Two should be fun.
Please visit our Facebook fan page at
www.facebook.com/MaxBoxing
, where you can discuss our content with Maxboxing readers as well as chime in via our fully interactive article comments sections.