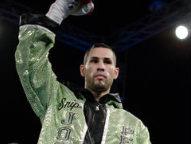 (Photo © Alberto Melendez)


In early 2011, Jose "The Sniper" Pedraza, one of Puerto Rico's most decorated amateurs of recent years, announced his intentions to turn pro. He came in with a big reputation, having won silver at the 2009 World Championships and 18 months into his pro career, the 23-year-old has breezed to a gleaming 10-0 (6) record. The super featherweight switch-hitter hopes he can one day join the pantheon of top Puerto Rican boxers but first, he'll have to continue to progress and earn those honours, something one of his promoters, Gary Shaw, echoes, "I believe Pedraza is a complete package and I see improvement in him in every fight. He is young and there is no need to rush him as I would rather he keep learning, see different styles, and then we will launch him in 2013. Pedraza already has a youth title, [then he can] net a regional title, and then a world title. He has an award-winning smile, fan-friendly style and is just a gentleman outside the ring. What else could a promoter ask for?" Next up on the 12th October, he meets Tevin Farmer in Saint Charles, Missouri.

Anson Wainwright - You recently beat Jose Valderrama on points over eight rounds. Could you tell us about the fight and what you made of your performance?
Jose Pedraza - Valderrama came very ready for the fight. He was strong but my boxing skills were superior and about my performance, you have to ask the fans.
AW - Your last three fights have all gone the full eight rounds. While the experience has probably helped you, do you feel that you should have stopped those guys and made a statement?
JP - My job is to win. If the knockout comes, then it's a plus but my goal is to fight round by round while looking aggressive.
AW - What have you noticed as the big differences from the amateurs to now being a pro?
JP - The training. The amateur training is short and very intense. In professional, long and passive but my team mixes both training styles to gain the better of each one.
AW - Could you tell us about your team? Also where do you regularly train?
JP - I have been improving on each fight, so I think my team is doing a great job. My father, Luis Espada, is my manager/trainer and my promoters are Gary Shaw, Lou DiBella and Javier Bustillo.
AW - I'm sure you have sparred with many top pros. Could you tell us who you've sparred with and how it went?
JP - I have sparred with undefeated prospect Abner Cotto and [WBO] world [super featherweight] champion Roman "Rocky" Martinez. The sparring has been great because, every day, you learn a lot and that's what this sport is all about. It's a learning process.
AW - How did you first become interested in boxing?
JP - I was in track and field, so I knew since I was a kid about being competitive. One day, my dad took me to an amateur card in Cidra (Pedraza's hometown) and I was really motivated and started boxing with my dad.
AW - What do you like to do away from boxing?
JP - I'm a family man. I like staying at home, browse the internet and I like technology.
AW - You were a highly decorated amateur, winning many titles, including silver at the 2009 World Championships and appearing at the Olympics. Could you tell us about your amateur days and what your final record was?
JP - Thanks to God, I participated in great tournaments; I travelled to Moscow, Beijing, Dominican Republic, among others. I won gold medals in the Central American and Caribbean Games in Mayaguez, Puerto Rico in 2010, also gold in the Copa Romana Tournament in the Dominican Republic in 2008, silver medal in the 2009 World Championships in Italy. I participated in the qualification tournaments in Guatemala for the 2008 Beijing Olympics, winning gold. I finished with a 160-16 record.
AW - What are your goals in boxing?
JP - My goal is to be a world champion and be recognized inside and out of the ring. Help the young ones in a daily basis.
AW - Growing up, who was your boxing hero and who do you enjoy watching today?
JP - I admire Floyd Mayweather because of his training and dedication to this sport. Some people don't like Floyd but his training and his boxing style are great. Also, I like watching "Rocky" Martinez fights. He is a great person, has a great heart and recently won the WBO world title.
AW - In closing, do you have a message for the super featherweight division?

JP - They have to be prepared. I know they are training hard but I'm a great boxer and I hope they are ready to fight someday but all the best to them.
Please visit our Facebook fan page at www.facebook.com/MaxBoxing, where you can discuss our content with Maxboxing readers as well as chime in via our fully interactive article comments sections.