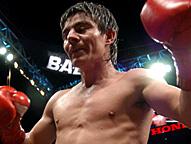 (Photo © German Villasenor)


Arguably the most popular fighter in boxing's lighter weights is Mexican Jorge Arce. The pocket dynamo has been entertaining us now as a professional prizefighter for 16 years, during which time he's been involved in more than his fair share of barnburners. Adding to his popularity is his engaging personality; the former contestant of Mexico's "Big Brother" is somewhat of an extrovert, known to ride to the ring on horseback while wearing cowboy hats and sucking on a lollipop. Inside the ring, Arce is all business; he's won seven world titles (including two interim championships) in five weight classes and has his eye on becoming a six-weight world champion in the near future. Currently, Arce is enjoying something of an Indian Summer to his career. A year ago, he was brought in as the proverbial sacrificial lamb for the younger, rising, unbeaten Puerto Rican Wilfredo Vazquez Jnr. It took place on the Manny Pacquiao vs. Shane Mosley undercard, the perfect showcase in what was seen as a changing of the guard-sort of fight. In the end, it was Arce who rolled back the years, stopping Vazquez in the final stanza of what had been an epic war. It proved to be the catalyst the Los Mochis native needed as he parlayed that win into an opportunity to beat former conqueror Simphiwe Nongqayi. With his 33rd birthday just weeks away, nearly 70 fights to his name and a career record of 60-6-2 (46) (all of the losses were to world champions), "Travieso" faces little-known Jesus M. Rojas this weekend as part of the HBO Pay-Per-View undercard headlined by Manny Pacquiao vs. Tim Bradley. Once again, Arce has very real aspirations of stealing the show.

Anson Wainwright -
You fight Jesus M. Rojas on the Manny Pacquiao-Tim Bradley undercard, what are your thoughts on fighting him? What are your plans for 2012?
Jorge

Arce - I want to steal the show for myself and to deliver as always in the ring. To offer a big spectacle to the public and win.

AW - You had a great 2011, scoring a thrilling stoppage over Wilfredo Vazquez Jnr. for the WBO 122-pound title in a fight where you were a heavy underdog. More recently, you gained revenge over Simphiwe Nongqayi. Can you tell us from your point of view about those fights and what they meant to you?

J

A -

To clarify, I defeated Wilfredo Vazquez to earn my fifth championship in different divisions. I have taken the second wind in my career and before Vazquez, I demonstrated that there was still life in me for a while longer. Already, I have revenge for Simphiwe and [Lorenzo] Parra. I want to put on a great show in Las Vegas that I am preparing myself for intensely in the gym.

AW - Have you done anything different as you seem to have had somewhat of a revival to your career?

J

A -

I made a few adjustments to the way I prepare myself, starting with my exercises, exercises that I had never done, weights. I changed my food and got a very capable physical trainer.

AW - Can you tell us about your usual training sessions? How long do you go into camp for? What is a typical day in the gym?

J

A -

I prepare for 45 days consecutive. Mornings, I run for 30 minutes, then at noon, I go to the gym and box or use boxing equipment or in the afternoon, I go to another gym, use weights and do sprints on an athletics track.

AW - It has been mentioned that you could meet Nonito Donaire possibly later this year. What are your thoughts on that and what do you think of Donaire?

J

A -

There are plans for a possible fight with Nonito Donaire; there is nothing firm yet. I would love this fight but I am thinking of going up to featherweight to win my sixth crown and I am asking my company, Zanfer, if I can face Orlando Salido.
AW -
Who are the key members of Team Arce?

J

A -

My trainer is Edgardo Lucero; my coach is Don Kochul Montiel and my manager is Tiburcio Garcia. Zanfer and Top Rank promote me.
AW -
Can you tell us about your early years growing up Los Mochis, Mexico?

J

A -

I come from a very humble family with limited resources but with great honesty, values and a tireless thirst for getting ahead economically. I had a childhood in spite of the shortcomings; we were a very close-knit family. We never didn't eat; my father worked in Canas and was always on the lookout for us.

AW - You've fought as a pro since 1996. What do you consider to be your toughest fights?
JA -
There have been several hard fights but I remember the ones with Hussein Hussein, [Vic] Darchinyan and Wilfredo Vazquez Jnr.
AW - You have achieved many things in a tremendous career. What things do you still want to achieve before your career is over?

J

A -

I want to achieve my sixth title in different divisions; I want the featherweight [title].

AW – Finally, do you have a message for your many fans around the world?

J

A –

Always, thank you for your support. Thank you for the sport of boxing. Thank you for following us, the boxers, and thank you for filling out the arenas.

T

hank you and have a nice day.