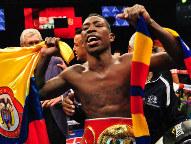 (Photo © German Villasenor)


Hailing from the mean streets of Cali, Colombia, Jonathan Romero is no stranger to having to deal with tough situations. Just last week, he returned home from one of those circumstances, amply rewarded by having beaten Alejandro Lopez in Lopez's hometown of Tijuana, Mexico, winning the vacant IBF super bantamweight title. The 26-year-old was doubtlessly helped by a wealth of amateur credentials that saw him take part in both the World Championships and the Olympics during his time in the unpaid ranks, amassing in excess of 200 bouts. "Momo" upped his ledger to 23-0 (12), besting his rival in a heated battle by split decision via scores of 115-112 and 116-111 while the dissenting judge voted for Lopez. 115-112. With the win, Romero became his country's 42nd

world champion and is enjoying his new fame, met by many reporters and fans alike upon his return home.
Anson Wainwright - Can I start by congratulating you on a impressive win in a very good fight in which you beat Alejandro Lopez for the vacant IBF super bantamweight title? Could you talk us through the fight?

Jonathan Romero - It was a tough fight but I was very well prepared to win it in the best possible way.

AW - Most of your fights previously had been in Colombia with the exception of four that had taken place in America. The Lopez fight took place in his backyard of Tijuana, Mexico. Could you tell us about the whole experience and how you dealt with being there?
JR - It was with great faith. I felt the weight of the fight but already had fought in the USA and I knew I could do things well and leave the public happy.

AW - While it is still very early, how has winning the title changed things for you?
JR - Now I have more people following my boxing. We returned to revive Colombian boxing and I am proud that people know that when one goes well-trained to fight, good results can be achieved. I never thought that there were going to be so many journalists when I got back to Colombia. These are the ones who exalt the sport and now all the media is behind me and boxing in my country because of this great win.

AW - I'm sure you're very much still enjoying winning the world title but do you and your team have any thoughts on when you could make your first title defence?


JR - I will leave that to my handlers.

AW - Who are the members of your team?
JR - In Colombia, I belong to Promociones Cuadrilatero, [run by] Billy Chams, who, including me, already has 17 world champions. I train with Orlando Pineda, the best coach in Colombia, and Alvaro Mercado. We also have as promoters in the USA, Thompson Boxing and Gary Shaw, and training with Orlando Pineda and Daniel Zamora. From Promociones Cuadrilatero, Sergio Chams accompanies me to the fights as representation.

AW - If we can talk a little about your life, you were born and live in Cali. Can you tell us what it was like for you growing up there?
JR - I grew up in a very small and dangerous neighbourhood of Cali. I had a bad childhood, from a family of eight brothers. I have lost four of them because of the violence but thanks be to God, I have gone ahead, thanks to the sport, and many people who have supported me since I started in boxing.

AW - When did you realise you wanted to be a boxer?


JR – Never. My pop forced me into boxing. I was playing soccer but I had no money to go to train and in boxing, they were giving me bread and a soda for going to train and the gymnasium was three blocks of my house.
AW - You were a highly decorated amateur, competing in the 2007 World Championships and 2008 Olympics, though you didn't win a medal. Can you tell us about those experiences? Also, what was your final record?
JR - The experience of the World Championships in Chicago, I was injured and was among the top eight in the world, which was very good. In the Olympics, I didn't win because of "scenic" panic. I didn't have the confidence that a fighter should have when getting into the ring and being in front of the crowd. My record was 236 fights, 210 wins.

AW - The super bantamweight division is packed with talent. What are your thoughts on the division and the other champions?
JR - I think this is one of the strongest divisions and the talent which the other fighters have is very big. To be as them or better, the preparation has to be excellent to gain more experience and confront them all to show who is the best.

AW - The week before your fight, Carl Frampton impressively beat Kiko Martinez. Frampton's highly ranked by the IBF. What are your thoughts on him?
JR - Frampton is a great boxer, to which I have been following and has good qualities. But he does not give me any kind of fear and if they offer me good money, I would be willing to go to defeat him in his home country, as I have done with all my opponents.

AW - Tell us a little about yourself and your life away from boxing.
JR - I am a cheerful, humble person. My hobbies are going to the movies, being with my wife and my children and being dedicated to my sport.

AW - In closing, do you have a message for the super bantamweight division?
JR - That Jonathan "Momo" Romero arrived and is here to stay and I'll be getting stronger with each fight to beat the best.
Please visit our Facebook fan page at www.facebook.com/MaxBoxing, where you can discuss our content with Maxboxing readers as well as chime in via our fully interactive article comments sections.