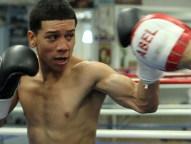 (Photo © Miguel Salazar)


It's been a hot minute since we've seen junior lightweight prospect Joel Diaz Jr., 11-0 (10), who takes on Victor Sanchez (who's more dangerous than his record suggests) at the Bayou Event Center in Houston, Texas

on

April 4

. Diaz kicked off 2012 with a "Fight of the Year" candidate against Guy Robb on "ShoBox." Until he got off the canvas early to stop Robb in an instant classic, no one had ever heard of the 20-year-old Palmdale, CA badass when everyone else asked, "Who is that kid?"
The fight was a blessing and a curse. At once, Diaz, 21, was a well-known commodity but he was only seven fights into his career. On one hand, it didn't seem right to keep him at that level, maybe fighting once or twice a year, living off the network cable teat. The Robb fight was a rare chance to give fight fans an early glimpse at a talent to be developed later. On the other hand, getting opponents for a tough, hard-hitting little demon of a junior lightweight was also a problem.
"After that fight, no one wanted to fight [Diaz]," Boxing 360's Dr. Mario Yagobi told Maxboxing.com on

Monday evening

. "People didn't want to fight him. On at least two separate occasions, fighters backed out at the last minute."

The fight featured both his tenacity and very raw talent. Diaz changed trainers after that fight, moving from the Wild Card Boxing Club to the mountains of Big Bear, CA and Abel Sanchez's Summit Gym. Sanchez is growing something of an army up there with the likes of middleweight champ Gennady Golovkin and cruiserweight champ Ola Afolabi, former light heavyweight titlist Tavoris Cloud, featherweight champion Mikey Garcia and many others coming through to live and train. It is here where the young man has grown from a smallish 130-pounder at age 19 (when I first met him) into the young man I met at the Golovkin media luncheon a few weeks back.
"It's great, man. It's actually exciting. I actually get excited just to go down to the gym; you know? Just go down to the gym, working with him. Him giving me pointers and stuff like that. It gives me a good rush," Diaz told Maxboxing.com.
Diaz looked as fit as I'd ever seen him and chomping at the bit for a fight.
"Just seeing training camps come in and go out is pretty tough; you know? It's been [since August]. It's been tough. Seeing camps come and go upsets me. Like 'When am I going to get my turn?" he said with his ever-present smile.
Diaz almost came off the mountain February 8th

on ESPN against Tyler Asselstine but he slipped on ice while running and injured his wrist. Sanchez wisely held his fighter back. The setback hurt particularly because Asselstine, the favorite in his native Canada, ultimately lost to Baha Laham.
"Damn. That could have been me. He's actually a really good fighter. We were saying to ourselves we could beat him. That would have been us," said Diaz of the missed opportunity, again smiling all the way through the pain. "It's tough. It gave me that motivation afterward. It was tough but hopefully, I will get an opportunity like that again."
The injury didn't slow Diaz down at all.
"We didn't stop training. We just stopped hitting the bag. We let it heal right, recovered it and now we are ready for action," said Diaz.
Diaz fought five times last year, his last outing in August. Since then, his run has gone cold for various reasons including his aforementioned injury. Sanchez's hunger to see his fighter in a real fight is as palpable as Diaz's hunger to get in one.
"It's not often that along comes a young man that not only has talent but also the desire to be the best that they can be," said Sanchez. "He is one of those kids that just wants to work harder than everybody else. I had him sparring with Shane Mosley earlier this week. And Shane was very impressed with him being a little guy like he is, with his aggression and him being only 21 years old. But it's because he really wants to improve. He has a young son and yet he spends the bulk of his time in Big Bear, soaking up all the knowledge of the champions there and trying to be the best that he can be. I am surprised that he is not fighting as often as he should be because a talent like that needs to be nurtured, needs to be continuously fought. He is not going to learn just staying in the gym. He needs to be active in fights."
Sanchez says that the Diaz in the Guy Robb fight is not the fighter he is today. But the only way that can happen is by fighting him more often.
"The [Guy Robb] fight just showed that [Joel] has big cojones," said Sanchez. "It also showed that he can be hurt. I don't believe that fight has prevented us from getting another fight. The promoter is just not fighting him regularly. When you have a good young talent like this, you have to fight him to develop his skills. You can't just do it in the gym. He has to go to war and test those skills he is developing in the gym.
"It's difficult to say how far he has advanced because I haven't seen him in fight," continued Sanchez, discussing in particular Diaz's development in Big Bear.

"His last two fights were against veterans; he handled himself well in the ring. But his development is a lot further along, I think, than 11 fights. He's sparred with [Mercito] Gesta, Mikey Garcia. He's done very well with them.

Mikey loves sparring with him because he's a strong, aggressive kid. It's hard to judge just the gym work. I need to see him in with quality opposition so we can see how far along he is."
For Dr. Yagobi, this time out after the four fights following the Robb outing was part of his design. Should he prove successful, Diaz's schedule after the fourth sounds like a busy one, starting on April 13 with at least two more fights to follow quickly (if Diaz does not sustain serious injury or a loss).
"The kid is 21 years old. He can't go from four-rounders; he had one six rounder [before the Robb fight]. We moved him to eight for that Showtime date. You can't do that. You're not developing him. You're not learning anything," said Dr. Yagobi. "He is only 21 years old. He doesn't have his man strength yet. I wanted him to sit, wait, develop his body and develop into his manhood. I wanted him to be in the gym learning things so when he gets in the ring, he will be prepared. He is not going to learn getting in with veterans he stops in two rounds. When the right fight comes along, we will put in that fight. To do it any other way is crazy."
Whether this fight is that "right fight" or the beginning of another long string of fights Diaz takes in his search for the "right fight" remains to be seen. The important thing is the young talent who has been trapped on a mountain practicing his craft now gets to display it.
"I see [2013] going good, actually going great," said Diaz. "Whoever wants to step up, whoever wants to call me out. My team, we want to do it big. Who wants to step up? Let's do it. I am not going to deny anybody. I've never said "no" to anyone and I am ready for whoever."
You can email Gabriel at maxgmontoya@gmail.com, follow him on Twitter at www.twitter.com/gabriel_montoya and catch him every Monday on "The Next Round" with Steve Kim. You can also tune in to hear him and co-host David Duenez live on the BlogTalk radio show

Leave-It-In-The-Ring.com

, Thursdays at 5-8 p.m., PST.
Please visit our Facebook fan page at www.facebook.com/MaxBoxing, where you can discuss our content with Maxboxing readers as well as chime in via our fully interactive article comments sections.