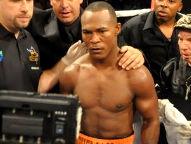 Photo © Reynaldo Sanchez /Acquinity Sports


Today is the 10-year anniversary Joan Guzman's first world championship win. He claimed the then-vacant WBO super bantamweight laurels on a Joe Calzaghe undercard in Cardiff Castle, Cardiff, Wales, UK, stopping Argentinean Fabio Oliva in three one-sided rounds. Back then, Guzman was highly regarded with great expectations firmly attached. Fast-forward to today and he's still undefeated (33-0-1 with 20 KOs and one no-contest) at age 36 but he's not become the star we had hoped for. He's suffered terribly from inactivity and ill discipline in terms of weigh-making which, for parts of the last decade, have clouded the good work he has done. Instead of being able to stay active after winning the WBO 122-pound crown, Guzman endured two separate spells of almost a year of inactivity between defences, seeing him only make two in an almost three-year reign. After stepping up to featherweight, he hoped to land an assignment with then-WBO champion Scott Harrison, only for boxing politics to prevent Guzman despite winning a title eliminator. So he headed up in weight again to super featherweight; though this was also a brief pit stop of just a year as Guzman's belt line continued to grow. However, during this tenure, he managed to win the WBO 130-pound belt against Jorge Barrios, making two defences including one against Humberto Soto in what is likely Guzman's most impressive win to date. Once again, it was time for him to step up in weight. After a win over Ammeth Diaz, he took on South African beanpole Ali Funeka for the vacant IBF 135-pound title in what ended in a draw. In their rematch, Guzman inexplicitly weighed nine pounds over the lightweight limit and though the bout took place and he won, he was cast into the boxing wilderness. He fought just once more in 2010 in a low-key affair against Jason Davis on the Amir Khan-Marcos Maidana undercard and, again, Guzman was overweight with the result eventually changed to a no contest. Worse was to follow when he was released from his Golden Boy contract. It looked like the end of his storied career was nigh as he was cast into the abyss. However, it was at this juncture the sublimely skilled Dominican signed with Acquinity Sports, an upstart promotional company in Florida. In just eight months, Guzman has flourished, winning three fights all inside the distance, admittedly at a lower level. But the important thing was the manner in which he took care of business and the shape he arrived in to fight. Recently, the WBA mandated Guzman to fight Pablo Cesar Cano; however, Cano has decided against taking the fight instead moving up to welterweight where he'll meet Paulie Malignaggi leaving Guzman without an obvious opponent. That said, it is believed negotiations are taking place with unbeaten Russian Khabib Allakhverdiev in the hope that the match can be made before the end of the year for the vacant WBA lightweight championship. At this juncture, time is running out but maybe - just maybe - finally Guzman is ready to fulfill his undoubted promise and make it to the big time.

Anson Wainwright – Firstly, you recently won your third fight in eight months, all by stoppage and all at or under the light welterweight limit. Was this to show the boxing world you are serious in making 140?
Joan Guzman -

Yes, I am rededicated and feel the best I have ever felt. I have made 140 no problem my last three fights and I am upset that anyone might have counted me out. Guzman is back and with a vengeance.
AW - Can you tell us a little about your exile from the boxing world and what happened to make you get serious about boxing again?
JG - I had gone thr

o

u

gh

some tough times with the passing of my mother and, mentally, I was distorted. I couldn't focus or even think about anything at the time. I was very saddened and depressed. Now I am refocused and I dedicate these fights to her and my children. No one will beat me, no one and I will be champ for the third time very soon.
AW - What is your plan next? When and who are you looking at fighting? Pablo Cesar Cano, the WBA interim light welterweight champion was mentioned. Is that a possibility?
JG -

I want to fight the best because I am the best. Pablo Cano has been named by the WBA as my official opponent. Let's see if he steps up and fights me. Whoever it may be is good with me but I want to fight Danny Garcia, Timothy Bradley; I want [Juan Manuel] Marquez, [Marcos] Maidana, [Amir] Khan, [Manny] Pacquiao and anyone else who wants a shot at my undefeated record. I am 33-0 and I want the best; bring on the best. Guzman doesn't turn down anybody; I'm back. I will be champ and I want to unify afterwards.
AW - Could you tell us about your team? Also where do you regularly train?
JG -

My team is the best I have ever had. My manager is Jose Nunez, who has been with me thr

o

u

gh

thick and thin. My promoter is Henry Rivalta, who has done a fantastic job with my career. My trainers are German Caicedo and Don Saxby, who has gotten me in the best shape of my life. My cutman is Rafael Garcia, the best in the business and our team owner and CEO of Acquinity Sports is Gary Jonas, the smartest man I have ever met. I train at Caicedo Boxing in Westchester

,

Florida and my surroundings are too good to be true. I have been blessed with an all-star cast around me and all of them are the best at what they do. I am so grateful and promise to make my team and my fans proud.
AW - What are your thoughts on the light welterweight division as a whole and the champions, Danny Garcia of the WBC and WBA ("super"), Lamont Peterson of the IBF and Juan Manuel Marquez of the WBO?
JG -

I want them all, my friend. Marquez can't beat me and I don't think anyone can. Can someone step up and try proving otherwise? The fans want to see action fighters, then look no further than Guzman. Still undefeated since '96; only Floyd [Mayweather] and me have lasted this long undefeated and I think Pacquiao vs. Guzman is a fight that fans would appreciate. We are the same height, reach, and I would step up and fight him at the weight he wanted. There is a picture of Manny, Bob Arum and myself; it was once a fight that was considered. I'm ready for the best. Bring on the best at 140 - anyone, any place, anytime.
AW - Fans may not realise it but it's been 10 years since you first won a world title; it was on the undercard of a Joe Calzaghe fight in Wales and it was actually outdoors in a castle. Could you tell us about the experience and what it was like for you?
JG -

It was a very unique experience for me winning my world title because the people of

W

ales were very great people. They treated me with respect and they loved boxing. These are memories I can never forget but right now, I live in 2012 and my focus is on being champ once again. Remember, I'm coming for what's mine. I lost my titles on the scale; no one ever beat me in the ring

. K

eep that in mind and now I no longer suffer with any weight issues, so I hope there will be no excuses. I should have been five-division champ. When I was 126 [pounds], Scott Harrison did not want to fight me for the title. Then Ali Funeka, I didn't make the weight even though I won. I didn't get the belt and now I will definitely shock the world.
AW - You're a two-division world champion but do you look back and feel perhaps you could have achieved more, perhaps featherweight, lightweight titles, etc.? What more do you still want to achieve in boxing?
JG -

Maybe but now, I just want to be the 140-pound champion of the world for the WBA. Then I will fight anyone, even I have to come up a weight class to fight the best. 33-0, who wants it?
AW - What were your early years growing up in Santo Domingo, Dominican Republic like?
JG -

I grew up in

G

uachupita; it is the toughest, roughest little town in the D

ominican

R

epublic.

In my neighbourhood, you had to fight or you couldn't walk the streets. My father was a boxer and so was my uncle. As an amateur, I suffered and sacrificed daily to get where I got. I also learned a flipside of myself which is not so nice once I lace 'em up and step in the ring. I love the Dominican Republic; that is my home and those are my people. I love my fans and I promise this time, I will make everyone the proudest they've ever been of me. There is no failure in Joan Guzman, only

v

ictory. You cannot change destiny and this is why I am fighting for a world title again.
AW - How did you first become interested in boxing?
JG -

I used to see the kids at the boxing gym with my father and I was immediately fascinated and drawn to it. Next thing I knew, I'm still undefeated.
AW - You were a very good amateur. Could you tell us about the titles and tournaments you won and your Olympic experience along with your record?
JG -

I started boxing at nine; I had a record as an amateur of 310 wins and 10 losses. I won a gold medal at the 1995 Pan American games; I competed in the 1996 Olympics in Atlanta but lost to Omar Narvaez, who was a record-setting world champion. [I was also a] three-time Central American champion in '93,

'

94 and '95.
AW - Away from boxing, what do you enjoy doing? What are your hobbies and interests?
JG -

I enjoy spending all my time with my wonderful wife and my beautiful children. We dance; we play a lot of video games and we go out as a family to do plenty of fun things. I have a big backyard and we ride our four-wheelers and dirt bikes. We can just about do anything together and have a great time. My family is my life and what I fight for.
AW – Finally, do you have a message for the boxing world?
JG -

My message is I am renewed and I'm hungry to make history as I did when I started. Dominican Republic is back on the map and when you mention a D.R. fighter, "Guzman" is the name you will remember. I want to thank Maxboxing for all the support.