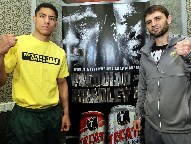 L-R: Jessie - Khabib (Photo © Chris Farina / Top Rank)


At the moment, the U.S. boxing world is a dual universe commonly described as the "Cold War." For the most part, this means Top Rank Promotions is on HBO and Golden Boy Promotions/Al Haymon's stable of fighters is on Showtime. What this means for the boxing fan is there are only certain fights that will get made. When it comes to 140 and 147-pound divisions, what it currently means to Top Rank is that finding talent to be developed into superstars is not going to be easy, seeing that Golden Boy/Haymon Promotions has signed up the A-sides, the B-sides and pretty much all the C-sides. Top Rank's junior welter/welterweight stable includes Timothy Bradley, Manny Pacquiao, Juan Manuel Marquez, Carlos Abregu, Karim Mayfield, Mike Alvarado, Jose Benavidez and Jessie Vargas. Only Vargas and Benavidez are still being developed. Mayfield just lost a big fight. Alvarado is facing an aging Marquez later this year. Benavidez is in relative obscurity. Abregu is a contender but rising with a bullet. Bradley and Pacquiao rematch on Saturday. In support of that HBO Pay-Per-View live from the MGM Grand Garden Arena, Jessie Vargas vies for his first world title against Khabib Allakhverdiev.

At 24, Vargas has been without question battle tested in his last two fights. Now he gets to see what he has learned and the world gets to see if he has the Top Rank star in the making goods.
An affable Los Angeles-born prospect who fights out of Las Vegas, NV, Vargas has been boxing since age eight. As an amateur, his record stood at 120-20 and he was a two-time Mexican National champion among other amateur titles he won. As a pro, Vargas' records stands at 23-0 (9). Originally, Vargas was promoted by Mayweather Promotions but decided last year to sign with Top Rank when his contract expired. Quite simply, Top Rank has a history of making fighters who are not just draws at the gate but on cable as well. Fighters who transcend the sport such as Oscar De la Hoya and Sugar Ray Leonard were promoted by this company. And in the waning years of its latest creation, Manny Pacquiao, the time is now for that next young fighter to emerge. In boxing, one way or the other, there is always room at the top.
"
There's been some people that say, 'Hey, you could be a star.' And I looked at it before I signed with Top Rank - and they do have great fighters without a doubt - but I saw myself able to put myself in position to be their star fighter and I continue to believe that. That's my ultimate goal: to be their superstar. They know how to move fighters. I come out victorious in this fight, who knows? Maybe that goal I'm thinking of will come true," Vargas told Maxboxing.com earlier this week.
Vargas seems older than his years. When he speaks of his goals, it doesn't come off as arrogant or boastful. Early in his pro career, Vargas was featured on Golden Boy cards and the vibe was certainly of the "This is the next Oscar De la Hoya" variety. But as the fights got harder and Vargas somewhat toiled in obscurity as he apprenticed as a professional fighter, it became clear to him that this sport is a business as well as a job. The seriousness of that is not lost on Vargas. While his goal is superstardom, he approaches not so much as someone hoping to be discovered but more as an individual fighting to be seen, preparing diligently for the moment. The need to sacrifice himself for the moment in order to get what he wants is not lost on Jessie Vargas.
"
Without a doubt. I've had people within the company that have said., 'Hey, you have the looks.You can fight. You need an impressive win and you could be that guy.' So I have the potential to be that star player and that's my goal and that's what I'm coming for in this fight. I want to impress everyone. I want them to say, 'Wow that's Jessie Vargas.' I have my own style and the thing about me is no matter what, I always find a way to win. I always find a way to adapt to different styles. The way I see myself is, 'How can I not get there?' I can fight on the inside. I can fight going backwards. I can move my head. I can do it, man. You put me in the ring and I'll make something happen. Come April 12, it's going to happen. I'm kind of tired of being in the shadows. I want to be out there and for that, I have to give a great performance," said Vargas.
For this fight, Vargas began training with Ismael Salas, who has trained Guillermo Rigondeaux and Yuri Gamboa among others. This is Vargas' fourth trainer but he says Salas is bringing out the best parts of his game.
"
I feel good. I feel very good. Salas is a great trainer. I am very comfortable with him. He's been showing me a lot of things that connect with my style," said Vargas. "I'm sitting down more on my punches and my position in order to throw combinations. Because in order to throw a strong punch, you need to be in a very good position. And that's what I've been working on. I was a knockout puncher early on in my career but I learned that I was getting too comfortable with moving around and I want to go back to knocking guys out, man. I want to be taking guys out. That's the bottom line. I've got the power. I've got the speed. I was knocking guys out in the beginning of my career. The power's there. It's just that we have to do. Like you said, sit down on our punches and be in the right position. Right position, right leverage and making sure that the whole body is clicking at the same time. That's what were doing now."
Vargas has been off since last October, when he scored a ten-round unanimous decision over Nigeria's tough-as-nails Ray Narh. In his previous fight, Vargas scored a unanimous decision over Ghana's Wale Omotoso in another ten-rounder with a hard, fast pace. Back-to-back tough fights against two contenders at the 147-pound limit convinced Vargas he should perhaps go back to junior welterweight. While he won both bouts handily, Vargas simply was not as strong as he could be if he decided to fight seven pounds south. He explained that he simply was not paying close enough attention to his diet and making weight the correct way. With that in mind, Vargas is now working with SNAC System owner Victor Conte, who handles all of Vargas' supplementation needs while also providing insight into his nutrition and hydration practices.
"
It's great having Victor on my side. He's a very intelligent man and has a lot of knowledge. The SNAC System is working wonderfully with me. Everything is falling into place with me, the whole team. Now I have Victor Conte, helping me out, supporting me. Its definitely very beneficial to have him," said Vargas.
When asked if he had any trepidation about working with someone with Conte's BALCO past, Vargas replied., "As far as what he did in the past, I think he loves boxing very much and I don't think he would do anything to jeopardize that. He loves the sport. He's been watching the sport for decades, literally since he was a kid. I'm not worried about him. I know that he wouldn't do anything that would give him a bad name in the sport that he loves or anything that would push him away from the sport."
With guidance from his manager, Cameron Dunkin, Vargas bided his time over the past year, prepared to move back down in weight and catch a title fight. With everything lined up perfectly, all there is left is for Vargas to finish this journey as a winner. Through victoriously traversing the gauntlet of Narh and Omotoso, Vargas feels he is ready for whatever Allakhverdiev brings to the dance.
"
I don't care who they have in front of me; they're not going to take my will. I don't care if you are bigger, stronger," said Vargas. "[Omotoso and Narh], those were full-grown welterweights I was fighting. I showed my toughness and I got my experience from it. From this point on, that can help me much more. To have a strong mentality that no one is going to take me down; no one is going to give me a defeat. And that's what those fights showed me, that I can mix it up with anyone. They were bigger than me; they had a higher knockout percentage. They had good records and they couldn't do anything to me. In those fights, I got experience and showed that undefeated fighters, I'm ready to deal with them," said Vargas.
In Allakhverdiev, Vargas doesn't just face his toughest test for a world title. He faces the man standing in the way of the embodiment of his life's goals. Is he ready to actualize those or will he be turned away.? This is why we watch: to find out. This is why he fights, to keep that certainty going that only the undefeated possess.
"
I watched [Allakhverdiev]. I think he is a good fighter. I don't think of him as nothing special. Good fighter, without a doubt," asseses Vargas. "He's a lefty, which I have no problem with lefties. I'm the one moving back down into 140, so I am the stronger fighter. I'm just ready to knock this guy out, man. I feel so strong right now. I'm not worried about what he's going to do. I'm just focused on what I'm going to do. If he wants to fight, we'll fight. I'll whoop his ass on the inside. He wants to fight at a distance, I'll do that. I'm so ready, so aggressive. I've been training since January. I just want to take this guy apart. No matter what he's going to do, I'm ready for it and I'm going to show who the better fighter is and who Jessie Vargas really is. Just as I've shown every fighter I've been in front of - and it shocked them. They said, 'Damn, I didn't know he hit that hard. And he really is not that easy to hit.'
"
This guy, he's going to get a taste of that as well."
Please visit our Facebook fan page at
www.facebook.com/MaxBoxing
, where you can discuss our content with Maxboxing readers as well as chime in via our fully interactive article comments sections.