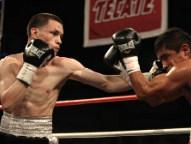 Photo © Promociones Miguel Cotto


The Puerto Rican boxing scene has been a boxing hotbed for many years. You only had to witness the love and mass hysteria that accompanies superstars like Felix Trinidad, especially in his heyday (heck, they still adore the very floor "Tito" walks on), or Miguel Cotto. However, the conveyor belt seems to have slowed a little as fewer and fewer top fighters are coming through but one light seems to be shining brighter than the rest. Featherweight Jayson Velez, a 24-year-old known as "La Maravilla," possesses a fan-friendly style as he mixes both speed and power. Though still a work in progress, so far, he's impressed many, taking his ledger to 19-0 with 14 inside-the-distance wins.
Anson Wainwright - You beat Leivi Brea, stopping him in six rounds. Looking back on the fight, can you tell us about it and how happy you were with your performance?

Jayson Velez - I feel really good in my last fight against Brea. I trained really hard for this fight and we had an impressive victory. I'm pleased with my performance and looking forward for the big challenges.
AW - What are your plans for the rest of 2012? When are you likely to next fight and against who?
JV - My plans for 2012 are to fight two more times and move up the rankings in order to fight in 2013 for a world title.
AW - What do you consider your strengths as a fighter and what areas do you think need to be worked on a little?
JV - My strengths are my speed, power and my patience in the ring and understand that I can work more on my jab and defense.
AW - Could you tell us about your team
?
JV - My team is [head trainer] Jose Parrilla. Wilfredo Vazquez is the second assistant, Abdiel Mulero is my trainer and Victor Martinez is my physical trainer.
AW - Miguel Cotto is your promoter. What is the relationship like between the two of you?
JV - My relationship with Miguel Cotto is very good; he always has been very good to me.
AW - You have the backing of the mayor of Juncos, Alfredo Alejandro Carrion. Can you tell us a little about that?
JV - The mayor of Juncos, the Honorable Alfredo Carrion, has been very good to me and has been there in all the steps of my career.
AW - Could you tell us a little about your training and what a typical day consists of? Sparring, weight, where and how far do you run? Can you tell us what food you eat and how you find making 126?
JV - My days typically consist of hanging out with my wife watching TV, watching my children as you can, go for family fun, either visit my mom, my dad, going to the movies, the beach, etc.,
really like any normal person.
My sparring partners
go to
my gym.
My diet is balance
d
; even when not training, it's very healthy, almost never [including] fried [foods]. I'm not a soda lover; I'm a chocolate lover but when I train for a fight, not like anything sweet or chocolate [is allowed] and to reach
my fighting weight as 126, few

er

portions [of food are eaten], except for liquids

to

mak

e

weight of 126.
AW - There are several world-class fighters at or around your weight class including the likes of Juan Manuel Lopez and Wilfredo Vazquez Jnr. Have you had chance to spar with them? If you can name any other top professional you have trained with, how did it go?
JV - I had the opportunity to train with "JuanMa" Lopez when I was still an amateur and it was a great experience for me
.
AW - Can you tell us about your younger days growing up in Caguas? How did you first get into boxing?
JV - I started boxing at 11 years old. I liked karate and asked if [the gym nearby] gave karate lessons and they told me no
.
I tried
boxing
and liked it and it was difficult at first. My people did not have the necessary support equipment and other things.
AW - Can you tell us about your amateur career? What tournaments did you win? Did you represent Puerto Rico? What was your final record?
JV - I had 93 amateur fights, won 78, lost 15 and won 15 by KO.
[I represented]
P
uerto
R
ico
at
the
J
unior Olympics in 2004 and won two matches and lost one and got a bronze medal and was always willing to fight any boxer, f
acing Luis Cruz, Jesus Rojas, Jorge Maysonet, [Miguel] "Mickito" Soto, among others.
AW - Who was your boxing hero growing up and why?
JV –
I
do not believe in heroes and idols, the only title I give is to Jesus Christ, who is my hero, my example and my motivation
.
What was, is and remains my boss is Miguel Cotto. I grew up watching him; I have seen all his fights. I
ha
ve
managed to overcome every challenge
[that]
is presented, even when they thought I could not be me, going against all odds and surprised the world.
AW – Finally, do you have a message for the featherweight division?
JV - The reality is that I, Jayson Velez,
have
a desire to become a world champion and to confront and defeat the best, for that I prepare and get better every day and I hope [the featherweight champions and contenders] can be prepared as well to give you
the fans the excitement they deserve.
Please visit our Facebook fan page at www.facebook.com/MaxBoxing, where you can discuss our content with Maxboxing readers as well as chime in via our fully interactive article comments sections.