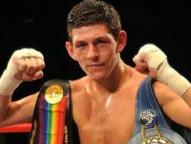 --


When Jamie McDonnell beat Darwin Zamora last October, he became the IBF bantamweight title mandatory for rising American star and titleholder Leo Santa Cruz. Since then, McDonnell, from Doncaster in the south of Yorkshire, England, has waited patiently for news of his impending title shot. Speculation had been rife that Santa Cruz would vacate; hot off the press, McDonnell informed us, "He [Santa Cruz] has just vacated, so it's me and [Julio] Ceja, I think, who will go to purse bids." It's been a meteoric past three years for McDonnell, who turns 27 years old next month. First, he stunned fellow Brit Ian Napa to win the British title and claim the vacant Commonwealth championship. Not one to rest on his laurels, just two months later, McDonnell travelled to France to win the European title, surprising Jerome Arnould by stopping him in 10 rounds. Since then, he's successfully retained the European title four times, impressively turning back challenges from the likes of Stephane Jamoye as well as fellow Brit Stu Hall. However, now McDonnell wants his shot at world glory, "It would mean everything; it tops it all off. I've won British, Commonwealth and European [titles]. I'm that hungry for the world title. It's a big thing that there's never been a world champion from Doncaster, my hometown, so I'd be in the history books." Nobody thought McDonnell could get this far, so why not?

Anson Wainwright - As far as you know, what is the current situation with you and your IBF title shot?

Jamie McDonnell – [Leo Santa Cruz] has just vacated, so it's me and [Julio] Ceja. I think I'll go to purse bids. They haven't given us an offer to go to Mexico. I said to Dennis [Hobson, McDonnell's manager] I'm not bothered on that. They'll have a bit of haggling and if they can't work anything out, they'll go to purse bids. I said to Dennis, "Do what you can to get it over here. I want every chance to win it. If it means taking a little less and paying him a bit more that's fine. It's not about the money.

"
AW - Your last fight was an eighth round stoppage over Darwin Zamora in a title eliminator. Can you tell us about that fight and, looking back, how happy you are with that performance?


JD – Training-wise, it didn't go too good. What it was, I finished (broke up) with my ex-bird (British term for "girlfriend"), so my head was all over the place. I got that fight at eight or nine weeks' notice, so I only had eight weeks to train for it, so I got stuck straight in but, mentally, my head wasn't on. I did train hard. I didn't feel good on the scales. When it came to weigh-in day, I felt a little rubbish. In the fight, I felt I controlled the fight; it felt quite easy. I stepped up early but I wanted to break him down. I was hitting him with loads of shots and I just kept working and working, chipping away. Finally, the stoppage came and I was over the moon. It means my next fight is for a world title. I did end up going to hospital just for a check-up. I just felt a bit weak; mentally, it took over, only for half an hour. I just had a little check-over. Everything was alright, so I went home and had a drink.
AW - Who are the members of your team?


JD - My manager is Dennis Hobson; he's done a great job. He's working on this world title with negotiating and all bits and bobs. Dennis has done a great job over my career. Since I moved to him, I haven't been beat. I won the British, Commonwealth and European [titles] and defended them all, final eliminator and now world title. Stefy Bull and Dave Hulley, I've known Stefy all my career since I was with [manager] John [Rushton]. We're like best mates, all three of us. They've both got a wife and kids and they spend more time with me. They've done a terrific job, just like Dennis has. Eddie Hearn promoted me for that last fight. Before that, it was Frank Maloney but Eddie did a great job on that big bill on the undercard of Kell Brook (vs. Hector Saldivia) at the Sheffield Arena. I thanked him after for putting me on these big shows. I don't know who'll promote the next fight. I train at Stefy Bull's gym in Mexborough; it's an amateur gym but we have our time in the gym in the morning or night. Emperors Boxing Gym, it's called.
AW - You're from Doncaster in the north of England. Can you tell us about your early years and what it was like for you growing up and the path you took into boxing?


JD - I'm from a little village in Doncaster; there's probably four or five little villages. I got into boxing because I'm best mates with a lad called Charlie Thompson and he used to go to an amateur boxing gym and he said, "Why don't you come?" so I went; I enjoyed it. I didn't tell me mum at first. When I needed her to sign, so I could get a licence, that's when I told her. She went mad; she didn't come to the first two amateur [bouts] but once she went to one, she enjoyed it. They come to all my fights. I ended up boxing for England and at 17-and-a-half, my mate, Charlie Thompson - he was a little older - he turned pro. I'd probably just turned 18 and he said, "Come and earn some money." I wasn't earning much at work and so I went down to John Rushton's and just took it from there.
AW - If I can take you back to late-2007/early-2008, you lost two consecutive fights in a four-month spell. That seemed to galvanize you as, after that, you regrouped and haven't looked back. Can you tell us about that?


JD - I got to 8, 9-0 and John got me a British title shot [McDonnell was 8-0-1]. It was against Chris Edwards on the [Ricky] Hatton vs. [Floyd] Mayweather undercard. It was on the show over here before it went over to America, so I was buzzing about that. I didn't really know what a British title meant. I just got in there and got paid some good money, so I thought, yeah, I'll give it a go. I went 12 rounds and got beat on a split decision. I wasn't gutted; I was more buzzing that I'd done 12 rounds 'cause they were 12 hard, fast-paced rounds. Then I fought Lee Haskins straight after. I shouldn't have really taken that fight. My head was down a little and I wasn't in the mood to train. We had that fight and we got beat on points. Some thought I should have got it. I had a few months out and felt like packing it in but my dad said, "We'll go see this bloke, Dennis Hobson, and see what he can do. My contract with John Rushton had finished and [Hobson] said, "Yeah, we'll see what we can do." He put me on a couple of shows in Jersey [Channel Islands in the U.K.], then he got me the Napa fight.
AW - Three years ago, you shocked Ian Napa and won the British and Commonwealth bantamweight titles. That must have been a big moment for you.


JD - It changed my career. I won the British and the day of the weigh-in, they got the Commonwealth added on to it, which was a bonus. I won two belts there and I was buzzing. I won the fight; it was close and could have gone either way but, luckily, I got the decision and that lead me on to where I am today.
AW - From there, you travelled to France just a few months later, stopping Jerome Arnould in the 10th round to win the European title. Again, this was a very important step for you.


JD - Ian Napa already had the Jerome Arnould fight lined up. My fight was meant to be an easy fight, just a ticking-over fight, so I beat him. So I said, "Why can't I have that European fight?" so they sorted it out. I went over there; Maloney thought I was going over there to get beat. A lot of people did; Boxing News thought I'd get beat or stopped and I ended up stopping [Arnould]. It showed how good I am. I brought it home, defended it four times and got my final eliminator.
AW - Since that win, you've had six fights, with five being European title fights, all wins. During this time, you've improved immeasurably. Can you talk about how your life has changed during this time?


JD - It changes your life. I don't work. I've got full-time sponsors called Innovation. When I first won the European title, I still had to work. Unless you get sponsors on board, at my weight, it's not massive money unless you get world titles. So I went back to work; I was a plasterer. I still do bits and bobs 'cause me and my brother are self employed and my brother has a little company, so I always see if I can help him. It's nice to go and do a bit. Sometimes I go back for a week or two while I'm waiting for a fight and people are like, "Why are you doing that?" It does your head in at home for 10, 12 weeks. The last six months, I've been home, other than training once or twice a day. It gets boring. There's only so much cleaning around the house you can do. So I like to go back to work, out with me mum or just stuff like that but now, I have Innovation on board. I don't work. You get invited to nice do's and people give you stuff. Obviously, you have to appreciate it 'cause they're helping you out. Just everyone wants to help you out. You can see the people who really want you to win a world title. People in the village come up to you and you can tell they're proud. When training, I like to put my iPod in when I do my runs and plan my fight, my build-up and do all that and you always think of the people you're making proud. The buzz off it, that's what gets you through those hard sessions. It's not just me; it's everyone, me mum, me dad, Dave, Stefy, Dennis. You don't want to let no one down. All that build-up, that's what gets you through the 10 weeks training. It's good. I'm loving life. I'd like to be done and dusted by 30. I've got three or four years. I've got my world title next. If I can win that, I've got three or four years, hopefully, clear up as many belts as I can, invest money and not have to go back to hard graft and, hopefully, set up a little company and run that unless I get some super money. 30 is still young but if there are still big fights out there after 30 and I'm still feeling good and fresh, I'll keep going. I don't want to be one of them boxers who's been at the top, done it and dropped back down for a British title fight for a little bit of money. I mean, I don't want to do that. I want to get up there and make a name and be one of those fighters who has their name up there and doesn't come back for these little fights that just keep you determined and keep winning. I said to Dennis, "I'm not bothered who I fight or where I fight. Please get the fight in England. I just want to win it. I'm not worried. If it costs more to bring him here, I just want to win the world title and do what you want. Take me to America. Do what you want. I just want to win a world title bad now.
AW - What are your thoughts on the bantamweight division and the current champions, the WBC's Shinsuke Yamanaka, the WBA "super champion" Anselmo Moreno, WBA "regular champion" Koki Kameda and the WBO's Pungluang Sor Singyu?


JD - I've seen some of that Koki Kameda. He's one of three brothers who fight. He's good but I said to Dennis, I do believe I'm going to clean up [the division]. They're not the super-fighters like your [Nonito] Donaire or [Abner] Mares. The guys are good but I think Leo Santa Cruz was the toughest out there. If I have to fight him, I'll fight him. I do believe I'll beat any of them. I haven't seen too much of the other Japanese geezer (Yamanaka) but I know he's a good fighter. I think when we were in Las Vegas, Dennis was talking to Moreno's manager [Sampson Lewkowicz]. I saw on the internet, Santa Cruz was meant to be fighting him on May 4th but Dennis was telling me hopefully [Santa Cruz]'s going up in weight. They are all good fighters. I don't struggle to make the weight. I've still got a couple of years. I do want to win a belt. I'd like to defend it in Doncaster at the Keepmoat Stadium in the summer and then I want to start chasing the rest of the belts. You know, when you see [Floyd] Mayweather and the big stars and they've got about 10 belts around them, I just want them pictures. As long as I train hard and everything goes well in training, I don't think anyone will beat me at the weight - and I'm big for the weight. I'm not a big puncher but I hit hard enough to stop them in their tracks and I do believe, if everything goes well in training, that I can win this IBF title hopefully sometime in April.
AW - Away from boxing, what do you like to do with your time?


JD - I like to walk, the dog, get out for walks, fresh air. In the summer, I like to do my garden. I don't really have any other sport. If I'm in the pub, I'll have a game of pool. I have my motor bike. I take that down the track. Dennis and the team think it's a bit stupid 'cause if I come off and break a leg, that'll put a spanner in the works.
AW - In closing, do you have a message for Leo Santa Cruz and the bantamweight division?


JD – Yeah, just watch out. They probably haven't heard much about me. I haven't been put out there. I'm not a big name that's been blasted out there. I'm determined, so watch this space 'cause I do believe I'm going to pick this IBF title up and go chasing all the rest. I'm determined, so just watch out.
Please visit our Facebook fan page at www.facebook.com/MaxBoxing, where you can discuss our content with Maxboxing readers as well as chime in via our fully interactive article comments sections.