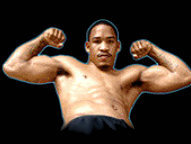 -


The struggles and triumphs of James Kirkland have been many. Born in East Austin, Texas, he found his way to Donald "Pops" Billingsley's gym somewhere around the age of eight. From there, a bond with boxing champion Ann Wolfe was first forged and continues to strengthen with each passing storm in a relationship as tumultuous as it is fruitful. Saturday night, Kirkland and Wolfe once again enter the proving grounds of both their relationship and Kirkland's future as a relevant fighter in the 154-pound division. The opponent is Glen "Jersey Boy" Tapia, 20-0 (12), a big, strong, talented 23-year-old boxer making his move from ESPN2 to HBO. But as always with James Kirkland, the man looking back at him in the mirror, not the ring, is the true obstacle.
Kirkland's trials and tribulations have been well-documented here at Maxboxing and Doghouseboxing.com.

A talented amateur, Kirkland went 134-12 in the amateurs, choosing to become a professional fighter rather than battle for a spot in the Olympics. At the time he turned pro, he was to be a welterweight. But a stint in prison for armed robbery ended Kirkland's welterweight campaign, putting his career on hold from late-2003 until April of 2006.
A 5'9" southpaw, Kirkland is the most famous soldier in a growing army built by Wolfe and Billingsley over the years.
A ball of pure chaos in the ring when all his cylinders are firing, Kirkland seems to be fighting from a place few fighters ever see. But his inability to get out of his own way has been his problem.
He would lose another two years of ring time to prison as well as a title shot, due to the ill-advised action of buying a gun while being a felon, much less one on probation.
Through it all, Kirkland could depend on Wolfe and Billingsley. Though he had let them and himself down outside the ring, inside of it, they remained undefeated. However, when Kirkland emerged from prison the second time, a rift had formed between Wolfe and Kirkland and he sought a new trainer in Kenny Adams.
Their success was short-lived. In their third fight together in April of 2011, Kirkland was stopped in one round by unheralded Nobuhiro Ishida after being dropped three times. To his credit, he was getting up when referee Joe Cortez jumped on him to end the bout. But the damage was done and the lack of focus that wrought the loss had finally come home to roost.
Kirkland was simply not as focused away from Wolfe than he was with her. He had not fully gotten his mind right after leaving prison and was cutting corners in training according to sources. He would lose large amounts of weight before each of the fights, almost missing the Ishida weigh-in and causing its cancelation.
The loss brought Kirkland back to Wolfe.
And they were successful as Wolfe brought Kirkland back to form, slowly and steadily.
Arguably their greatest triumph together came on November 5, 2011 against Alfredo Angulo. Down 30 seconds into the first round, Kirkland rose to battle back, drop Angulo in the same round and claim victory six rounds later. The fight showed what Wolfe and Kirkland can be together with a few bouts of momentum under their belts together. What came next showed that Kirkland was not quite ready to maintain success.
He signed to face Carlos Molina in March of 2012 and came into camp grossly overweight. It was more fat farm than fight camp. And it showed versus Molina, who held as much as he fought and to very good effect, smothering Kirkland and keeping him off-rhythm. For much of their 10 rounds, Kirkland seemed in slow motion. He was doing the same things offensively: lead lefts, straights to the body, right hooks. But all of it was at a snail's pace.
In the 10th Kirkland kept at Molina, landing two right hooks that stunned him, following up to the head and body. Finally, as the round ended, Kirkland dropped Molina hard. Referee Jon Schorle began to count and one of Molina's cornermen entered the ring and quickly exited. That was enough for Schorle to give Kirkland the win by disqualification.
Kirkland and Wolfe seemed to have words in the ring after the fight. Kirkland would later claim Wolfe gave him "two black pills" that made him feel ill during the fight. The Texas commission said Kirkland did not test positive for any banned substance in which they tested.
The fallout was tremendous. In winning, Kirkland appeared to have lost. He lost the chance to stop Molina late. He fractured his relationship with his trainer and friend. The sour cherry on top was when Kirkland was offered a fight with Saul Alvarez. Soon after accepting, he rescinded the offer, citing he wished to be compensated for fighting while not having the proper amount of time to heal an injured shoulder.
Ultimately, Kirkland successfully sued to get out of his promotional contract with Golden Boy Promotions and let his management contract with Cameron Dunkin, Mike Miller and Wolfe run out.
At the end of this past summer, I caught up with James to discuss where his career was heading.
"
Let me call you back. I'm on a motorcycle," James Kirkland said to me a few weeks before signing with 50 Cent's SMS Promotions.
Kirkland had been laying low while his promotional and managerial issues sorted themselves out.
"
First of all, I want to give thanks to God to be able to be in this position. Without Him, none of this stuff is possible," he told me. Kirkland was fresh from the gym. He had been training at Iron Jaw Boxing Gym in Austin, Texas, quietly working his way back to form. Being a promotional free agent with a managerial contract about to expire, Kirkland was preparing for free agency.
"
I'm staying in top shape," Kirkland said and spoke of how he was surrounding himself with people who had been to the boxing mountaintop and had good advice to offer. When the subject came around to Wolfe, Kirkland said he felt no animosity toward her. In fact, it was quite the opposite.
As he had in the past when her name came up, Kirkland was all praise while declaring he would be working with a trainer to be named later.
"
It's going to be some changes, a few things," he said of the future. Then he explained better than he ever had before about what made her special for him. It wasn't just that her training is crazy-hard or super-unusual. It is exactly that but he is willing to endure the hell she is offering that drives him. "I can never take away what Ann has brought to the table. As far as being that person that Ann and I understand, that vibe, as far as when it's that competitive edge? Me, I always felt like 'A woman couldn't beat me' at playing a thumb war or playing pencil-break or running fast or jumping high. And she was always the one who said, 'Watch me beat you,' and 'Watch me outwork you.' And that was the thing that always got to me is I would never let a woman beat me in anything. And she was always the one who said, 'Watch me beat you.' It was always a competitive edge. She would say, 'If you're a man, you should bench more than me,' or 'If you carry this amount of weights more than me and you go longer than me and see if you can do that.' I was always the one that was up for the challenge with anything that I did with Ann Wolfe. So that made our relationship a bigger and better bond than anybody can put together. Like I said, I I have nothing against Ann. There's just a lot of things that's been misread. I have no bad blood, no bad vibe for her."
The time away from the sport, with kids to feed and a bills to pay, was a rough one for Kirkland. His response to the desperate times was to prepare to campaign in the 154-pound division. The alternatives were to allow the negative forces that have drawn him to prison and away from home to take him over completely or focus on preparing his body to make one more legit run at a title.
"
This is the crazy part. I have so much stuff going on. The only thing I actually truly have time for is training. I haven't had major time to deal with my kids because of my financial situation," he said. "I've always been the one to carry the torch. I've always been the one that says, 'Kids, if you get A's and B's, I want to be able to show that you are appreciated by doing good things.' My financial situation is at a major low. So it's like, I barely can stand on two toes. And so the only things I have time for is staying out of harm's way, don't put myself around bad vibes and situations that can cause me to go to jail or any negative stuff. So I stay away from anything that I feel may head me down that road, anything that I feel may take me away from my kids or me being free. That's the only thing that I really have time for is staying positive and interacting with people that are positive and successful leaders."
After signing with 50 Cent in October, Kirkland was signed to face Tapia, a young contender many feel will steamroll Kirkland. After all, Tapia is undefeated and has fought consistently since turning pro in 2008. Kirkland has been all over the place but he had faith that he had physically prepared himself to begin a training camp like never before.
A free agent at the time, in shape and ready to fight at a moment's notice, Kirkland was also finally free of probation of any kind for what he said was the first time since he was seven years old. At 29, he seemed to finally be in a place he wanted to be. Though it had been reported over the summer that he was arrested for assault, Kirkland said the incident, a fight with a friend in a club that has since been resolved, was overblown.
"
I've been off probation. I got off federal probation. I'm no longer on paper, which is a blessing since I been on paper since I was seven years old," explained Kirkland. "Basically [Kirkland and his friend] got into it at the club. We had words. It ended up, as far as the media, there was a female. That wasn't the truth. Then people started adding stuff. 'It was his baby mama.' 'It was his grandma.' It was just like, if you do something positive, it never gets the light. But as soon as they hear 'James Kirkland,' it's, 'He was arrested for battery.' Then he had an Uzi. Then he had an AK. Then he had always these crazy guns.' What?! It was blew up out of proportion. I sort of got into with it a friend. Then it got into pushing and shoving, which amped the situation up. That is it what it is. I ended up talking with the dude and reconciling. It's one of those situations where once everything hits the public with Kirkland, they're going to blow it out of proportion."
After signing with 50 Cent, the Tapia fight was made. Kirkland briefly flirted with the idea of working Floyd Mayweather Sr. but instead headed to Northern California to train with Bob Santos, who manages Robert Guerrero. Kirkland and Santos hit it off in Vegas during Kirkland's Adams period. But after three weeks and a heated sparring session with welterweight contender Shawn Porter that saw Kirkland hit the canvas, he once again returned to Wolfe.
Back in late summer, Kirkland spoke about his ideal training situation.
"
Getting myself to where it's the right people, the right place, a true camp where I can have the people that are going to come down and train with me, even sparring partners. Hard work, no play, some true, true professional work and I want to take it to the next level so, that's what I am trying to do," he said.
Now back with Ann Wolfe and Pops Billingsley for the past five weeks, it seems perhaps at last, he realizes he has had that all along.
Wolfe told this writer that she prefers James' performance in the Tapia fight to speak for itself. But she has said that mentally and physically, this is the sharpest she had ever seen Kirkland come into camp. If that is enough to keep their undefeated streak alive while ending Tapia's, we'll see.
A lot of people believe a person can never change. Natures may not change but people can learn from their mistakes. Kirkland has made some serious choices over the past years and has reaped their rewards and deficits. But in talking to him in late summer, he seemed focused and, more than anything, happy. James Kirkland has always seemed to feed off the chaos of everything surrounding him. His ability to channel it at his opponents has gotten him this far, even if his actions outside the ring have created unnecessary obstacles along the way. Saturday night, we will see what kind of professional storm a truly calm James Kirkland can bring.
Please visit our Facebook fan page at
www.facebook.com/MaxBoxing
, where you can discuss our content with Maxboxing readers as well as chime in via our fully interactive article comments sections.