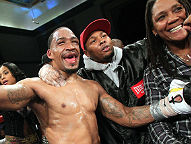 (Photo © Chris Farina / Top Rank)


For the third time, James "Mandingo Warrior" Kirkland returned to the ring after an incarceration of sorts. The first time was at age 19 following his first round destruction of Russell Jordan as a 10-0 welterweight prospect. Kirkland's trainer, Ann Wolfe, along with Donald "Pops" Billingsley, was still a professional fighter herself. Kirkland was raw; his rear left hand was a wide sickle as opposed to the from-the-shoulder jackhammer it is now. The streets of East Austin, Texas grab hold and never let go of some souls. A young Kirkland lost three years and his welterweight campaign to armed robbery.
Kirkland returned to the ring two-and-a-half years later and battled out 14 opponents of gradually increasing difficulty. Amid this streak, his coming-out party was in November of 2007 against Allen Conyers. The one-round slugfest perfectly encapsulated what makes Kirkland such a compelling watch. Down for the first time in his career from a right hand, Kirkland rose to eat two more rights that seemed to wobble him further. He simply recouped and dropped Conyers twice in the same round.

In 2008, Kirkland tore through Eromosele Albert (TKO 1), Ricardo Cortes (TKO 2) and Bryan Vera (TKO 8) and seemed poised for a title shot following his March 2009 destruction of "ESPN Prospect of the Year" Joel "The Love Child" in six brutally one-sided rounds. At 25-0, Kirkland, Wolfe and Billingsley were poised to hit the big time.
As he prepared for Michael Walker on a Golden Boy Promotions undercard in the spring, Kirkland was robbed at gunpoint in his driveway. He then decided to go buy a gun at a local show, ignoring the fact that he was a felon on probation. That one cost him two years out of the ring.
The return would be rocky. After two quick wins inside two weeks, Kirkland lost his third fight in five weeks in the first round to Nobuhiro Ishida. The difference in this run as opposed to other comebacks was that he wasn't working with Wolfe and Billingsley back in Austin, Texas.
"
Pops"'style is an aggressive, all-offense, high-intensity pressure attack. It takes a fighter of a specific make-up and dedication to make it work. Ann Wolfe is a prototypical Billingsley fighter possessed of barely controlled aggression set at a tempo and intensity resembling being caught in a tight, dark alley with no help in sight. Under Billingsley, Wolfe destroyed opponents big and small.
Under Wolfe and Billingsley, Kirkland is undefeated, cut from the same cloth as Wolfe. They carry the same desperate ferocity in the ring that (Ishida notwithstanding) in which most have been unable to withstand.
In only the Carlos Molina fight, Kirkland's last before a series of decisions and events leading to a 20-month layoff, did Kirkland seem to be off in terms of conditioning. Still, he dropped Molina late and through a technicality (Molina's corner entered the ring before the round was officially over, following a late Molina knockdown), escaped with a tenth round disqualification victory.
Kirkland's third time out of the ring was something of a self-incarceration. In first accepting, then renegotiating a fight with Saul Alvarez (eventually costing him the opportunity), Kirkland focused on regaining control of his career, cutting Wolfe, Billingsley, co-managers Mike Miller and Cameron Dunkin and promoter Golden Boy Promotions loose. Kirkland would opt to do promotional business with rap icon 50 Cent and, for a brief moment, Robert Santos as trainer.
But five weeks out from the biggest fight of his career, Kirkland returned to Wolfe and Billingsley and only he can say why. Logic dictates there is no place like home. This is the most difficult of games. Kirkland isn't the fastest, strongest or most skilled fighter at 154 but with Wolfe and Billingsley and cutman Rudy Hernandez in is corner, Kirkland is a truly an optimal force to reckoned with. He seems to transcend the paradigm of conventional wisdom.
Kamikazes generally aren't victors, typically sacrificing themselves for what they consider the greater good. But Kirkland is more than a mindless slugging machine. At his most well-oiled versus Vera, Julio and Angulo, Kirkland's defense is his offense, combined with an upper-body that swings back and forth underneath punches. He eats a lot of punches early on, particularly in the first round but as the rounds go on, Kirkland heats up while wearing out his opponent with a constant barrage of punches. The first time we spoke in 2006, he talked of how he learned to change tempo in his attack, relaxing and not forcing in every shot at full velocity while pushing his opponent to a point of mental overload and physical exhaustion midway through the fight.
Passaic's own Glen Tapia, then 20-0 (12), a fresh-faced boxer-puncher with not much inside game, was Top Rank Promotions' hope for a franchise in the Garden State. Tapia's knockouts were more about attrition than true, one-punch knockout power. Nevertheless, he was the taller man with a sculptured physique in the prime of life. Saturday night was supposed to be his coming-out party at the Boardwalk Hall.
The bell rang to signal round one and for the first 90 seconds, Tapia couldn't miss. Kirkland was taking flush punches to the face and for a moment, he seemed all but done after 20 months away. Not unlike against Ishida, the worst of all possible outcomes looked inevitable. At the same time, James Kirkland is that guy who calmly runs toward the eye of the storm with purpose and just one mission: to knock it the hell out.
"
Everybody comes with a game plan," Kirkland said afterward to HBO's Max Kellerman. "Our game plan was to come at [Tapia] too and put nothing but heart, body, mind and soul on it. He ended up getting off first, which anything can happen in a fight. One punch can change a fight; you know? And like at the beginning of the fight, he caught me with some shots. I came back and redeemed myself. I showed myself and showed everybody and the world and my city, that heart, preparation and true sacrifice will get you to the finish line."
As he had so many times before, Kirkland rolled and parried, blocked and didn't but always moved forward. Near the two-minute mark, he got Tapia in position along the ropes and chopped into him with a body shot, then a left upstairs. Kirkland rolled forward as Tapia attempted to rest. He'd unloaded everything and Kirkland, the guy who fell on his ass from a right hand in the first 30 seconds against Angulo, walked right through the assault.
"
Without Ann Wolfe, I don't know," Wolfe told me a week after beginning work with Kirkland for this fight. "With Ann Wolfe, somebody might die; somebody going to get knocked out. I am going to do whatever it takes. Hit him with nails. Pound him with hammers, whatever, so that when Glen Tapia touches James, [Kirkland] won't feel a thing."
Whatever Wolfe does - and I believe her when she says she hits James in the stomach with hammers - her words proved true. Though wobbled on a few occasions, Kirkland kept coming and throwing punches. When the fight was stopped 38 seconds into the sixth, he appeared to be getting his second wind.
"Because Ann Wolfe has a certain type of training method than other trainers - true, true, hard, hard work - people understand. People know hard but they don't know hard, hard work; you know?" said Kirkland. "Running eight miles every day for your whole training camp, tell me someone who is doing it. Not just that, the altitude, there's a whole bunch of different stuff involved into my training camp and Ann Wolfe's training style."
"
Never. Hell no," Kirkland said when asked if the strain of a Wolfe training camp will make him fight less often. "My whole mindset is I'm with Ann. We're a team. We're going to be a legend, going to be marked down in history. So I am with Ann right now and forevermore. These fights are getting easier but these type of fights - coming with someone undefeated - hard work, heart and determination is all that goes into a person."
The time away may have been a factor in getting caught so flush but as Wolfe says, you have to "give ass to get ass" and Kirkland's all-action style means he will get tested on the chin each time out. Still, caution early on behind a jab - as he has successfully utilized in the past - would serve him better.
"
We come with a game plan. I stuck my head out there. I didn't stick to the game plan. I got caught with some shots. To be a great fighter, you have to redeem yourself and come forward do what you have to do and keep your mind focused in the ring. That's what it is, man," said Kirkland. "I just am very happy and thank God for this opportunity. I thank HBO, 50 Cent, Ann Wolfe, Curtis Meeks.
Now the question is: What's next? Kirkland severed ties with Golden Boy Promotions, just took out a Top Rank prospect and is with 50 Cent (who had a very public split with Floyd Mayweather and TMT Promotions), who works with Showtime/Al Haymon and Golden Boy.
At age 29, the title clock is ticking. WBO 154-pound titleholder Demetrius Andrade has a mandatory with Brian Rose. Miguel Cotto ain't looking for Kirkland. According to our own Steve Kim, Alvarez is looking at IBF junior middleweight titleholder Carlos Molina, a fight that would serve as revenge and championship fulfillment for Kirkland. Ishe Smith and Kirkland have bad blood. Would HBO allow that? Sergey Rabchenko? He's top quality but that fight doesn't serve either man's career if it isn't for a belt. I'd love it but I'd also have to think neither side wants it. For now, Kirkland's reunion with his camp, regaining his career and his self-recognizance and victory over Tapia will serve as his spoils.
"
I'll fight anybody," said Kirkland before screaming "Ahhh!" because picking his next quarry is probably the best part of any victory. "Anybody. It doesn't matter to me. To me, I stick to my guns. What I mean by that is I stay humble. I have a great team as you can tell. I have a awesome team that is going to direct me to the right path and keep me focused at the right level."
Let's hope for his sake that's true.
The weekend's best...
Junior middleweight Chris Pearson absolutely starched Acacio Ferreira in scary good round. At 10-0 (9) and with some great World Series of Boxing outings under his belt, Pearson is a stealth bomber at 154 pounds. I love how he is coming along. His punches are straighter and his focus and finishing skills are nice.
Newly crowned IBF welterweight titleholder Shawn Porter absolutely roughed up Devon Alexander and wrested the title from his waist. That's how you take a belt. The work Porter got with newly-crowned WBO junior middleweight titleholder Demetrius Andrade, Kirkland and Pearson showed. Porter had different looks and all the tools necessary to get the job done. Props to his father and trainer, Ken Porter. They believed and worked hard and now they are champions. Also, nice corner work was done by cutman Mike Rodriguez, who kept a nasty cut over Porter's eyelid from becoming a factor.
How can you not feel bad for Darren Barker? He came out hard and fast against new IBF middleweight titlist Felix Sturm, looking to push the pace. But his right hip injury somewhere in the first made him go completely kamikaze to no avail. Sturm took full advantage of the situation as he should. I highly doubt he and WBA champ Gennady Golovkin ever fight. Don't even think about it. But Sergio Mora? I'd watch it.
Erislandy Lara pulled a Dr. Jekyll by coming out against Austin Trout like Guillermo Rigondeaux, putting on a master boxing class. Unlike in his struggles against Carlos Molina and Alfredo Angulo, two serious pressure fighters, Lara maintained space with Trout, who couldn't decide if he was going to box or attack. When allowed to establish room, Lara is arguably the best fighter at 154. I'd love to see him fight Kirkland or "Canelo" next. But I doubt ether happens.
Paulie Malignaggi gets himself in the Floyd Mayweather Jr. sweepstakes by emphatically beating Zab Judah. He also wins the award for weirdest trunks of the year. We get it. You have your own style. But why does it have to be weird? Why do we have to see your butt while you're fighting? Believe me; it doesn't make up for the fact that a Malignaggi knockout victory is not impending.
All I'll say about the walk-out crowd while WBA 122-pound champion Guillermo Rigondeaux shut down a world-class fighter in Joseph Agbeko is...well, don't make him follow James Kirkland next time out. And maybe...I don't know...put him someplace where there are actually Cubans in attendance. And if you're his promoter, stop telling everyone how difficult Rigondeaux is to promote. If you want people to eat your food, you don't first start by telling them how much they're going to hate it. Feed "Rigo" aggressive fighters and knockouts will occur. It works for Mikey Garcia. It worked for Brandon Rios. Why is it so hard to do with Guillermo Rigondeaux?
Please visit our Facebook fan page at
www.facebook.com/MaxBoxing
, where you can discuss our content with Maxboxing readers as well as chime in via our fully interactive article comments sections.