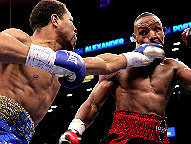 (Photo © Tom Casino / SHOWTIME)


Saturday night at the Barclays Center in Brooklyn, New York, Shawn "Showtime" Porter surprised a few fans in beating defending two-time world champion Devon Alexander "The Great." While the fight was by no means one-sided, Porter was aggressive, measured and carried the action through much of the fight. In the end, he pounded out a unanimous, 12-round decision to become the new International Boxing Federation (IBF) welterweight champion.
Akron, Ohio-born and raised Porter turned to the pay ranks after a celebrated amateur career that saw him as a 2008 United States Olympic alternate at 165 pounds. He debuted in the fall of 2008 and by the end of 2009, was 12-0 (10). It was also around this time when "Showtime" became a familiar face around Freddie Roach's Wild Card Gym in Hollywood, California, making a name for himself as the first-call sparring partner for Filipino boxing superstar Manny Pacquiao. In his first fight of 2010, Porter beat Russell Jordan over 10 rounds to win the interim World Boxing Organization/North American Boxing Organization (WBO/NABO) light middleweight title in Cleveland, Ohio. Four fights later in October, he stopped tough Hector Munoz in nine rounds to win the vacant North American Boxing Federation (NABF) welterweight title. In his only fight of 2011, Porter retained his NABF welterweight title, beating Anges Adjaho over 10 rounds in Maryland.

"Showtime" got busy again in 2012 with three fights. In his second fight of the year, he beat former world title challenger/"The Contender" star Alfonso Gomez over 10 rounds. Then in December, Porter's résumé saw its first blemish when he drew against former world titleholder Julio Diaz over 10 rounds in Los Angeles. His first fight in May of this year saw him beat previously undefeated, Toronto, Canada's Phil Lo Greco over 10 frames. Five months later, Porter beat former foe Julio Diaz over 10 rounds in Las Vegas, straightening out their previous tussle. He was then awarded his December shot at world champion Alexander.
While it would be an overstatement to say Porter was a huge underdog, he certainly was taking a step up into a new league. Champion Alexander boasted wins over Lucas Matthysse, Randall Bailey, Junior Witter, Juan Urango and Marcos Maidana among others. The only asterisk on Devon's record was a 10-round technical decision loss to current welter king Timothy Bradley in 2011. So, going in, Alexander boasted some very strong numbers to say the least. But Porter did what he has done since he turned pro five years ago: find a way to win. In a post-fight interview, Porter told Showtime's Jim Gray, "I think I was able to control the fight because of my experience and I'm the bigger guy. We did what we had to do. I paid my dues. The opportunity was here and I stepped up to the plate." Porter, brought into the beautiful Barclays Center as the straight man for main act Alexander to shine against, certainly did step up to the plate - and when he did, he knocked it out of the park.
With Floyd Mayweather, Manny Pacquiao, Timothy Bradley and Adrien Broner in the 147-pound mix and the likes of Danny Garcia and Amir Khan working just seven pounds south, without question, it is a great time to be in the welterweight big leagues.
Please visit our Facebook fan page at www.facebook.com/MaxBoxing, where you can discuss our content with Maxboxing readers as well as chime in via our fully interactive article comments sections.