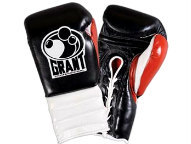 --


In the lead-up to his fight against WBO middleweight beltholder Peter Quillin in Atlantic City, New Jersey, challenger Gabriel Rosado was asked about his January bout versus WBA champion Gennady Golovkin (who stopped him in seven innings at the Theater at Madison Square Garden) and he offered up a warning to Curtis Stevens, who faces "GGG" next weekend.

So whether he meant to or not, Rosado insinuated that Grant Elvis Phillips, CEO of Grant Worldwide, in a fight in which both boxers wore his gloves, unfairly tilted the playing field in one fighter's favor.
"It all comes with the territory in this business and I've been in this thing going on 20 years now and have had the blessing of having guys like Evander Holyfield, Roy Jones, Floyd [Mayweather] and [Bernard] Hopkins, the Klitschkos and this is not the first time," Phillips told Maxboxing exclusively on Thursday night "I'll tell you the truth; Wladimir Klitschko and his people were very, very suspicious when Emanuel Steward was working with him and he was fighting Samuel Peter, [Klitschko] said to me. 'I think Sam Peter's gloves are light and I don't think they weigh the same as Wladimir's.' So right away, they called "me from Fightnews.com, this and that, 'What's the story? Did you make them light? We know you sponsor him.
"This and that and I'm like, 'Dude, do you really think anybody in this world [would believe] that I would risk my reputation and my company and blow everything to help some fighter out over something stupid like that? Sabotage? Are you crazy?' Anyways, the next day, Larry Hazzard demanded for the press, Bernd Boente, the whole Klitschko crew, a glove weigh-in. So the very next day in Atlantic City they took a scale, all the press was there and they weighed both pairs of gloves. They checked them and they were right on weight. They were perfect and everyone walked away with their tail up their ass."
Ironically, Klitschko now wears his gloves.
As for Golovkin-Rosado, Phillips explains, "They both used the puncher's gloves. One guy [Rosado] wore red; the other guy wore white and y' know, to show you how pathetic Rosado's claims are, at the weigh-in, they started saying, 'Oh, his gloves this and his gloves that,' and [Golovkin's trainer] Abel Sanchez said, 'No problem. I tell you what; we have two or three pairs. Here, take our back-ups. You can have 'em. Go ahead. Wear them.' (Replying as Rosado) 'Uh, uh, uh, well, that's OK. We'll stick with ours.'
Sanchez says, "I told Melvina Lathan [the head of the NYSAC] to let them use our extra sets. They have the second choice anyways. Gennady's the champion. Let them use the second set that we have. So Billy Briscoe [Rosado's chief second] gets the gloves, puts them on and tries them. 15-20 minutes, he's trying to figure out if he likes them or not and then he decides he doesn't want to use them. But I gave them the option though."
So is Sanchez insulted by the inference that they might have had altered gloves?
"No, I just gotta consider the source. Are they going to say anything nice? Are they honestly going to say anything good? No, of course not, especially after [Rosado] got whipped down the way he did with a 60 percent Gennady being sick," said the veteran cornerman. "So it doesn't bother me but there's nothing for us to feel guilty for because like I said, they tried them on. The other people that were there saw that. I believe Grant was there and the other coaches that had fighters were trying on gloves. They saw the commotion and Billy tried the gloves on and they agreed not to use the extra set."
When gloves are brought to a fight, they must be factory-sealed, approved by the camps and then after they are chosen by the boxers, they are taken by the fight inspectors till the night of the event.
"It's the same thing with Curtis Stevens," says Phillips. "If next week, he tries the gloves [and says with the intent of complaint], 'Hey man, these gloves...' [Phillips' "responds"]'Here ya go. Here's an extra pair. We're in business. Happy to have you wear Grant again. Welcome back home.'"
One of the trademarks of Grant gloves is they come in an assortment of colors to match the fighters' trunks and robes. Mayweather once dubbed Phillips the "Versace of Boxing."
"We custom-make gloves, like with Golovkin. He uses white and gold, so we're making a white-and-gold glove and if a guy like Bernard's using black and lime Saturday night, we're making black-and-lime. We don't go, 'Hey, don't put too much padding in the knuckles. Bernard likes to feel it when he hurts his guy.' I mean, c'mon bro."
The colors might be different on his gloves but he makes it clear; the actual design and specifications all match.
"Us, just like Everlast and other companies, we have the 'puncher's glove,' which is what Golovkin uses. We have the 'orthopedic glove' which is what Floyd uses because he needs an all-foam glove because he has hand troubles. But as far as anything being the same, whatever model you choose, if two guys are using the same model - it's the same glove. It's all made from the same mold," explained Phillips.
Phillips continued, "Rosado, he did use Grant before. It's really sad, man. I met him when he was a sparring partner for Bernard Hopkins and Bernard was kinda helping him out and I actually made him an outfit and stuff just to help him out. It's sad but what are you going to do?"

SOE

Here's my latest contribution to SportsOnEarth.com on the unfortunate passing of Frankie Leal and how boxing should respond moving forward:

http://www.sportsonearth.com/article/63283528/

And speaking of Leal, there is an effort to raise some funds for his family:

http://www.gofundme.com/4w3r0c
Looks like a deal that will have Ricky Burns and Ray Beltran rematching for the WBO lightweight title is getting closer and closer. This could take place on February1st in Glasgow, I'm told...With Ammeth Diaz a no-show this weekend in Mexico, the next leading contender in line to face IBF lightweight titlist Miguel Vazquez is Terence Crawford...I've been told the Bradley-Marquez pay-per-view did in the range of 350,000 to 400,000 buys...So how many upsets this weekend in college football?...I can be reached at k9kim@yahoo.com and I tweet at www.twitter.com/stevemaxboxing. We also have a Facebook fan page at www.facebook.com/MaxBoxing, where you can discuss our content with Maxboxing readers as well as chime in via our fully interactive article comments sections.