Is Success Around The Corner For Jonathan Perez?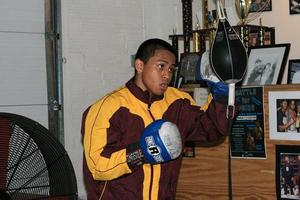 Perez works out

By Ray Kilgore: The charismatic and bubbly, easy-going side of Jonathan Perez's personality will give way to the fearless, aggressive part of his nature ninty percent of the time.  Once Perez spoke to someone he took to be his opponent before a fight and went up to the guy to wish him well. But Perez wasn't going to offer any apologies for the beat down, or rather destruction he planned to inflict on the boxer.  However, the 120-pounder ran into a problem: a major problem!   

 "I didn't't know," he said, sitting slightly forward in his chair, clapping his hands and laughing. "He was my height and looked to be my weight so I thought he was the guy I was supposed to fight."  Well, as it turned out, a local website owner was there at ringside to showcase Perez's talents, but not in the way the fighter thought; he was there to photograph the fight.  
 The ring has been Perez's master suite, a private place where opponents are welcomed as long as they understand and play by his rules. But this is something that did not come that easy for Perez during his youth. "I was real bad in school, fighting every day," he said. "I was a troublemaker."

 Although Perez did earn his high school diploma, graduating from Shakopee High in 2010, the traditional classroom was of no interest to him.  The heart-pumping, adrenalin-filled, sweat-stained gym was all the textbook he needed—something that his father, Jose, who Perez said was a former amateur and professional fighter, understood.

After countless efforts to find a gym, one day father and son drove by Circle of Discipline, known as COD, and right away, they found their match. COD is located in a neighbourhood that stands out: police presence is high, a few people with unsavoury motives hang out on the corner, and a few doors down is a probation office. But once inside the gym, it is like stepping into another world. There is order; the boxers are focused, and even the non-fighters seem to know why they are there.

The gym is an environment where the serious boxer, voiceless victim, at-risk youth, former convict, and the college educated were all welcomed. But discipline was the key factor.

No observer watching him today would get the impression that Perez wasn't disciplined. His white t-shirt is drenched, and his eyes are locked on a mirror as he examines his boxing techniques: slightly turning his left shoulder in front of his chin, moving side-to-side before throwing uppercuts, jabs and left hooks.  Tonight Perez is not just a fighter; he is on a mission—a far cry from the kid who grew up fighting only as a way to prove his machismo.

Perez has a small build, his handshake is faint, and he could easily be mistaken for a teenager, something that is not necessarily bad.  "I went trick or tricking, this past October, and that's what people love about me. [That] I still love being a kid and having fun." He and his younger brother Jordy, now 18, were born in Mexico to Jose and Norma. But when Perez was seven, the family moved from Mexico to the USA, settling in Shakopee, Minnesota, where they continue to live today. Even if his parents had never sought out a new life for him, the boxer's feelings would have remained the same.

"Man, my parents mean so much to me," he said. "Look at this." He shows his biceps, which display their individual names on each arm. Perez still lives at home and said boxing is his only job. "My dad, who drives a taxi, knows I will be champion of the world one day," said Perez.  "[He] doesn't want me to do anything but boxing. My mom helps cook the meals, although she doesn't like her son boxing, so that I can stay in shape. I love my dad and mom," he said again. 



Perez recalls the first time he went to a boxing gym at age four, when the family lived in Mexico.  He watched his uncles and father work out and spar on a regular basis, making it logical that Perez too might take up the sport one day. Two weeks after he joined COD, Perez officially competed in the ring as an amateur. He estimates that he has over 75 bouts, winning the Sliver Gloves, USA Golden Gloves, and two National championships before he left his amateur career behind in 2010.

While all of those accolades are cherished, Perez said his first professional fight stands out the most. "You have to look tough for the crowd, but on the inside you're dying," he said. "The yelling fans, fighting shirtless and wearing smaller gloves, man. I can describe," he said.

One should assume that when Perez says, "I will die in the ring if I have to," he is speaking figuratively, since no sane person would expect Perez, 20, to risk his life for the sport. They do, however, want entertainment; and so far, he has fulfilled that wish by going 2-0 (2 KOs) since turning professional in December of 2010, stopping Randy Ronchi in round one by TKO at the Target Center. "I never dreamed I was going to turn pro," Perez said. "I was happy that night because in the past [as an amateur] I was always nervous."

While it's too early to tell what skills Perez will display down the road, the emotions etched in his face when he talks about boxing, the passion in his voice, and his physical appearance all suggest good things. 'What's that on your forearm?' I asked him, pointing to a tattoo symbol that was not legible. "Oh, this?" he said, turning his arm upward.  "It's a Japanese writing, and it means the 'last warrior,' because when I get into the ring, you have to kill me to beat me."

December 15, 2011






Subscribe to feed