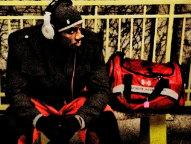 (Malik Scott)


Despite an impressive looking record of 36-1-1 (13), you've always gotten the sense that heavyweight Malik Scott has underachieved, that he should have accomplished more by this stage of his career and in essence, he's left money on the table. As you say this to him, he doesn't get angry or upset. In fact, the personable Scott sees where you're coming from.
"I wouldn't say I totally disagree with it but I would say I see why you could say that. But the only thing I could say is everything happens for a reason and May 15th, I plan for everything to pay off. I plan on pulling the big upset. It's going to be an upset to most people but not for me and [trainer] Joe [Goossen]," he said.

Tonight from the Coliseo Ruben Rodriguez in Bayamon, Puerto Rico, Scott faces the highly-touted Deontay Wilder, 30-0 (30). Scott admits this is a bit of a must-win situation for him. "For me, definitely. I don't have more time to waste from a defeat or any type of mishap," said Scott, now 33 years old. "Deontay has more time; he's young and coming up. I don't have that luxury, so this fight right here, I'm putting it all on the line. Everything is on the line including a title eliminator, so I'm gonna go in there and stick to a perfect game plan that me and 'Goose' have come up with and I'm going to take [Wilder] in deep water and hopefully drown him."

For all his jolting power, Wilder is still very raw and crude, technically. In many ways, he's the antithesis of Scott. Powerful yet fundamentally raw and quite frankly, handled with kid gloves. His perfect record is every bit the testament to soft matchmaking as it is to his punching prowess. Scott is actually very close with Wilder, having sparred in the past and spending time outside the ring together.

Scott explained last month before his training session at Ten Goose Boxing, "We're extremely tight, tight as far as I've held his kid, he's held mine. I've been to 'Loosa [Tuscaloosa, Alabama] with him and his team. He's been over here in California with my family at my crib. Gun range time together, tattoo time together, gym war time together, me and Deontay we got a pretty solid relationship but come March 15th, f*ck all of that. We're going to war and then be friends and brothers afterwards."

You don't need to be Emanuel Steward or Ray Arcel to figure out their plan of attack is to get Wilder past the early innings and then take over with experience. For whatever Scott lacks, he has a world-class jab and sharp boxing skills.

"I think it's common knowledge that Wilder has not been taken into deep waters and that's certainly something you probably wouldn't want to discredit entirely," said Goossen. "You probably have to look at that and say, 'I wonder what would happen if five, six, seven, eight rounds later, how his style would hold up?' So I don't think that's a secret there because if you take him into deep waters, it means you're still in the fight. So yeah, that option and that idea is certainly something that we discussed."

Goossen has always believed in Scott's natural ability but like other trainers (like Jesse Reid), he's also been frustrated by him. "But that being said, there's a great opportunity in front of him right now," said the veteran cornerman, one of the best motivators in the game. "So whatever money he might have left on the table, he certainly has an opportunity to get it off the table for himself this time. We're in a good fight against a big strong guy and I think he does a lot of things quite well. He's got a very good jab; he's patient. He's got a quick right hand; it's solid. So this is not a fight that we're taking lightly at all."

Last summer, Wilder faced Dereck Chisora in England and in a fight that held great importance, he was knocked down in the sixth and quick-counted by referee Phil Edwards.

"What I did was an immature move," Scott admitted. "I'm not a professional at getting knocked down, so I thought I was handling the situation right. I got hit with a right hand. I was hurt; the shot put me down. I was real lackadaisical when it came to the count. You see, I was looking at the ref, laughing smiling but you don't do them type of things when you really, really want to fight. When you really, really want to let the ref know, 'Yes, I'm OK. I made a mistake. I took the count for granted. I wasn't hurt.' The ref count me out at nine; it's the type of sh*t that happens when you're behind enemy lines though."

At this point, his career prospects looked dim but Scott states, "I wasn't worried; I know that. I just know I had to go back to the drawing board and get back in the gym. I know this opportunity - now, not this particular opportunity because I didn't think Deontay and I were going to fight - but I know if I just continued to pitch and stayed in the gym, take my licking and keep on ticking, something big was going to come through and it has and I'm going to take full advantage of this."

It's now or never for Scott; either win tonight or just become an opponent with a glossy record.

"I'm very confident in Malik. Malik's a very slick, slick guy," said Goossen. "I've been complimentary towards the other guy, Wilder, but as far as Malik goes and what I believe he's capable of doing, he's got great defensive skills; he's big himself. He's very quick-handed and look, he's got a decent punch. Anybody that hits you can hurt you and Wilder has been hurt a few times. So like I say, I don't like to get too far afield about what's going to happen in the fight because you never know what's going to happen in the fight.

"I just know what I would like to happen in the fight."

WEEKEND FLURRIES

The Saul Alvarez-Alfredo Angulo fight garnered 350,000 pay-per-view buys, which can be considered a success...The fight between Juan Manuel Lopez and Daniel Ponce de Leon will be televised on Showtime Extreme...Michael Perez will headline a "Golden Boy Live" card on Fox Sports 1 on April 28th at the very same venue hosting tonight's card...It will be funny to see Steve Smith in something other than a Carolina Panthers uniform...Hakeem Nicks to the Colts could be a huge move with minimal risk for Indy...Prayers to Jim Kelly and his fight with cancer

…I

can be reached at k9kim@yahoo.com and I tweet at www.twitter.com/stevemaxboxing. We also have a Facebook fan page at www.facebook.com/MaxBoxing, where you can discuss our content with Maxboxing readers as well as chime in via our fully interactive article comments sections.