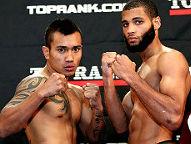 (L-R) Gesta 137 lbs, Barnett 135.5 lbs (Photo © Chris Farina / Top Rank)


On this week's edition of ESPN2's "Friday Night Fights," a lightweight contest takes place between the unbeaten Mercito Gesta and Ty Barnett at the Texas Station Casino in Las Vegas. Gesta, who is promoted by Top Rank is on the verge of a title shot but quite frankly, Barnett doesn't regard him all that highly.
"Nah, I don't think much of him," he said bluntly. "I mean, look at the level of opposition; he's never faced nobody. Not nobody that's really going to make him fight. He's been able to control each and every one of his fights, so he's able to control the guy. He's never really been hurt. This is a big step for him. A lot of people say it's my biggest fight but I think it's his biggest fight because I've been in there with some guys, man."
Barnett also holds a decided size advantage over Gesta. He's at least two or three inches taller than him. "Right. I mean, everyone knows I'm taller than him and I'm going to use that to my advantage. Every advantage I have, I'm gonna have to use it."

A few months ago Barnett actually emailed this scribe asking for Brad Goodman's email. Goodman is one of the matchmakers for Top Rank, who made this fight. And the purpose of sending his message to Goodman was clear: "So they could send me the contract. They were kinda dragging their feet in sending the contract but they didn't have to ask me twice."
Yeah, he wanted this opportunity badly.
The bottom line is that Barnett needs the exposure and he believes wholeheartedly that Gesta is overrated, a product of careful matchmaking and the natural comparison that any Filipino southpaw gets to one Manny Pacquiao. Barnett scoffs at such talk, "The comparisons, it doesn't add up. I don't think they should try and compare him to Pacquiao so early without accomplishing anything. It's just a bunch of hype." Unlike his opponent, Barnett has tasted the bitter taste of defeat twice (http://boxrec.com/list_bouts.php?human_id=311741&cat=boxer) but he believes it's made him a hardened fighter. Wins are nice but losses can be the most valuable experiences you ever go through in this sport.
Barnett, who has a record of 20-2-1 (with 13 stoppages) explains, "It makes you a better fighter because you learn a lot about yourself. At the end of the day, those guys that beat me, they were given a gift. They caught me at a very vulnerable time in my career where my focus wasn't there. I went to those fights making the weight the wrong way. I was weak, coming off a 10-month layoff - both fights - it played on me. So it taught me a lot about myself; it taught me a lot about the business, period, about the long layoffs and being active. I gotta be active to keep this game. Me, I'd like to fight as often as possible. If I could fight every month or two months, I would do it. Instead of laying off, fighting every four or five months, taking big layoffs the way I did leading up to my two losses. Those were 10-month layoffs."
Barnett comes into this fight having boxed twice since March (albeit versus very soft opposition) but the point was to come into a fight of this nature with a certain rhythm.
"I've been active; I lined those fights up that I had recently, just for that," Barnett explained. "I knew that taking a big fight like this, I would have to be active; I can't go in there fighting a guy who's been active and I have been laying off for 10, 11 months and expect to perform. So I feel good going into this fight. I feel like the old Ty Barnett when I was climbing that ladder when I was an undefeated prospect knocking dudes out with body shots and just running through these guys."
The match-up with Gesta is a way for Barnett to reestablish himself as a fighter on the rise - one with a future.
"It's a great opportunity for me; if I don't go in there and perform or if I look trashy on TV, of course, if it's make-or-break- it's going to break me," he admitted. "Me, I'm gonna go out there and perform. I'm gonna go out there and do what I do best. Like I told you, the only time you will see a Ty Barnett fighting and take a loss or anything like that is when I'm not focused. Right now, I got my focus back; I'm hungrier than ever and I'm ready."
Being he's from the D.C. area, I couldn't help but ask Ty if Gary Russell Jr. was the most talented guy from that area code since the great Mark "Too Sharp" Johnson? Barnett basically told me to pump the brakes on that comparison (for now).
"I mean, he's a natural talent; Gary Russell is an excellent fighter but at the end of the day, you gotta see him fight somebody before you make a statement like that," said Barnett who, like many others, wants to see how Russell reacts to some adversity in the ring. "You gotta fight somebody; a lot of these guys he's been fighting, I mean, they're pretty much tailor-made for him and he's just walking through these guys. So until he's really challenged, I don't think you should make a statement like that. You're entitled to your own opinion but skill-wise, speed-wise, he's great. But we gotta see Gary in there with stiffer competition. I believe he will show up. I believe he will perform.
"But we gotta see it done."
But Barnett says there's no doubt where "Too Sharp" - who was just inducted into the International Hall of Fame this past June - ranks among the long list of pro boxers who have come from this area.
"No question; Mark Johnson is the best to come out of D.C."
The fight between Adonis Stevenson and Donovan George will take place on Aug. 17th at the Buffalo Run Casino in Miami, OK. It will be the season finale of "Friday Night Fights" which has enjoyed a strong second half run in 2012. Also on that card will be the return of Carlos Molina...On Saturday night from Mobile, Alabama, Deontay Wilder will face Kertson Manswell on Fox Sports/Deportes...Boxing returns to the Commerce Casino tonight when Fernando Carcamo takes on Robert Rodriguez...The signing bonuses of U.S. Olympic boxers must be plummeting right now...Zhang Zhilei, the super heavyweight from China, is an intriguing prospect...I can't believe I had Nigeria with 81 points and I still lost

...

I can be reached at k9kim@yahoo.com and I tweet at www.twitter.com/stevemaxboxing. We also have a Facebook fan page at www.facebook.com/MaxBoxing.