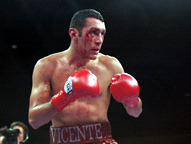 (Photo © German Villasenor)


There are two ways to look at the career of Vicente Escobedo. The "cup is half-empty" perspective says that every time he has stepped up against the likes of the relatively elite Robert Guerrero and Michael Katsidis, he came up short. But the half-filled viewpoint is that those blemishes on his record came at 135 pounds. Those were losses in which Escobedo performed respectably and he's come out of those experiences a seasoned and hardened fighter. Not surprisingly, Escobedo, who faces WBO junior lightweight titlist Adrien Broner this Saturday night on HBO, takes the latter viewpoint.
"Yes, absolutely, you learn more and no one likes to taste defeat but you experience and you learn off it," he told Maxboxing late last week. "You learn off it and it becomes an experience. You manage to work with it, move on and work hard. Work harder and make sure you don't taste defeat again. No one likes losing- I don't- I want to be a winner and that's how I want to go out there and go get that belt."
After representing the United States in the 2004 Olympics, Escobedo turned pro in 2005. It's 2012 now and back then, you just knew he would win a world title or three. He had a strong punch and had a telegenic style. He was also very promotable. However, it's been a career that been a bit unfulfilled. He's had a decent run but at age 30, it's now or never. Escobedo, who's already fought twice in 2012, feels like he's in the best place spiritually and physically in his career. "Absolutely," stated Escobedo, who's had to overcome hand issues in 2011, "I've tasted it all. From being on the canvas, knocked down, from losing to injuries, you name it- I've been through it all. And I've overcome that so I feel at this point, I'm at the best state of mind, best physical shape and everything. I'm at my best; I think."

Now, he'll have to be to solve "The Problem," the talented and flamboyant performer from Cincinnati, Ohio. Escobedo is a well-traveled veteran and he had no problems in facing Broner in his backyard at the U.S. Bank Arena.
"Fighters fight, no matter what. It doesn't change anything, the venue. If we were to fight in Los Angeles, Las Vegas, it doesn't change anything. Fights are fights; they happen and I'm a fighter. It doesn't matter," said Escobedo, who has a record of 26-3 with 15 stoppages. "[Broner] wants to fight in his hometown; that's fine. I think more of the pressure is on him. Me, I have everything to gain and go over there and there's just one thing on my mind- I want that title. I want that title; he wants to look good in front of his people. He's flashy and that's fine; I have nothing against that. But I'm going for one thing and that's to take the title."
As you talk to Escobedo, you hear a certain determination in his voice, like a fighter who simply won't let the moment get to him. Simply, he's been through too much. Broner might beat him- he is the betting favorite- but you get the sense he won't be overwhelmed by the moment and Broner's antics the way Eloy Perez was.
"I think [Perez] let Broner get to him; he let his emotions and everything, the talk, the hype. I think Eloy should've just let him say what he says and just ignore him," says Escobedo who, by nature, is very soft-spoken. "I feel he fell into that little trap of Adrien Broner and whatever he says to me- trust me- he's not going to take me off my game plan and I'm going in there for one thing and that's to win and that's the only thing on my mind. Adrien can say all he wants and he's going to say all he wants in front of his people and that's fine but I'm going to do my demonstration in the ring."
Broner is a polarizing fighter; you either love or hate him. He always seems to be "on," whether it's in the ring or outside of it. Recently, he was the focus of HBO's "2 Days" which followed him in the lead-up to his early knockout of Perez. When asked his thoughts on what he saw, Escobedo answered, "Not much; you got to know a little bit about Adrien. At first, to be honest with you, I thought it was all about show; it's all about putting on an act but you come to realize that he is the way he is. He's a guy with character; he said it, whether you like him or not, that's his personality. And that's fine; he's a really loud guy. I have no problem with that; that's him and I'm just more of a mellow guy. That's what makes people different with personalities and that's him.
"I think that's fine; I have nothing bad to say about Adrien. I don't hate the guy. I just want what he's got; that's the title."
This is easier said than done. For all his antics, Broner is an impressive blend of speed, quickness and power. So how do you solve him?
"You gotta have timing, power and patience and those fundamentals," said Escobedo. "And be well prepared and don't give him openings and be smart; be smart in there. He's fast but I'm fast too and timing can take that away and once you go in there with no respect and start hitting to the body and start telling him, 'Hey, I'm here; I'm right here and I'm taking your punches and I'm giving these punches back to you,' and [when] he's realizing I'm doing some damage and you're not scared of him, things will change. So I've seen his videos and there are moments where he's changed in his style. When he has his confidence up, that's when he's on his A-game. But you take his confidence and things change."
Regardless, Escobedo has a healthy respect for the guy he's facing this weekend. He admits, Broner just might be the most talented guy he's ever faced. "Yeah, I think so," he admitted. "I definitely think so. He's very skillful. He's fast; he's got a lot of skills. I definitely admit that and I think he is by far the best that I've faced. Maybe not the strongest but he's definitely the best that I've faced. But on the flip side, Escobedo also firmly believes he's the stiffest test Broner has ever had. "Oh, yeah, definitely. The only other guy he's really faced is [Daniel] Ponce de Leon and to be honest with you, Ponce did a great, great job against him but he didn't have the speed and the boxing ability the way I do. So it's definitely going to be the best fighter he's ever faced in his career. So we'll find out July 21st."
Escobedo has to be bold. He's not only facing a talented young fighter groomed for stardom; he's also doing it in his city. In boxing, the meek do not inherit anything. Glory goes to those who are bold and audacious. He has to be both on Saturday night.
So how does he see this fight playing out?
"It's hard to say; anything can happen. It's just going to be one of those fights where it's going to be a scrap. You go in there and you're going in there and you're going to see different adjustments, whether it's fighting, boxing, adjustments. It's hard to say. I think it's really going to be an exciting fight; it's going to be an action-packed fight," promises Escobedo. "Everyone needs to tune in because it's really going to be a tough, tough fight on both of us.

"So I'm just ready to get in the ring with Adrien Broner and face the best."
Amir Khan is gifted in many ways. He has speed, quickness, size and fast hands. However, all of that is undone by his fatal flaw- very low punch resistance. And once again, it did him in versus Danny Garcia this past weekend at the Mandalay Bay in Las Vegas. Khan was seemingly in control against "Swift" before he was struck with a left hook that sent him crashing to the canvas near the end of the third round. He was stopped in the fourth after Garcia scored two more knockdowns.
Khan is boxing's version of the Flying Wallendas, in the sense that he walks a tightrope without a net. One mistake can be fatal. But I have to admit, it makes for some compelling action.
As for Garcia, well, he certainly made a statement (but no, he didn't really vindicate his father's verbal vitriol) and you can add him to the likes of Lucas Matthysse, Mike Alvarado, Marcos Maidana and Lamont Peterson among several others who, if you mix and match them, you'd have yourself a pretty damn good 140-pound fight.
Again, it'll be incumbent upon the networks (HBO/Showtime) to enforce their economic influence by demanding the viewing public gets the best possible fights in this division, not just the best possible fights within a promotional company.
What looked to be a rather forgettable edition of "Friday Night Fights" in Chicago instead turned out to be one of their better shows of 2012 as both Jose Luis Castillo and Glen Johnson put up great fights against Ivan Popoca and Andrzej Fonfara, respectively. And the atmosphere at the UIC Pavilion was lively and played a part in enhancing the broadcast. So again, yes, the live audience- and having one- is certainly important, no matter what some TV packagers try to claim.
The attendance was right around 4,000 (very good for "FNF") and it showed once again that the "Windy City" is a very underrated, under-utilized boxing market. The track record has shown that if you bring the right fights to this jurisdiction, they will do well. They not only have a sizable population but a large concentration of Latino and, yes, Polish fans who have shown they will support their boxers en masse.
My hats off to 8 Count Productions' Dominic Pesoli and his crew for their efforts this past week.
OK, I'm gonna veer off from boxing for a quick second as I got this email from my old friend Hugo (fellow Montebello Oiler, Class of '90) who sent me this email on Friday night...
Steve,



I always enjoy reading your articles you write. I find them entertaining and informative. What I enjoy most are "the flurries" at the end of each article. Your "flurries" are always filled with pop culture, thoughts, quotes and info from all other forms of entertainment, with that being said I am very disappointed you have not wrote anything about the sad news regarding Mr. Norman Sas. You might be asking yourself who the hell is Norman Sas? Well he is only the greatest inventor of all time in my opinion. He is the inventor of the electronic football game. Only one of the greatest game of our generation. I am talking about pre-Atari, Commodore 6400, 4th and Inches and Tecmo bowl. You know the the game where you line up all your players at the 50-yard line then flip a switch and all you hear is this loud buzz which, then scatters all the players all over the field. You can't tell me you do not know what I am talking about or did not have one. Steve you are Asian and along with the Abacus I know all you asian kids had that game cause if my poor ass was able to afford one you certainly could afford one. Anyway just poor one out or write an R.I.P for that old man on your next "Final Flurrie". Hope all is well. Keep up the good work. PEACE OUUUUUT!!!

HUGGS
Geez, Hugo, you really got your Shakespeare on for that email. I mean, seriously, I don't think I've ever heard you make a statement that long in your life. What in the world got into you? Must've been some downtime at the fire station but yes, a tip of my lid to the late Mr. Sas, whose contributions to western civilization must never, ever be forgotten.
And no, I didn't have one. Asian parents back then weren't big on football so I didn't get any of that fun stuff. But I had a friend who did and he was meticulous in ordering all the teams and painting on the uniforms and putting on the sticker decals. I mean, he made those things look like works of art. And it was funny; we would actually line up the players like a real game, going pro-set on offense, running a 4-3 on defense and then seeing Rams and Raiders scatter all over the place as the field vibrated.
So there ya go, Huggs (and hey, less than 45 days till kickoff. Get that spot on your sofa ready for me)...
Speaking of Peterson, I was told by the IBF that they will have a ruling very soon (perhaps even this week) on the status of his title...My understanding is that HBO will show clips of Omar Figueroa versus Dominic Salcido and the complete fight between Keith Thurman and Orlando Lora (yeah, Orlando Lora) before the Broner-Escobedo fight in Cincy...Of the three names mentioned for Gennady Golovkin on August 25th (Vanes Martirosyan, Erislandy Lara and Grzegorz Proska), I like Proska. Bottom line, he's a real middleweight. Right now, that HBO card (also featuring Sergiy Dzinziruk) could land at the Edgewater Casino in Laughlin, Nevada but that hasn't been finalized...So I guess Jose Luis Castillo has something left...Funny but is Alexander "The Writer Who Cried" Wolff, who wanted Miami's football program shut down in 1995, ever going to comment on Penn State? His silence on this issue is peculiar (and deafening)...Are the Knicks building for 1999? What are they doing?...By the way, Hugo and I were about the only two Rams fans back then at Montebello High School. Yeah, it was basically a Raiders school. Montebello High, what a cathedral of learning that was

...

I can be reached at k9kim@yahoo.com and I tweet at www.twitter.com/stevemaxboxing. We also have a Facebook fan page at www.facebook.com/MaxBoxing.