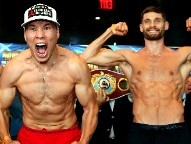 (Photo © Ed Mulholland, HBO)


Junior welterweight Chris Algieri was born to fight. He's been doing it his whole life, be it in Kenpo Karate (which he began studying around age nine) to his wrestling background to his career as a pro world champion kickboxer. Fighting has always been a major facet of his life. A pro boxer since retiring from kickboxing with a 20-11 record and two world titles to his credit, Algieri, 19-0 (8), is also a thinking man's warrior. Algieri has a bachelor's degree in healthcare science from Stony Brook University and a master's from the New York Institute of Technology, using both in his career outside of boxing but to his advantage while competing in it. He'll need every advantage he has on Saturday night at the Barclays Center in Brooklyn, NY, live on HBO when he takes on WBO junior welterweight titlist/monster Ruslan Provodnikov, 23-2 (16).
At 5'10" with a 72" reach, the Huntington, New York native is tall for his weight class, a long, lean fighter with nothing to spare in making weight. But unlike the majority of boxers, who starve themselves and dehydrate themselves throughout camp, Algieri uses his professional expertise to keep his body fit for the event by sacrificing in the most healthy ways possible.

"
As a practicing nutritionist, I work with a lot of combat sports athletes and I see that I do things a lot differently than other guys," Algieri told Maxboxing.com from his training camp. "I never starve myself. I never stop eating. Even the day of the weigh-in, I am eating breakfast. The only restriction is a little bit of dehydration but its for a short period of time. I calculate it. I am the type of guy who can walk into interviews before my weigh-ins, no problem. And I am big for weight class and I am able to perform. I go about it differently than other guys because of my schooling and experimenting a little bit on myself to see what works and what doesn't. I've got 11 years of pro fight experience, 15 years with my wrestling."
Algieri seems natural when he boxes. He uses his height and reach to keep fighters on the outside and utilizes excellent and deceptively fast footwork to keep things long range while making opponents pay for rushing in on him. Still, there is a bit of a transition from his days fighting in other disciplines.
"
There are some things to transition to and I still think I am transitioning," said Algieri. "I'm still finding my style now. I think I am developing and maturing into my boxing but I think the thing that carried over has been my mental [state], my mindset and the way that I approach each bout and the way that I approach fighting in general. The mindset I have is that of a fighter. I have had that for a very long time and I think that is the thing that has helped me out the most in all my different disciplines."
Young in the game, the biggest names Algieri has faced are Mike Arnaoutis and Emmanuel Taylor. Neither fighter is like Ruslan Provodnikov, a pressure-fighting machine. I asked Algieri if he had ever faced a fighter so relentless before, someone who will be in his ribs all night.
"
To tell you the truth, I think most of the guys that face me take that approach because I am tall for my weight class. It's nothing new. The thing about those kind of fighters is that on the way in, they get hit. When you are as long as I am and you can hit guys on the way in, it makes it very difficult to keep that up for an extended period of time. Ruslan is a super-tough guy. He's going to keep coming but I am in tremendous shape. I can keep dishing out and keep moving. And that's really what it comes down to," said Algieri.
However, Algieri, who has not fought against this level of boxing opposition, has already experienced tough moments in this sport that will no doubt prove invaluable on Saturday.
"Probably my 11th pro fight when I shattered a bone in my left hand in the second round and tried to decide what the next step was going to be," he answered when I asked him of his toughest ring moment. "Use my right hand more. I threw a jab that landed high up on the head. I had a little pre-existing injury in that hand. My middle metacarpal just went. I knew right away. I went back to my corner. I could feel my hand swelling up inside the glove. I didn't tell my corner because they might want to stop the fight. I didn't want them to stop the fight. I just listened to what they said and tried to go out there and see how it would feel. I remember hearing [Arturo] Gatti talk about breaking his hands in fights and how it would go numb and you'd be OK. So I was like, 'Gatti says it will go numb, so OK.' So I go out there and I throw a jab and I felt a lightning bolt of pain shoot up my arm and I thought, 'That's not how its going to be. It's not numb.' So I started using my right hand more. And sure enough, after a while, it did go numb. So I threw a body shot and I hurt him with that hand and I was like, 'Alright, it still works so I am going to keep using that hand.' And sure enough, I stopped [Julias Edmonds] in the next round with a body shot using that hand. That was a tough situation because I had to think about so many things while dodging punches. I had to figure out in the middle of a round what I could do with a serious injury."
Algieri has a nice jab. It's likely his best weapon next to the whipping hook that comes off it. It's not so much a piston as a blinding weapon but one that also keeps the opponent at bay while Algieri either repositions or sets up the rear right. He'll need it to be working at full capacity on Saturday.
"
People always talk about the great equalizer in boxing as power. I don't agree with that. I think the great equalizer is the jab. Every great fighter had a great jab. You can control an entire fight with a jab. To say that is not going to be a major factor would be silly. It's definitely part of the game plan, obviously. It's definitely going to be part of every boxing match. It's called 'The Number One' for a reason," he said.
With just eight knockouts in 19 bouts, one might say Algieri lacks the pop to get Provodnikov's respect over the long haul.
"
I would say with the 'get respect' thing, I would never say I have been in the ring with someone who didn't respect me hitting them," laughed Algieri good-naturedly. "Guys say that about Floyd [Mayweather] as well. He doesn't have a lot of knockouts but you don't see a lot of guys just boring in and taking shots. With [Saul] 'Canelo' [Alvarez], he wasn't boring in for a reason: he was being hit and being hit hard enough that he wasn't just going in. I would say the same about my style. I don't have a lot of knockouts but no one is going in there and not respecting me hitting him."
One thing that will come in handy for Algieri is the amount of rounds he has fought over the past few fights. While some will argue he should be blowing out guys like Taylor or Arnaoutis, getting 10 rounds from guys who have been around with amateur backgrounds and years of pro experience, is what Algieri needed more than showcase, first round KOs.
"
Going on your specific question [regarding how many rounds he has fought in recent years], yeah, I do think it's an asset because I have been learning on the job as a pro and taking very little damage in the process. I have had these 10-round fights. And people always joke to me after my fights, 'Did you even fight?' because I don't have a mark on me. And to go out there with another pro and come out relatively unscathed in a 10-round fight, there is something to say for that."
Talk is talk. The fight will tell us the truth but Algieri's confidence and intelligence says a lot. In combat sports, it's important to be realistic about who you are and what you can do to win. His assessment of Provodnikov, who gives up height (He's only 5'6" vs. Algieri's 5'10") and reach (66" to 72"), seems to say Algieri knows the right answers to those questions.
"
For one, Ruslan is a great fighter. He is good for the sport. He is a humble. He's a humble guy. He comes in and does his work. He's a hard worker. He's tough and what you see is what you get with him, the way he acts, the way he fights, everything in general. It's definitely a breathe of fresh air to see a guy like that," assessed Algieri, "but in terms of how this fight is going to go, like you said, its a typical matador/bull match-up. I am going to go out there and I am going to use my skills and my physical size and speed to just widen the gap as the fight goes on. I don't see this as a close fight. We are going out there to win handily."
On paper, this is a very close fight. Algieri is an unknown at this level but so was Ruslan Provodnikov not too long ago. To win, Algieri will have to use everything he has, physically and mentally, his education both in and out of the ring. On paper, his chances are very good. Good thing for us, fights are fought in a ring and not on paper.
Please visit our Facebook fan page at
www.facebook.com/MaxBoxing
, where you can discuss our content with Maxboxing readers as well as chime in via our fully interactive article comments sections.